Robert Kiprono Cheruiyot: Running from Day One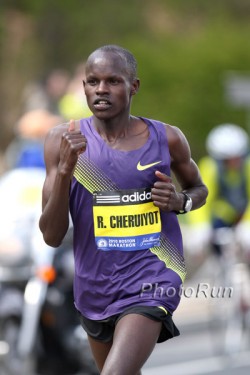 Few believed running under 2:06 on the difficult Boston Marathon course would be possible. But on the 114th running of this historic race, Robert Kiprono Cheruiyot amazed marathon fans all over the world and crossed the finish line in 2:05:52 hours. He hopes to further his success at the upcoming Bank of America Chicago Marathon on October 10.
Robert K. Cheruiyot grew up in Bomet, a small town in the southern part of the Great Rift Valley—the part of Kenya made famous for world-class runners and tea plantations.
As a child, the 21 year old ran everywhere, covering 7 kilometers back and forth from home to school four times a day. These 28K daily runs apparently established a substantial aerobic base—something he'd later greatly benefit from when he turned to elite running. Competing in school, Robert already clocked 14:30 minutes for 5 kilometers and 30:33 minutes for 10K.
After school, Robert K. Cheruiyot began to train in Iten, a famous camp for runners close to Eldoret, the running capital of the Great Rift Valley. There, he met a successful Kenyan marathon runner, Christopher Cheboiboch, who was the 2002 runner-up in the New York and Boston Marathons. Though things looked promising initially, Robert K. Cheruiyot didn't think he was making progress with his training partner and decided to join another group. He returned to Eldoret and has been coached by William Kiplagat, a 2:06 marathoner, ever since.
William Kiplagat is optimistic about Robert K. Cheruiyot. "After two months of training, I knew that Robert was strong and would take training seriously. Even if I wasn't present myself with the group, he would follow my instructions to the letter," he notes. At the 2007 Nairobi Half Marathon, Robert K. Cheruiyot ran close to 63 minutes—a very good result, considering the venue's high altitude. After that success, William Kiplagat persuaded the young runner to join him in the 2008 Commerzbank Frankfurt Marathon.
This decision turned out to be problematic, because there was no more money in the race's elite budget. But William Kiplagat convinced his manager, Jos Hermens from the Netherlands, to give Robert K. Cheruiyot a chance. Jos Hermens paid for the flight out of his own pocket. He then made a deal with the Frankfurt organizers: if Robert K. Cheruiyot ran under 2:14, he'd be reimbursed by the Frankfurt Marathon.
At that time, Robert K. Cheruiyot was just 20 years old. He had never run a marathon before. In fact, he hadn't even raced outside of Kenya. On his first European trip, the youngster seized the chance of a lifetime. As soon as the race started, it was clearly evident that he lacked experience. Instead of running behind the pacemakers, which most runners do, Robert ran alongside them. But despite his unconventional tactics, he ended up winning the race in 2:07:21 hours—a new course record—and finishing nearly four minutes ahead of his coach who placed tenth. "I'm completely surprised to have won here, I didn't give that a thought during the race," said Robert K. Cheruiyot after his triumph.
"This win changed my life," recalls Robert K. Cheruiyot. Thanks to the prize purse, he was able to help his family who had been struggling financially after the death of their father in 2007. His mother, who had four other children, took over the farm and three cows. With the proceeds from the race, Robert bought her a new house and seven additional cows.
In April of 2009, the Kenyan ran his first Boston Marathon in 2:10:06. Though a respectable time, he noted that he had slight problems with his anterior thigh muscle during the race.
That autumn, Robert K. Cheruiyot returned to Frankfurt as defending champion at the age of 21. He finished runner-up with a personal best of 2:06:23. Last spring, he was once again at the starting line of the Boston Marathon and won it. "I again had problems with my anterior thigh muscle when I arrived in Boston, but this time I had a massage every day," said the Kenyan after the race, which he won by a half-kilometer margin. More information about the 114th Boston Marathon can be found here.
For his marathon preparation, Robert Kiprono Cheruiyot—not to be confused with the multiple Boston and Chicago winner Robert Kipkoech Cheruiyot nor with the 2008 Chicago winner, Evans Cheruiyot—runs up to 250K a week. His longest training run averages 38K. Robert K. Cheruiyot is currently living at the home of his coach William Kiplagat. One of his training partners is Vincent Kipruto, the winner of the 2009 Paris Marathon in 2:05:47.
Anyone who can run 2:06 at Boston should be able to improve that time by a considerable margin on a fast course. Stay tuned: we should be hearing a lot more from Robert Kiprono Cheruiyot in future.
© Copyright 2010-2022 by Take The Magic Step®. All Rights Reserved.
Article Archive