34,000 Runners: Record Turnout for Africa's Largest Race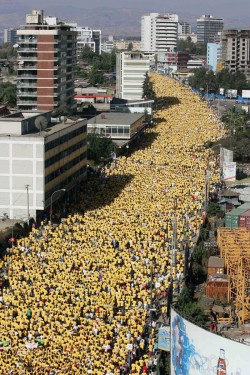 The Great Ethiopian Run continued its reputation as Africa's largest race as over 34,000 runners hit the streets of the Ethiopian capital Addis Ababa on Sunday.
The Great Ethiopian Run's patron is Ethiopian running superstar, Haile Gebrselassie. He, along with the city's mayor and Paula Radcliffe, fired the starting gun. Radcliffe, the British world record holder for the marathon, was the guest of honor at the 10-kilometer race.
This event is one of two international races in the British Great Run series. Like the events run in Britain, the race was successful in raising a significant amount of money for charity (approximately $40,000).
In a country made famous for its distance runners, the race's field was predictably deep. Many Ethiopians train for it in order to make a name for themselves. Two years ago, for example, the women's winner was Wude Ayalew. Little known then, she went on to finish third at the 10,000 meter in this summer's World Championships.
On Sunday, however, the winner of the men's race wasn't unknown. Tilahun Regassa of Ethiopia, the winner of this year's prestigious Falmouth Road Race in the United States and 11th place finisher in the World Half-Marathon Championships, crossed the finish line first in 28:41 minutes—a course record. Aberu Kuma (ETH), who led for most of the race, finished a second behind. Feyisa Lelisa (ETH) was third in 28:41.
The women's course record also fell as Koreni Jelila of Ethiopia won in 33:03. Amane Godane (33:18/ETH) and Belaynesh Oljira (33:38/ETH) finished second and third respectively.
© Copyright 2009-2022 by Take The Magic Step®. All Rights Reserved.
Article Archive