Record Turnout and Fast Times at the 35th Annual Bellin Run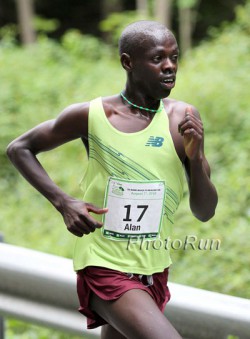 Every year, Wisconsin's largest road race and one of the largest 10Ks in the nation, the Bellin Run, seems to get better and better. This year, the 35th edition of the event, was no exception with 18,701 participants registering for the race through Green Bay—a new record. The proceeds from the event benefit the Bellin College of Nursing, which is an advocate for improved fitness and health in the Green Bay community. Thousands of spectators lined the streets to cheer on their friends and family members on their way to the finish line on this cool and cloudy day.
At the front of the race, which starts and ends at the Bellin Hospital, were athletes from Kenya. KIMbia's Allan Kiprono, coached by Take The Magic Step's Dieter Hogen, seized an early lead and never looked back. He broke the finish-line tape first in 28:29 minutes. Second place also went to a runner of Dieter Hogen's training group, Lani Rutto Kiplagat, who finished 35 seconds later. KIMbia's John Korir, the longtime champion who has won the race a record five times, came in third in 29:43.
"I'm so grateful," Allan Kiprono told the Green Bay Gazette after his victory. "I was expecting a lot. My last two or three races, I finished two, two, two … This is my first time [running the Bellin], so I didn't know the course, so I just followed the vehicle only."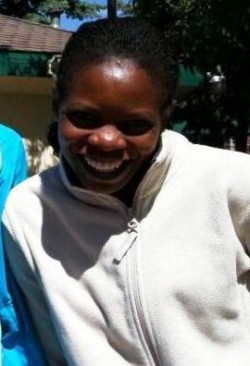 Lani Rutto Kiplagat, the second-place finisher, had been able to keep up with Allan for the first half of the race, but eventually fell behind with two and half kilometers remaining.
Meanwhile, in the women's race, returning champion Jelliah Tinega of Kenya, also a member of the Dieter Hogen's training group, was able to retain her crown. She won the race in 32:34. Jelliah employed the same winning tactics she used in last year's event, keeping up with the trailing edge of the men's lead group at the beginning of the race in order to keep the opening miles challenging for the rest of the women.
Her strategy paid off. Second-place finisher Allie Woodward (USA) ran herself a strong race and crossed the finish line in 34:18.
"I was behind the men, so that they could push me to win this," recalled Jelliah in an interview with the Green Bay Gazette, who ended up placing 16th overall. "I kept following the men and afterwards, I went at my own pace."
The third place went to Australia's Benita Willis who clocked 34:35.
Not too far behind the women's leaders was Take The Magic Step's Uta who finished in an impressive 41:10—good for third in her new age group. Uta was making a comeback after a cycling accident last summer.
Referring to the new turnout record for the 10K race and the Dick Lytie Children's Run, which was held on Friday, Uta had this to say about the weekend's events: "This year's 35th Bellin Run was all about records. It was about the turnout from all the children as well as the 10K runners. There were children from 61 schools taking part, which is a testament to the level of fitness and heath in the local community. I was also touched to see the new class of disabled athletes pushed by myTEAM TRIUMPH. There are so many inspirational stories out there!"
Uta has been inspiring runners at the Bellin Run for the past 15 years. "I met many friends this weekend that I've known since I started coming to Green Bay," she recalled. "I can't thank enough race director Randy Van Straten for making this event so special for all and my sponsor KI for allowing me to be a part of it."




Article Archive