Races without Rabbits Hair-Raising in New York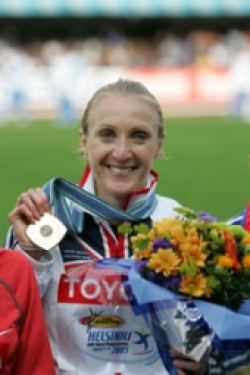 Paula Radcliffe and Martin Lel can win big-city marathons with or, like today at the New York City Marathon, without pacemakers. Both races today came down to two-person duels over the final half mile that were clear victories by the finish. Radcliffe finally broke Gete Wami while reentering Central Park, and then flat-out sprinted the last 200 meters to win in 2:23:09 hours. Lel kicked strongly with 400 meters to go to break Abderrahim Goumri and win by 12 seconds in 2:09:04.
Radcliffe and Wami ran together literally from the first step and immediately separated themselves from the other women at an ambitious pace. Setting the tempo, Radcliffe passed 5 kilometers in 16:46 minutes with Wami tucked on her shoulder. The chase pack of defending champion Jelena Prokopcuka, Catherine Ndereba and Lidiya Grigoryeva was 6 seconds back and would never again be a factor. By 15K, passed in 50:12, Radcliffe and Wami already had a 1:28-minute lead.
Taking track-racing tactics to the five boroughs of New York, Wami let Radcliffe do all the work for as long as the world record holder wanted to. The tactic made sense for two reasons: first, Wami has used it to win Olympic and World Championship titles over Radcliffe and second, she was racing just five weeks after winning the Berlin Marathon.
Radcliffe started trying to break Wami in the 21st mile with a surge on a short uphill. For the first time, daylight appeared between the two, but Wami caught back up on a downhill stretch. The pattern continued over the remaining miles. At one point, Radcliffe had built a 5-second lead, but over the 24th mile, Wami slowly closed the gap. The Ethiopian still looked smooth and ready to spring one move to break Radcliffe, who was visibly straining.
When Wami's move came, it was bizarre. She moved aside Radcliffe and slightly in front of her for the first time of the morning along Central Park South, with approximately 700 meters to go. Two seconds later, the move—and the race—was over. Radcliffe easily matched Wami, and put 3 seconds on her rival by the time she reentered Central Park 100 meters later. By her finish in 2:23:32, Wami was a well-beaten 23 seconds back. Radcliffe later said she told herself, "This is the marathon. This is my territory." With her victory, Radcliffe improved her marathon record to seven wins in eight starts, the only glitch being her failure to finish the 2004 Olympic Marathon. This win was especially meaningful because she gave birth in January, and this was her first marathon since being the 2005 world champion.
In taking second, Wami had perhaps the best consolation prize in marathon history. With her win in Berlin and finish today, she bested Prokopcuka in the final standings of the first World Marathon Majors series, and won the $500,000 women's prize.
Prokopcuka closed well over the last 15K to take third in 2:26:13. Grigoryeva was next in 2:28:37, followed by Ndereba in 2:29:08. KIMbia's Elva Dryer was the top American, taking sixth in 2:35:15.
Men's Race
In a different season, on a different continent and over a different sort of course, the last mile of the men's race nonetheless turned out to be a replay of April's London Marathon. Once again, Lel easily outsprinted Goumri, despite the latter's vastly superior track times of 12:50 minutes for 5,000 meters and 27:02 for 10,000m.
Running without pacemakers for the first time in several years, the lead men started off conservatively, passing halfway in 1:05:45 hours after a mix of slow and fast miles. As has occurred the last few years, 2004 champion Hendrick Ramaala threw in a significant surge on during the 17th mile on First Avenue in Manhattan. What had just a few miles earlier been a pack of 15 was suddenly down to 5, as the leaders covered the 2-mile stretch from 16 to 18 in 9:07. By 35K, Ramaala, Boston runner-up James Kwambai and 2002 champion Rodgers Rop had fallen off.
Unlike in the women's race, the two remaining contenders ran side by side. Past the 2-hour mark, neither appeared in greater distress. Only upon reentering Central Park, with less than 3 minutes of running remaining, did they separate. Lel gained a step lead, then a two-step lead, but certainly nothing commanding. It seemed that Goumri might now have the experience to reverse the sprint order from London, which was his debut. But just after passing the 400-meters-to-go mark, Lel found a noticeably different gear, and the race was over. Goumri lost 12 seconds in the final, uphill stretch to finish in 2:09:16.
Ramaala was clearly addled by his earlier surging as he finished well back in third in 2:11:25. Reigning Olympic champion Stefano Baldini, who had ignored the earlier fluctuations in pace, picked off several runners in the last 10K to take fourth in 2:11:58. KIMbia's Stephen Kiogora couldn't repeat his podium-position finish of last year, placing seventh in 2:13:41.
Athens Classic Marathon Picks up the Pace
Kenya's Benjamin Korir Kiprotich and Russia's Svetlana Ponomarenko won the 25th Athens Classic Marathon. In mild weather conditions, with temperatures reaching a maximum of 70° and an occasional light rain, winning times were much faster than in the years before. Kiprotich clocked 2:14:40 on the classic route from Marathon to Athens' Panathinaikon Stadium, while Ponomarenko crossed the line in 2:33:19.
The jubilee edition of the Athens Classic Marathon saw a huge increase in runners compared to last year, when there were just more than 5,000 athletes. Counting all of the races held in conjunction with the marathon, this year the figure was up to 7,950, including 4,750 marathoners. Abel Anton, Spain's marathon world champion from 1997 and 1999, took part in the 10K.
Kenyans had won the Athens Classic Marathon the three previous years, and dominated again this year. Eight of them formed the leading group when the halfway point was passed in 68:07. At about 35K, Kiprotich broke away and opened a decisive gap. "I had tried to get away earlier. But then I decided to relax a bit more and let the others catch me again. I was sure that I would win the race," said the 29 year old, who ran a personal best of 2:10:43 earlier this year when he finished third in Brescia. "I will now prepare for a big spring marathon. And it is my aim to run a time between 2:07 and 2:08," added Kiprotich. Kenyans Hosea Kiptanui Kimutai (2:15:03) and defending champion Henry Tarus (2:15:57) took second and third, while Georgios Karavidas finished tenth in 2:23:51, taking the Greek championship.
In the women's race, the big favorite, Ponomarenko, passed halfway in 1:15:56. The 37 year old, who won the Frankfurt Marathon in 2006 and has a personal best of 2:29:55, ran a very consistent pace. "The weather was fine for me. I would now like to qualify for Beijing next year," said Ponomarenko. Chihiro Tanaka (Japan) took second in 2:41:01, followed by the new Greek champion Magdalini Gazea (2:41:31).
© Copyright 2007-2022 by Take The Magic Step®. All Rights Reserved.
Article Archive