Pre-Race Favorites Wanjiru and Mikitenko Triumph in London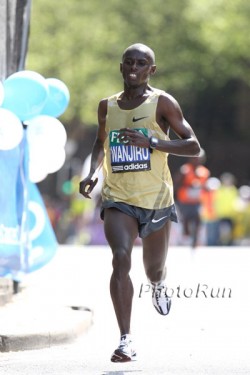 In a race touted as the marathon with perhaps the deepest field in history, the winner of the men's London Marathon on Sunday was Sammy Wanjiru of Kenya. He put on a majestic showing, defeating Tsegay Kebede in a thrilling duel. His time was 2:05:10 hours—ten seconds ahead of the Ethiopian, Kebede. Wanjiru's time was also a course record and the ninth-fastest marathon in history. Jaouad Gharib of Morocco finished third in 2:05:27.
In the women's race, Irina Mikitenko won for the second straight time. The 36-year-old German marathoner ran a blazing 2:22:11—the fastest time in the world this year. She beat Mara Yamauchi (2:23:12) of Great Britain who ran a courageous race. The Russian, Liliya Shobukova, finished third on her marathon debut in 2:24:24. Mikitenko's time was the second-fastest of her career. She is the current owner of the German national record: 2:19:19.
The men's race got underway 45 minutes after the women's and without the presence of the defending champion, Martin Lel. Lel, who had a very good chance of winning the London Marathon title for the fourth time, had to unfortunately withdraw because of a hip injury. "I'm disappointed, but I have to be careful about this. It's not a serious injury but I couldn't have given 100 percent," said Lel who wished his occasional training partner Sammy Wanjiru the best of luck.
After the gun went off, the pace was predictably blazing fast. Sammy Wanjiru pushed the rabbits to pick up the pace. The lead pack crossed 10 kilometers in a mind-numbing 28:20 minutes—a split time that would put them on course to finish in exactly two hours! "I like running faster at the start and the pace was no problem for me," explained Sammy Wanjiru afterwards. It's possible that this unbelievable pace at the beginning of the race resulted in no one breaking Haile Gebrselassie's world record of 2:03:59. Despite not breaking the world record, Wanjiru remained unphased. "Yes, I was very tired at the end, but I'm not upset, because I learned a lot and think that the next time I can break the world record," he said.
After such a fast start, the pace eased up a bit mid-race. The lead pack, which comprised nine men, reached the half in 61:35. Apart from the eventual top three finishers, the pack included the world half-marathon champion, Zersenay Tadese (Eritrea), who was making his marathon debut in London. He struggled later in the race and unfortunately had to drop out. Sammy Wanjiru made his big move shortly before 30K. This move turned out to be the decisive one. Only two runners went with him: Tsegay Kebede of Ethiopia and Jaouad Gharib of Morocco who finished second and third respectively. As they headed from the Tower of London towards Big Ben, it was looking increasingly as if Kebede was going to give Wanjiru a run for the money. In a thrilling demonstration of late-race strength, he cut Wanjiru's lead to just a few strides. Yet whenever Wanjiru turned around and saw Kebede, he was able to lengthen his stride and surge. About a mile from the finish, the Ethiopian appeared to be struggling.
Wanjiru later recalled that, "at 40K, I could see that I wasn't going to break the world record, but that I could still break the course record."
For his hard efforts, Wanjiru was rewarded with $155,000 in combined prize money for his victory and course record.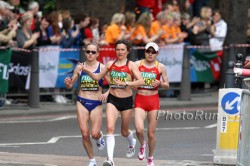 In the women's race, Irina Mikitenko's victory earned her $80,000 in prize money and time bonuses. She took control of the race from the start and reaching the half-marathon point on Tower Bridge in 1:10:53. Along with her, stride-for-stride, was eventual second-place finisher, Mara Yamauchi and the Chinese runner, Zhou Chunxiu, who won London in 2007. At that point, world champion Catherine Ndereba (Kenya), and the Olympic gold medalist from Romania, Constantina Dita, were already over a minute behind. They never posed a serious threat to Mikitenko. It was a different matter in the case of Mara Yamauchi. After Chunxiu dropped back at 28K, Yamauchi, who had finished sixth in Beijing, refused to be shaken off by Mikitenko. "I knew that Mara wanted to run 2:22, but I thought I could beat her if it came to a sprint finish," said Mikitenko after the race. The decisive moment of the race came between 35 and 40 kilometers. At the point, Mikitenko built over a minute lead on Yamauchi.
"When I was in front I had to keep pushing the pace so the chasing group couldn't close the gap. That wasn't easy because we were running into the wind in the second half," said Mikitenko afterwards. She became the first woman since Paula Radcliffe to successfully defend her title.
This second win in the London Marathon makes Mikitenko a strong favorite to win the World Marathon Majors (WMM) Series 2008-2009. After winning the 2007-2008 series, she now leads with a maximum 75 points from three races after wins in London in 2008 and 2009 as well as Berlin in 2008. The situation is similar in the men's series where Wanjiru also leads by 35 points (65 total points).
Top Eight Male Finishers:
1. Sammy Wanjiru (KEN) 2:05:10
2. Tsegay Kebede (ETH) 2:05:20
3. Jaouad Gharib (MAR) 2:05:27
4. Emmanuel Mutai (KEN) 2:06:53
5. Hendrick Ramaala (RSA) 2:07:44
6. Abderrahim Goumri (MAR) 2:08:25
7. Yonas Kifle (ERI) 2:08:28
8. Atsushi Sato (JPN) 2:09:16
Top Eight Female Finishers:
1. Irina Mikitenko (GER) 2:22:11
2. Mara Yamauchi (GBR) 2:23:12
3. Liliya Shobukova (RUS) 2:24:24
4. Svetlana Zakharova (RUS) 2:25:06
5. Berhane Adere (ETH) 2:25:30
6. Inga Abitova (RUS) 2:25:55
7. Catherine Ndereba (ETH) 2:26:22
8. Tomo Morimoto (ETH) 2:26:29
Ethiopia's Tside and Spain's Aguilar Win in Hamburg
Solomon Tside of Ethiopia won the men's title at the Hamburg Marathon on Sunday running a personal best of 2:11:47 while Spain's Alessandra Aguilar ran her fastest time of 2:29:01 to win the women's race.
East African runners dominated the men's event, but the fastest entrant didn't make it to the start line. Joseph Riri of Kenya, who has run 2:06:49, was the pre-race favorite, but didn't make it to the start line. The temperatures on Sunday morning (59 degrees Fahrenheit) were far from ideal which contributed to the slower-than expected finishing times.
The man who made a move just after 26K was the Kenyan, Charles Ngolepus. Though entered as a pacemaker, Ngolepus decided to stay in the race rather than drop out. The only rival to follow was Solomon Tside. While Ngolepus looked to be the likely winner, Tside had more in the tank at the finish. He took the lead before 40K. At that point, Ngolepus started to have stomach problems. Ngolepus finished in second with 2:13:25. Jose Telles des Souza of Brazil was third in 2:14:46 and Jose Moreira of Portugal finished fourth in 2:14:57.
The women's champion, Alessandra Aguilar, went to the front early in the race. The pacemakers were working well and Aguilar ran even splits, leaving the home favorite, Ulrike Maisch, behind. Her winning time of 2:29:01 ensured Aguilar of a World Championship qualifying mark which was her goal for the race. Tigist Abdi Sheni finished second in 2:34:01 and Ulrike Maisch was third in 2:34:28. Emily Kimurya of Kenya placed fourth in 2:37:44.
© Copyright 2009-2022 by Take The Magic Step®. All Rights Reserved.
Article Archive