Paula Radcliffe: "I feel relieved"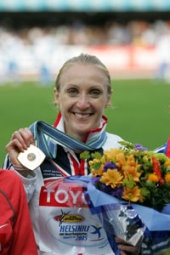 England's Paula Radcliffe won the World Championships' title in the marathon in Helsinki on Sunday.
How do you feel after your first marathon victory at the World Championships?
Paula Radcliffe: I feel great and I am very happy for the gold medal. I feel relieved, but I knew that I was capable to win the marathon. It is totally different to the races before. This time I had no health worries and my shape was excellent. I was running well and I could enjoy the race quite a bit. I have heard the people shouting my name in many different languages, like Finnish, German and English of course. And I even saw my name written on the street as in the Tour de France—that was nice. It is my first gold medal in the marathon at world championships and it was important to me as the world record holder to show everybody that I can win major championships.
You weren't that strong in the 10,000 meters as expected. What was the problem and do you think it helped you?
Paula: I was disappointed, of course. I think I had too much marathon preparation in my legs. But today I felt strong. I wanted to run the first half in a comfortable but descent pace. Between the 5- and 10-kilometer section I felt really strong, and in the other half of the round we had a lot of wind. But I got a good rhythm, especially in the hills. I enjoyed the hills because it was nice to change the rhythm a bit. Also I have trained on much bigger hills in France, where I had my trainings base. These here weren't as massive as in Font Romeau in the French Pyrenees.
You had won the World Cross Country as well. Which world title is more important for you?
Paula: The World Cross Country Championships in 2001 were really important. It was my first focus—at that time I wanted to be the World Champion in the cross country. Once I had reached one big goal it was time for the next. And this was the world championships' title in the marathon—it is as important as the cross title was for me in 2001. For the London Olympics in 2012 it won't be easy for Britain's athletes. You need to give some athletes a little bit of a break. We have to make athletics more attractive and make it stronger. We need more young people to come through. This is important to have successful Olympics.
© Copyright 2005-2022 by Take The Magic Step®. All Rights Reserved.
Article Archive