Paul Tergat Wins ING New York City Marathon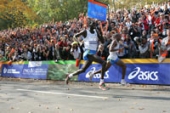 Paul Tergat won his second big marathon and again produced a spectacular finish. For the second time the Kenyan had a winning margin of just one second after 42.195 kilometers. In 2003 he set the current world record of 2:04:55 hours at the real,- Berlin-Marathon, but was almost beaten by his training fellow Sammy Korir. The Kenyan finished second in 2:04:56 hours.
At the ING New York City Marathon, 36-year-old Paul Tergat celebrated his second marathon triumph of his glamorous career. He clocked 2:09:30 hours in the Central Park. The South African Hendrick Ramaala, who had come as defending champion to New York, threw himself into the finish at the end of the sprint duel, but it wasn't enough. Paul Tergat used his speed once again successfully and won. Ramaala finished in 2:09:31. Third was the US American Meb Keflezighi in 2:09:56. For Paul Tergat it was his second victory out of nine races. It was his premier marathon in New York.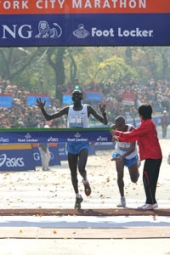 In the women's race Jelena Prokopcuka of Latvia surprisingly won in 2:24:41 hours ahead of the assumed favorite Susan Chepkemei (Kenya/2:24:55). Third was the Ethiopian Derartu Tulu in 2:25:21 hours. In good but rather warm weather conditions at the end of the race, about 2.5 million people watched the race along the course from Verrazano Bridge to Central Park. 85,000 runners had applied for a bib number, and 52,000 received one through a lottery. Last year the New York City Marathon had 36.562 finishers, the highest marathon finisher figure ever. This time the result should probably be similar.
The new race director Mary Wittenberg had offered a new record prize money in the women's race: In a unique campaign the women's prize money was raised to 130,000 Dollar. So Jelena Prokopcuka won the highest prize money (without bonuses) which was ever paid in a marathon. Shortly the Chicago Marathon had offered a record prize money of 125,000 Dollar. Paul Tergat got 'only' 100,000 Dollar in New York.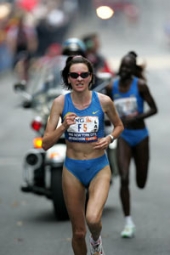 Nearly 20 runners formed a leading group in the men's race. They reached 5K in 15:14 minutes and 10K in 30:18. That was a good pace for the challenging course in New York. This would have been an expected finishing time of slightly under 2:08 hours. But in the next stage they slowed down. The first half was reached in 64:55 minutes. Now the leading group had 19 runners, among them Tergat, Ramaala and Keflezighi as well as the Ethiopian Hailu Negussie, who had won the Boston Marathon in April, Kenyan Robert Cheboror, Robert Cheruiyot and Victor Röthlin. The Swiss finished with a good seventh place, clocking 2:11:44.
Ramaala initially forced the pace and the group split apart. Keflezighi and Cheruiyot followed the South African. But it did not take long until Paul Tergat joined them. Cheruiyot was then the first who lost contact at 37K. Shortly before 40K it was a duel, because Keflezighi had lost speed as well. So the dream of the first US victory in New York since Alberto Salazar in 1982 did burst. But only on the very last meter the duel ended in favor of Paul Tergat. It was the most thrilling and tightest finish in the history of the New York City Marathon.
"To have won in New York is something really special, because this marathon is one of the most spectacular races in the world," said Paul Tergat. "This success is also a big motivation for me." The warm conditions at the end of the race took their toll and Paul Tergat explained: "I didn't expect a sprint duel this time. It was a hard race." When he was asked about the time, the world record holder said: "That is, for sure, no course for a time of 2:05 or 2:06."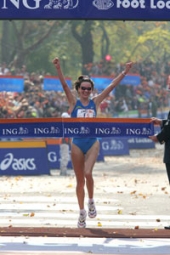 While Paul Tergat earned a time bonus of 25,000 Dollar, Jelena Prokopcuka got 30,000 Dollar for her time of sub 2:25 hours. A leading group of nine women had reached 10K in 34:15 minutes. In contrast to the men's race, the pace was more constant. After 1:12:19 hours they reached half way. British pacemaker Liz Yelling led the big group to 23K. After the Russian Ludmila Petrova, who later finished sixth, had taken the lead, Jelena Prokopcuka forced the pace. She had won the Osaka Marathon with a personal best of 2:22:56 hours earlier this year in April. But at 30K she fell back. Susan Chepkemei, Derartu Tulu and Salina Kosgei (2:25:30/4th place) were leading.
Susan Chepkemei, who was already runner up last year with and only three seconds behind Paula Radcliffe with a world class time of 2:23:13, seemed to run for victory. But the Kenyan suffered from stomach problems and Jelena Prokopcuka came back again. Next to each other they ran for a while, but the Latvian then ran away on the last mile. "I have strong competitors, but it is not impossible for me to win here," the 29-year-old Jelena Prokopcuka had said before the race. "This is a big victory for me," she said and explained: "When I saw that Susan Chepkemei had problems, I knew that I would have a chance and was confident again."
© Copyright 2005-2022 by Take The Magic Step®. All Rights Reserved.
Article Archive