Paul Tergat: "I wish my Berlin record could stay forever—I am sure I will come back to Berlin one day"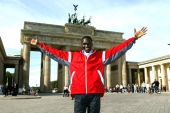 Paul Tergat broke the world record at the real,- Berlin-Marathon 2003. His mark of 2:04:55 hours still stands as a record today. Not even his archrival Haile Gebrselassie (Ethiopia) did ever come near to the mark with which Paul Tergat wrote history. Having had to withdraw from the Flora London Marathon last Sunday he gave us the following interview.
What is next on your agenda, after not being able to run at the Flora London Marathon?
Paul Tergat: I am very disappointed and sad that I was not able to run in London. It was a great race in which Felix Limo and Martin Lel showed a good fight at the end. I have to look in the future and I know that I will run a marathon at the end of the year. It will be a fall marathon. Before that I want to run one or two 10-kilometer races, but I don't know yet where or when.
London was the second race of the new World Marathon Majors Series. What do you think about it?
Paul: It's a great idea. Many of us never have the opportunity to compete at big championships. Now we can collect points for a jackpot, and everybody knows that it is competition we marathoners want to have. That definitely needs to be supported. The interest about marathon is now at a higher level. The five races of the World Marathon Majors are doing a great job so far.
How long do you think your world record will last?
Paul: I wish it could stay forever. But records are meant to be broken, although I have not a clue when it could happen in this case.
What memories do you have of the real,- Berlin-Marathon?
Paul: It is my city. It is my race. I have memories about Berlin I will never forget. It is where I set the marathon world record in 2003. The course is very fast and the crowd is great. I am sure I will come back some day.
© Copyright 2006-2022 by Take The Magic Step®. All Rights Reserved.
Article Archive