Patrick Makau's Time of 2:05:08 Hours Is a "Rain Record" for Berlin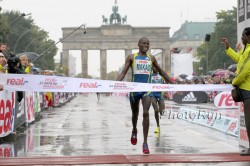 In spite of a steady downpour throughout the race and cool temperatures (54 degrees Fahrenheit), 25-year-old Kenyan Patrick Makau ran a world-class time of 2:05:08 in the Berlin Marathon on Sunday, marking the eleventh-fastest time in marathon history. The ten previous times were run in much better weather, which makes Patrick Makau's performance that much more impressive. Finishing just two seconds behind Patrick Makau at the Brandenburg Gate was his compatriot Geoffrey Mutai. Third place went to the Ethiopian, Bazu Worku, who crossed the line in 2:05:25 hours. For the first time in the history of the real,- Berlin Marathon, three runners dipped under 2:06.
The Kenyan pair was congratulated by their Prime Minister, Raila Odinga, who held the finishing tape. Raila Odinga was there on a private visit to Germany and used the race as an opportunity to witness the success of his country's runners. "I'll never forget that moment. It was a dream to meet him. In Kenya I would never have had a chance of meeting him," said a thrilled Geoffrey Mutai afterwards.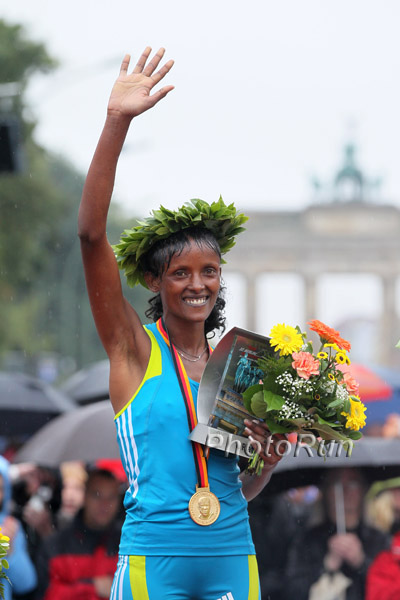 The fastest woman in Berlin was Aberu Kebede (Ethiopia) who set a personal best with her time of 2:23:58. Aberu Kebede won ahead of her compatriot, Bezunesh Bekele (2:24:58), as well as Tomo Morimoto (Japan/2:26:10). Germany's Sabrina Mockenhaupt took fourth and improved her personal best by one second (2:26:21). A total of 40,945 runners from 122 countries took part in the 37th edition of the Berlin Marathon with 34,225 participants crossing the finish line. Approximately 700,000 spectators lined the 42.195K course.
"There certainly wasn't a shortage of water today," joked Patrick Makau after the race. For 20 years, the Berlin Marathon has enjoyed consistently excellent weather conditions, but it was a different scene on Sunday. The race's pacemakers led the leading group through the puddles at world-record pace initially. The lead pack went through 10K in 29:20 minutes and 15K in 44:10—right on track for breaking Haile Gebrselassie's world record.
But the leaders struggled to maintain that quick pace as the race progressed. The chances of breaking the world record soon drifted out of reach. They ran the half marathon in 62:36—36 seconds slower than their goal. "The water splashing up from the puddles gave me muscle cramps after 30K. I'm happy to have come through that and finished second," said Geoffrey Mutai, while Patrick Mutai explained: "It was really tough because it was chilly, windy and wet. My muscles are still hurting even now."
When the last pacemaker, Eric Ndiema (Kenya) dropped out at 33K, three runners remained at the front: the favorites Patrick Makau and Geoffrey Mutai as well as the junior world record holder, Bazu Worku (2:06:15). The 20-year-old Ethiopian continued to push the pace but dropped back at 40K. Patrick Makau and Geoffrey Mutai pulled away from him. The race then turned into a repeat of the duel they had at the Rotterdam Marathon last April. The outcome was almost identical, though closer: Patrick Makau won by seven seconds in the Netherlands (2:04:48 to 2:04:55), this time in Berlin his margin of victory was two seconds. It was the closest finish at the Berlin Marathon since Paul Tergat's world record in 2003. In that race, Paul ran 2:04:55, defeating fellow Kenyan Sammy Korir. "I think that today I ran the best race of my career because the conditions made it really tough," Patrick Makau said.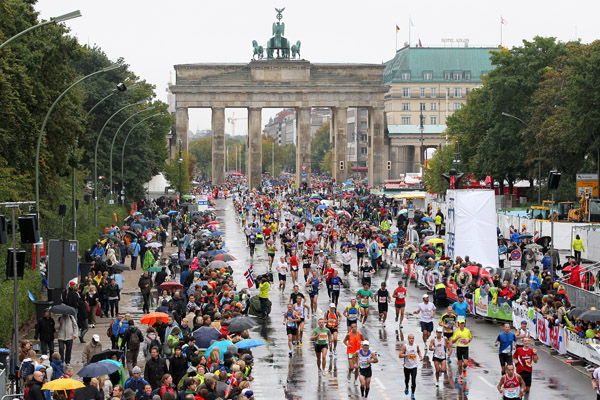 Uta was excited by these strong performances. She is herself a three-time winner of the Berlin Marathon and said afterwards: "What a race! Three men have run under 2:06 in these conditions—I think it's just fantastic." If you ran the marathon or plan to participate in one this fall and you might like to know how to best recover from it, take a look at Uta's most recent Tweet. You can also read more about Patrick Makau in his athlete's profile here on our Web site.
The women's race was slow at the start, with three Ethiopians (Aberu Kebede, Bezunesh Bekele and Genet Getaneh) eventually breaking away near the 10K mark (34:57 minutes). Led by pacemakers, the trio reached the half in 1:12:20. Genet Getaneh was the first to drop back between 25 and 30K. She eventually finished 42nd. The decisive move in the women's race came shortly after 25K. Aberu Kebede, who had improved her PR to 2:24:26 in Dubai and then won the Rotterdam Marathon in 2:25:29, broke away and steadily increased her lead.
"It was very hard in the rain but you can't do anything about the weather," the 21-year-old Genet Kebede would later say. Sabrina Mockenhaupt and Japan's Tomo Morimoto dueled for third place for much of the race with Tomo Morimoto prevailing in 2:26:10 while Sabrina Mockenhaupt finished eleven seconds behind.
Leonard Komon Sets New Road 10K World Record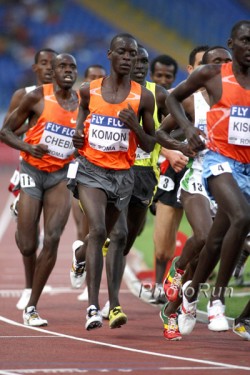 For years, the world's best have been trying to break the 27-minute barrier for 10K on the road. Now Leonard Komon has done it. The Kenyan ran 26:44 in Utrecht, Netherlands, improving the world record by 17 seconds. The former mark of 27:01 minutes had been set by Micah Kogo (Kenya) a year ago in Brunssum (Netherlands). At that time, Micah Kogo improved Haile Gebrselassie's (Ethiopia) seven-year-old world record of 27:02 minutes.
Leonard Komon was already victorious in Utrecht a year ago. There in 2009, he ran 27:10, and had indicated that this year he wanted to run a world record. The Kenyan lived up to his words. Right from the start, he pushed the pace, reaching 5 kilometers in 13:19. His pace in the second half hardly slowed. His finishing time, 26:44, was well ahead of fellow Kenyans Sammy Kitwara (27:11) and Boniface Kirui (28:08).
Twenty-two-year-old Leonard Komon had already made a name for himself two and a half years ago when he won the silver medal at the World Cross Country Championships in Edinburgh, Scotland. His best time for 10,000 meters on the track is 26:57.08.
In the women's race, Rkia El Moukim (Morocco) won in 32:51. Helen Kiprop (Kenya/32:54) and Miranda Boonstra (Netherlands/33:24) finished second and third respectively.
Mary Keitany Continues to Show her Strenght with a Victory in Lisbon
Kenya's Mary Keitany won the EDP Lisbon Half Marathon in 68:46, finishing almost one and a half minutes clear of her compatriot Alice Timbilili (70:08). Agnes Kiprop, also from Kenya, finished third in 70:29 minutes. Approximately 17,000 runners took part in the Lisbon race.
In warm temperatures reaching 74 degrees Fahrenheit, the 28-year-old enjoyed an excellent dress rehearsal for the ING New York City Marathon. On November 7, Mary Keitany will make her marathon debut. In the spring, she showed enormous potential at the Berlin 25K, setting a world record of 1:19:53 hours and becoming the first woman to break 1:20 for the distance.
While Mary Keitany ran unchallenged from the start to her victory, the men's race turned out to be a more dramatic affair. With close to 2K to go, Tadese Tola broke away from his two Kenyan rivals. The Ethiopian went on to win in 61:05 ahead of Josphat Menjo (61:42) and Francis Kiprop (61:47).
Posted September 27, 2010
Article Archive