Patrick Makau and Geoffrey Mutai Break 2:05 in Rotterdam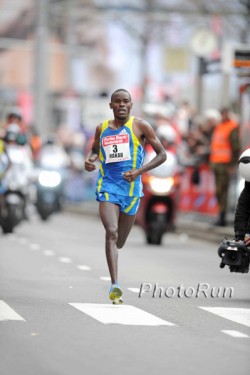 Patrick Makau of Kenya made history yesterday by running the fourth-fastest marathon ever at the Fortis Rotterdam Marathon. It was only the third career marathon for the 25-year-old Kenyan. His time, 2:04:48, was run in cool temperatures with occasional wind gusts. Several hundred thousand spectators lined the streets and cheered him on. The second-place finisher, Geoffrey Mutai (Kenya), also broke 2:05—running 2:04:55 hours, which put him at fifth on the all-time list alongside Paul Tergat. Ethiopian Aberu Kebede won the women's race in 2:25:25.
The men's race was competitive well past the halfway mark. After 30 kilometers, there were still ten runners in the lead pack despite the strong pace. At that point, Feyisa Lelisa of Ethiopia increased the tempo, breaking up the group. Kenyans Geoffrey Mutai and Vincent Kipruto went with him, though Kipruto had earlier been forced to stop briefly because of a light cramp. Patrick Makau chose to be more cautious and gradually caught up with the leading trio. The four runners reached 35K in 1:43:52. Last year's runner-up, James Kwambai (Kenya) who ran 2:04:27 here in 2009, kept going even though he was having problems. He ended up finishing 20th in 2:24:07.
The three leading Kenyan runners dictated the pace between kilometers 35 and 39. Feyisa Lelisa remained a couple of strides behind. At that point Patrick Makau made his move, dropping Lelisa and Kipruto. Geoffrey Mutai kept with him. It looked as if the race would end in another sprint finish like last year when Duncan Kibet passed James Kwambai in the last few meters to win. However, with approximately 800 meters to the finish, Patrick Makau opened a decisive gap to ensure the win.
Vincent Kipruto took third place with 2:05:13, while Feyisa Lelisa was fourth in 2:05:23. Both of those times were also world-class and for the first time in a marathon, four runners went under 2:06 hours. The average of the ten fastest men's times in Rotterdam is now an incredible 2:05:17.7. Bernard Kipyego of Kenya finished fifth in 2:07:01 despite stumbling at a water station; it was his debut marathon. The best European was Koen Raymaekers (Netherlands) who finished ninth in 2:11:09.
Makau's impressive victory fulfilled the expectations which a series of strong performances over shorter distances had prompted. He owns the third-fastest half-marathon time (58:52). Among his successes in Germany, he has won both Berlin's Half Marathon and the 25K race. He made his marathon debut a year ago in Rotterdam and finished fourth in 2:06:14. Running has positively affected Patrick Makau's life. According to the IAAF Web site, he grew up in poverty and turned to athletics as a means to improve his life. His earnings from racing have made it possible for him to take care of his extended family.
In the women's race, the 20-year-old Aberu Kebede led from start to finish. The Ethiopian won in 2:25:25 ahead of the American Magdalena Lewy-Boulet. Boulet's time, 2:26:22, was a personal best. Third place went to the pre-race favorite, Zhu Xialin of China, in 2:29:42. Yevgeniya Danilova of Russia was fourth (2:31:44). Aberu Kebede made her marathon debut in Dubai in January where she finished second in 2:24:26—only seven seconds behind the winner. Rotterdam was only her second marathon.
This year marked the 30th anniversary of the race which began in 1981 with only 200 participants. Since then, the race has grown in numbers as well as prestige with over 12,000 runners from over 60 countries taking part in this year's event.
The Top 10 Men's Times in History:
2:03:59 Haile Gebrselassie (ETH) Berlin 2008
2:04:26 Haile Gebrselassie (ETH) Berlin 2007
2:04:27 Duncan Kibet (KEN) Rotterdam 2009
2:04:27 James Kwambai (KEN) Rotterdam 2009
2:04:48 Patrick Makau (KEN) Rotterdam 2010
2:04:53 Haile Gebrselassie (ETH) Dubai 2008
2:04:55 Paul Tergat (KEN) Berlin 2003
2:04:55 Geoffrey Mutai (KEN) Rotterdam 2010
2:04:56 Sammy Korir (KEN) Berlin 2003
2:05:04 Abel Kirui (KEN) Rotterdam 2009
KIMbia Team Takes Top Honors in American Capital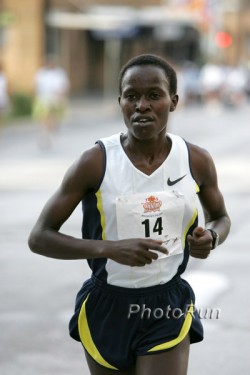 The KIMbia women's team triumphed at the 38th Credit Union Cherry Blossom 10 Mile Run in Washington, D.C. For the third straight time, Lineth Chepkurui won, finishing
in 51:51 minutes—more than 90 seconds faster than her previous best in the race. Lineth Chepkurui led the race from the start and improved her lead in the second half. Her training partner and fellow Kenyan, Julliah Tinega took second in 52:39. Belainesh Zemedkun of Ethiopia was third in 53:22.
Though it may have appeared to be an easy win for Lineth Chepkurui, she told the Washington Post afterwards that she was grateful for it. "This is a big, long race," she admitted.
This year's event had a record turnout—15,694 runners finished in temperatures of around 60 degree Fahrenheit. The participants start and finish their run at the scenic Washington Monument.
In the men's race, Stephen Tum of Kenya, a relative unknown before the start, won with 45:43 in a sprint finish at the end. Second and third place went to the Ethiopian pair of Lelisa Desisa (45:44) and Tilahun Regassa (45:50).
© Copyright 2010-2022 by Take The Magic Step®. All Rights Reserved.
Article Archive