Outstanding Results for KIMbia's Hopefuls this Weekend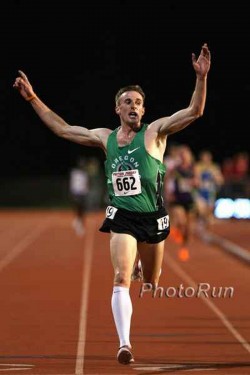 KIMbia's Chris Solinsky made a stunning 10,000-meter debut in Palo Alto, California on Saturday. Running the event at the Payton Jordon Cardinal Invitational, the 25-year-old American clocked a blazing 26:59.60. His time not only made him the first American to break 27 minutes over 25 laps, but was also one of the fastest 10,000m debuts in history. Solinsky is also the first non-African-born runner to break the 27-minute barrier. His performance also makes him fastest in the world this year. Kenenisa Bekele of Ethiopia holds the current world record, 26:17.53 minutes.
The lead group went through 5,000m in 13:34—on track to break the U.S. record of 27:13.98, set by Meb Keflezighi nine years ago. Former University of Oregon standout Galen Rupp had made this record his stated goal before the race. Rupp ended up finishing fourth in 27:10.74—also faster than the old record. Both Rupp and Solinsky ran together until about 1000m to go, when Solinsky made his move, a move sanctioned by his coach, Jerry Schumacher. "I looked at Schumacher with between 1000 and 900 to go, and he gave me the signal to go. When he gave me the signal to go, I felt good enough and I said I'm going to see what I can do. As soon as I went, I said,' OK, let's see if I can get 27 minutes,'" Solinsky recalled to reporters afterwards.
Trailing well behind Solinsky were the Kenyans Daniel Salel (27:07.85) and Sam Chelanga (27:08.39).
KIMbia's outstanding weekend didn't end there, however.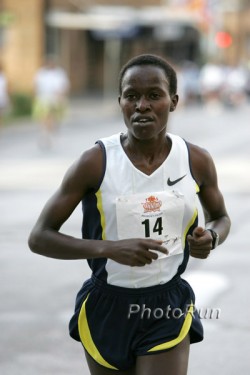 On Sunday, KIMbia's Lineth Chepkurui of Kenya broke the tape first at the 34th Annual Lilac Bloomsday Run in Spokane, Washington for the third time in a row. Her time for the 12-kilometer course, 38:10 minutes, bettered the 15-year-old record by 21 seconds!
By the third mile, the race was down to three women: Lineth Chepkurui, Emily Chebet-Muge of Kenya, and Mamitu Daska of Ethiopia. Chepkurui ended up using the race's three hills decisively to win the race. By the fifth mile, she had taken a slight lead and improved her position gradually in subsequent miles.
"I had to push it hard because I knew they were very fast. So I put in more effort," Lineth Chepkurui told the Bloomsday Web site afterwards. Mamitu Daska ended up finishing in 38:25 and Emily Chebet-Muge was third in 38:50.
The men's race was a Kenyan affair with Peter Kirui (34:28), Julius Kogo (34:33), and Stephen Muange (34:39) finishing first, second, and third respectively.
With approximately 50,000 participants, the Lilac Bloomsday Run is one of largest 12K road races in the United States. It attracts thousands of female starters. In last year's race, well over half of the race's finishers were women. This year, conditions were optimal for the race, with sunny skies and temperatures in the mid-40s. The course winds through scenic downtown Spokane, passing Mukogowa Ft. Wright Institute and Spokane Falls Community College. The runners are then challenged by Doomsday Hill—the largest climb on the course. Throughout the race, bands, vocalists, and performance troupes line the course, which gives runners an extra boost of motivation and excitement.
© Copyright 2010-2022 by Take The Magic Step®. All Rights Reserved.
Article Archive