Our Review of the Long-Distance Events at the European Championships
Men's Marathon
Women's Marathon
Long-Distance Track Events
Europe has two new marathon champions—Daniele Meucci, of Italy, and France's Christelle Daunay, who triumphed as the continent's championships in Zurich drew to a close. On the track, the highlight of the long-distance events was Mo Farah's double win in the 10,000m and 5,000m races.
Men's Marathon: Daniele Meucci Follows in the Footsteps of Gelindo Bordin and Stefano Baldini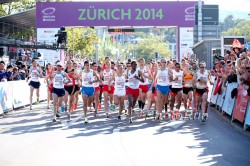 In sunny weather and temperatures that rose to over 68 degrees, Italy's Daniele Meucci became the new men's European champion in the marathon, with a personal best time of 2:11:08. He finished well ahead of Yared Shegumo (Poland/2:12:00) and Aleksey Reunkov (Russia/2:12:15).
Poland's Marcin Chabowski, was the front-runner for much of the race. By the 9K mark he had pulled clear of the field and began to open up a large gap. The 28-year-old, who set his personal best of 2:10:07 when he placed fourth in Dusseldorf in 2012, reached the half-marathon mark in 64:45, with a nearly one-minute advantage over the chase group. After 25K, his lead grew to 70 seconds.
But then his followers started to reel him in and it was Viktor Röthlin, the Swiss titleholder, running the last big race of his career in front of a home crowd, who increased the pace and little by little the chase group fell apart. At the same time, Marcin Chabowski slowed as the temperatures rose. Daniele Meucci made the next move, pulling clear of the field to catch the Polish front-runner. The Italian long-distance runner, who has won medals at past European Championships (bronze in 2010 and silver in 2012 in the 10,000m event) but had participated in only a few marathon races, overtook Marcin Chabowski just before the 35K mark. The long-time leader had to drop out shortly afterwards.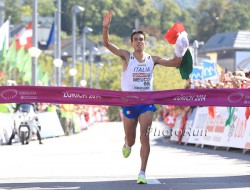 Daniele Meucci had set his previous personal best when he finished tenth in 2:12:03 in November last year in New York and with this victory he improved his best time to 2:11:08. Another Polish runner, Yared Shegumo, won silver with a time of 2:12:00. Aleksey Reunkov of Russia came from sixth to take the bronze in 2:12:15.
"It was a difficult course and I was very tired on the last lap," said Daniele. "But I always believed in myself. The people helped me so much in the last three or four kilometer—the atmosphere was wonderful." He noted that while this was only his fourth marathon he had hoped that Italy would continue to write marathon history. He was referring to his country's remarkable record: his win marked the fifth time that an Italian man has won marathon gold in the European Championships. The first person to do so was Gelindo Bordin (1990 and 1996) followed by Stefano Baldini (1998 and 2006). Both runners were also Olympic Champions in the marathon.
Javier Guerra from Spain finished fourth in 2:12:32. Celebrated Swiss runner Viktor Röthlin took fifth in 2:13:07. Abdellatif Meftah (France/2:13:16) and Ruggero Pertile (Italy/2:14:18) placed sixth and seventh respectively.
Women's Marathon: Christelle Daunay Triumphs Unexpectedly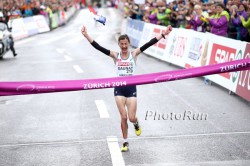 At the age of 39, Christelle Daunay celebrated an outstanding victory in the women's marathon—setting a new championship record of 2:25:14. The French star finished ahead of Valeria Straneo (Italy 2:25:27), the silver medalist at the 2013 World Championships in Moscow, and the Portuguese runner Jessica Augusto (2:25:41). Although the course through downtown Zurich was uneven und not easy to run, all three medalists were able to finish under 2:26:05, which was the previous European Championship marathon record set by Italy's Maria Guida at her victory in Munich 12 years ago.
Christelle had placed between second and fifth at 26.2-mile races in New York, Chicago, and Paris, but until Zurich, she had never finished at the top of the podium. "I finally did it," a happy Christelle said afterwards. "I highlighted a beautiful career with the most beautiful medal." She owns the French national record, which she set back in Paris in 2010 (2:24:22) and this year she finished seventh at the World Half-Marathon Championships in Copenhagen, Denmark. She decided not to run a spring marathon so she could concentrate on her preparation for the European Championships, and the decision paid off.
The race started with cool, 54-degree-Fahrenheit temperatures, and under cloudy skies. A group of seven runners took an early lead—on pace to finish the marathon in 2:25—on the four-lap course. A steep uphill section of each lap, followed by a downhill portion, proved to be a crucial strategic segment of the race. Eventually, a duel between Christelle and Valeria Straneo unfolded and was decided only a few kilometers before the finish. Finally, at the 39K mark, the French runner opened a gap on her Italian rival. "I had to be patient and I knew that I must attack when we were going down the hill," Christelle said after the race.
Beside the three medalists, another three runners finished this challenging race under 2:30. Lisa Christina Nemec (Croatia) placed fourth in 2:28:36 ahead of Elvan Abeylegesse (Turkey/2:29:46) and titleholder Anna Incerti (Italy/2:29:58).
The Long-Distance Track Events: Mo Farah Doubles Again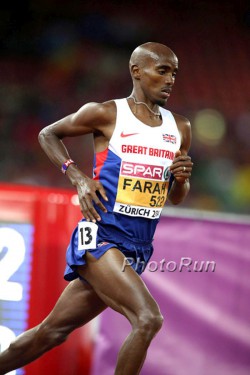 Once more, Mo Farah proved that he may be one of the greatest distance runners in European history. The 31-year-old Briton won the gold medal in the 10,000- and 5,000-meter events, just as he did four years ago in Barcelona. Persevering in pouring rain, Mo triumphed in the 10,000m with a 28:08.11 finish. His fellow countryman, Andy Vernon, was second in 28:08.66 minutes, passing Ali Kaya (Turkey/28:08.72) in the final straightaway.
"This victory means a lot to me," said Mo. "I was really ill a few weeks ago but training has gone well." He clocked an impressive marathon debut last April in London (2:08:21), but had hoped to run faster there. Mo had struggled with injury in the lead up to the Commonwealth Games and decided not to run them last month, concentrating instead on the European Championships—a decision that turned out to be a good one given his impressive comeback in Zurich.
Four days after his 10,000m win, Mo also triumphed in the the 5,000m, finishing with a blazing last lap to cross the line in 14:05.82, ahead of Hayle Ibrahimov (Azerbaijan/14:08.32), who had been on his heels all the way. Third place went to Britain's Andy Vernon in 14:09.48.
Incredibly, the victories mean that Mo is simultaneously not only European champion, but also world and Olympic champion over both long distances.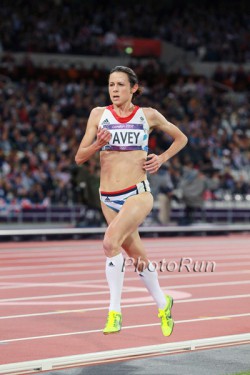 There was a big surprise in the women's 10,000m final as 40-year-old British runner Jo Pavey ran to an impressive gold medal—a fantastic victory in her long career. At the 2012 Olympics in London, Jo finished seventh in the 5,000 and 10,000m event, but was on a break from running last year to have a baby.
Jo took the lead in the closing stages, and in a duel with France's Clémence Calvin she was able to find another gear and finish in 32:22.39, well ahead of Clémence (32:23.58). The bronze medal went to Laila Traby (France/32:26.03). Germany's Sabrina Mockenhaupt (LG Sieg) made a great effort, finishing sixth in 32:30.49. Afterwards, Jo, who won 10,000m silver at the 2012 European Championships, said, "I am speechless. It is kind of funny—I've been trying for years to win the gold medal and never managed [it] and now at the age of 40 I finally succeeded."
Four days later, she placed seventh in the 5,000m final in 15:38.41. The gold medal in that race went to Sweden's Meraf Bahta in 15:31.39. Dutch runners Sifan Hassan (15:31.79) and Susan Kuijken (15:32.82) took second and third respectively.
Article Archive