Our Preview of the Long-Distance Events at London's Olympic Games
Women's Marathon
Men's Marathon
Men's Long-Distance Track Events
Women's Long-Distance Track Events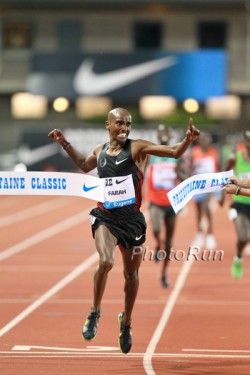 Africa's runners, long dominant in the Olympics, have a formidable opponent in London this year: Britain's Mo Farah. During the World Championships in Daegu, South Korea last year, the popular Englishman took home the gold in the 5,000-meter event and also won silver in the 10,000m. Now, Mo has set his sights on the Olympic podium—with a gold medal around his neck. And it is a real possibility: he is a favorite in both long-distance track events.
But can Mo, 29, succeed in defeating the Kenyan and Ethiopian runners? More specifically, can he outrace legendary world-record holder Kenenisa Bekele? If so, it would be a significant achievement. In the history of the modern Olympic Games, six male runners have won both the 5,000m and 10,000m events. Lasse Viren of Finland accomplished the feat twice (1972 and 1976). Other double Olympic champions are Hannes Kolehmainen (Finland/1912), Emil Zatopek (Czechoslovakia/1952—plus gold in the marathon), Vladimir Kuts (Soviet Union/1956), and Miruts Yifter (Ethiopia/1980). Kenenisa Bekele joined that elite group in 2008.
Track events aside, it is unlikely, however, that the winner of the men's Olympic Marathon will come from a country outside of East Africa.
On the women's side, the Kenyan and Ethiopian athletes are the clear favorites in the long-distance events in London's Olympic Stadium. The women's 10,000m final takes place on the first day of the track and field program (Friday, August 3). Two days later the women's marathon is held.
Women's Marathon (August 5, 11:00 a.m., London Time):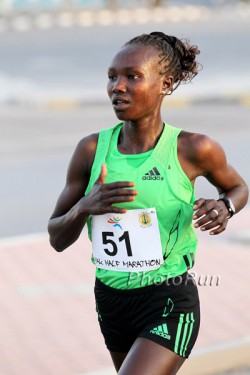 The marathon offers the best chance for the non-African women to medal. Constantina Dita's surprise gold at the age of 38 in Beijing illustrates the possibilities in this race. The Romanian marathoner broke away early from her rivals and not even the eventual runner-up, Catherine Ndereba, was able to go with her.
Sunday's big pre-race favorite is Mary Keitany, the new African-record holder from Kenya with a personal best of 2:18:37, who won the prestigious Virgin London Marathon in April. Her strongest opponents should be her countrywoman Edna Kiplagat, the current world champion, and the three Ethiopian runners: Tiki Gelana, Aselefeh Mergia and Mare Dibaba. Just 24, Tiki Gelana won the ABN AMRO Rotterdam Marathon in April with the fantastic time of 2:18:54. Russia's Liliya Shobukhova also has to be considered, but there are question marks over her—since her victory in Chicago last year, the reigning World Marathon Majors (WMM) women's champion has not made a competitive appearance.
Since London has a multi-lap course, mid-race surprises are possible, similar to Constantina Dita's early surge in Beijing four years ago. America's Shalane Flanagan, China's Jiali Wang, or even Germany's Irina Mikitenko are runners who could factor into the ultimate result.
Meanwhile, Paula Radcliffe's dreams of an Olympic medal were dashed when the 38-year-old British runner had to withdraw due to injury. At the beginning of July, the 2005 World Marathon Champion and women's world record holder (2:15:25) disclosed that she was suffering from arthritis in her foot—a recurring problem she has been dealing with. Then, a week before the race, Paula took a final test to gauge her ability to compete—and, based on the results, decided to pull out of the race.
"The thought of running in London was why I fought so hard and remained motivated and focused despite the problems," said Paula. "It hurts now to have to accept that I shan't be running in London." This would have been her fifth Olympic Games. In recent years it has been difficult for Paula to show the strength at international championships that made her one of the best women's distance runners of all time. In Beijing, for example, she ran a courageous race, finishing the marathon in 23rd place despite battling injury problems.
Men's Marathon (August 12, 11:00 a.m., London Time):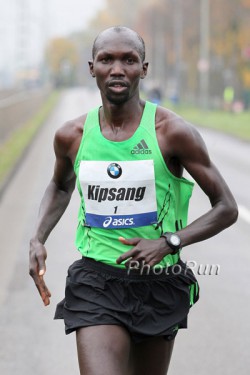 Kenya's athletes have dominated the marathon in recent years—in spite of Ethiopian former world-record holder Haile Gebrselassie's strong performances. Even after the tragic accidental death of Beijing Olympic champion Sammy Wanjiru, the East African nation has continued to shine. Last year, Patrick Makau improved Haile Gebrselassie's world record in Berlin, and Geoffrey Mutai impressed the world with stunning course records in Boston and New York. Incredibly—in an indication of their country's amazing depth of talent—neither Patrick Makau nor Geoffrey Mutai was nominated for the Olympic team by Athletics Kenya.
The strongest of the three runners selected appears to be Wilson Kipsang. In last year's BMW Frankfurt Marathon, his time of two hours, three minutes, and 42 seconds was only four seconds slower than Patrick Makau's world record. And in April he triumphed at the London Marathon. Abel Kirui, who took the World Championship title for the second time in succession in 2011, and Emmanuel Mutai, who won the World Marathon Majors (WMM) Series 2010-2011, are the two other Kenyan runners entered in the Olympic marathon.
Even without Patrick Makau and Geoffrey Mutai, Kenya has in Wilson Kipsang the favorite for Olympic gold. Apart from his fellow countrymen, his toughest opponents will be the Ethiopians, who have chosen younger athletes who have run under 2:05 over more experienced runners. Ayele Abshero is just 21 and yet he won the Dubai Marathon in January with what is still the world's fastest time of the year: 2:04:23. Dino Sefer is only three years older. He finished second in Dubai in 2:04:50. Both marathoners took full advantage of the flat course in the United Arab Emirates and perfect weather conditions in that race. It remains to be seen how they will fare in London's unpredictable weather. Getu Feleke is the third Ethiopian who will start in London: the 25-year-old finished second in Rotterdam with a time of 2:04:50.
It would be a surprise if runners aside from Kenya or Ethiopia factored into medal contention, but one who might mount the podium is American Ryan Hall. In the 2011 Boston Marathon, the 29-year-old finished fourth in 2:04:58—making him the first non-African to have gone under 2:05. However, since Boston does not count for official record purposes, Ryan was not given the American record.
Men's Long-Distance Events
5,000m Final (August 11, 7:30 p.m., London Time):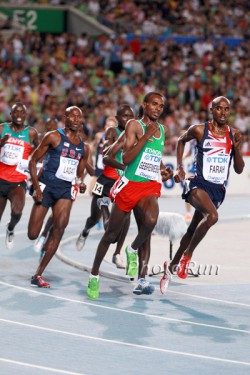 Since the triumph of Germany's Dieter Baumann at the 1992 Barcelona Games, no European runner has won an Olympic gold medal in the 5,000m.
Can Mo Farah do it this year?
At the age of 8, he immigrated to Britain from Somalia and grew up in London. Last year saw a highlight of his running career: he won the World Championship 5,000m—an impressive performance in spite of the fact that world-record holder and Olympic champion Kenenisa Bekele of Ethiopia did not participate. It is still uncertain whether or not the Ethiopian superstar will defend his title in London. Ethiopian athletics officials initially selected him as a reserve and after coping with various injuries his fitness remains in doubt. Ethiopian team officials are not expected to make their decision on his participation until after the 10,000m event.
Dejen Gebremeskel will be one of Mo Farah's toughest opponents. The 22-year-old Ethiopian won bronze at last year's World Championships and has the world-best time this year, 12:46.81. The other Ethiopian runners—Hagos Gebrhiwet and Yenew Alamirew (or Kenenisa Bekele)—may also be strong contenders.
The Kenyan contingent consists of Isiah Koech, Edwin Soi, and Thomas Longosiwa. Missing from this squad is the 2008 Olympics silver medalist, Eliud Kipchoge. "The Trials are tougher than the Games themselves," 2008 Olympic bronze medalist, Edwin Soi, remarked after the Kenyan Olympic Trials. "I want to finish higher than I did four years ago in Beijing."
There are also two Americans in the mix: Galen Rupp and Bernard Lagat. Galen, who trains with Mo Farah—both runners are coached by Alberto Salazar—outran Bernard at the U.S. Olympic Trials, but Bernard took the 5,000m silver medal at the World Championships last year.
10,000m Final (August 4, 9:15 p.m., London Time):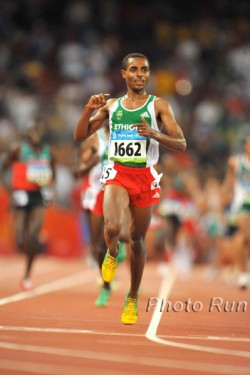 Ethiopia's long-distance runners have led the world in this event. Haile Gebrselassie (1996 and 2000) and Kenenisa Bekele (2004 and 2008) won the last four Olympic gold medals between them. Will this trend continue, and could Kenenisa Bekele become the first athlete to win three consecutive gold medals in the 10,000m? In spite of his past injury problems, Kenenisa has recently demonstrated improvement. But will that be enough to triumph once again? His brother, Tariku, and Gebre Gebremariam are also part of the Ethiopian team in this race.
Meanwhile, the Kenyan squad stands ready to challenge their long-time rivals for the gold medal. Although Kenya dominates distance running, it has not produced an Olympic 10,000m champion since 1968, but leading the charge in London are Wilson Kiprop and Moses Masai.
There could be a surprise winner this time around, however. Mo Farah has another good chance to triumph in front of his hometown crowd. A year ago, he was narrowly defeated at the World Championships in Daegu. On that occasion, Ethiopian Ibrahim Jeylan produced a surprisingly strong finishing kick to win. However, the 23-year-old did not qualify for the Games in London. In addition to Mo Farah, his American training partner Galen Rupp is also someone who could be in contention for a medal.
Women's Long-Distance Events
5,000m Final (August 10, 8:05 p.m., London Time):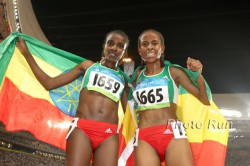 It will be an upset if any runner outside the Kenyan or Ethiopian teams medals in this event. Athletes from these two nations have been very strong over the distance and comparing the two, it is the Kenyan runners who have gained an upper hand in recent years after a long period of Ethiopian dominance.
The last time an Ethiopian woman won a global title in the 5,000m was four years ago when Tirunesh Dibaba prevailed in both long-distance races at the Beijing Olympics. After struggling with injury, she has made a bit of a comeback this year. However, her ability to defend her 5,000m title is in question because the Ethiopians have only selected her as a reserve. At present, the three Ethiopian contenders are Meseret Defar, Gelete Burka, and Genet Yalew. However, if Tirunesh Dibaba runs a quality 10,000m race officials may give her the opportunity to start at the 5,000m.
She is the world-record holder (14:11.15), and just 26 years old and if she is in the field and proves to be in top form a thrilling race could unfold. The Ethiopians' major opponent is Kenya's Vivian Cheruiyot. The 28-year-old won the gold medal in the 5,000m at the last two World Championships—Berlin in 2009 and Daegu in 2011. She underscored her pre-eminent position at the Diamond League meeting in Rome at the end of May. There, she defeated Meseret Defar—the 2004 Olympic champion and former world record holder—in a sprint finish to set the year's world best time of 14:35.62. Alongside Vivian Cheruiyot, her countrywomen Sally Kipyego and Viola Kibiwott could also play a decisive role in the final.
10,000m Final (August 3, 9:25 p.m., London Time):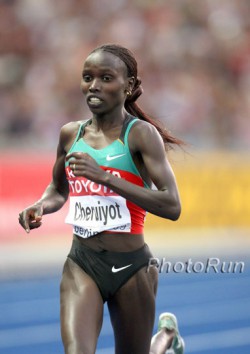 Four years ago, Tirunesh Dibaba made athletics history at the Olympic Games in Beijing when she became the first woman to win both long-distance events on the track. Presently, six men have achieved this feat in Olympic history. Only one was able to repeat his triumph: the Finn, Lasse Viren, who won both titles (1972 in Munich and again in Montreal four years later). Tirunesh Dibaba has a chance to emulate Lasse Viren's feat in London; she goes into the 10,000m race as the defending champion.
But beset by injuries, Tirunesh Dibaba does not appear to be as dominating as she was four years ago. In Beijing, she took a commanding lead in the race, setting a tough pace, and then finished with a strong kick. In spite of her world-leading time this year of 30:24.39, Tirunesh is not the clear favorite. Instead, all eyes are on Kenya's world champion, Vivian Cheruiyot, who won both world titles in the long-distance track events in Daegu last year. Tirunesh Dibaba did not run in those races.
Vivian Cheruiyot doesn't seem to be intimidated by the defending champion: "I'm delighted to be running against [Tirunesh] Dibaba—it's been a long time since I've run against her," she said. "In the major races you take on the best." Vivian Cheruiyot is not the only Kenyan runner competing in both the 5,000m and 10,000m in London: Sally Kipyego also hopes to win two medals.
The 2008 Olympic Games Results of the Long-Distance Events
Men's 5,000m:
| | | | |
| --- | --- | --- | --- |
|  1. |  Kenenisa Bekele |  ETH |  12:57.82 Minutes  |
|  2. |  Eluid Kipchoge |  KEN  |  13:02.80 |
|  3.  |  Edwin Cheruiyot Soi  |  KEN |  13:06.22 |
Women's 5,000m:
| | | | |
| --- | --- | --- | --- |
|  1. |  Tirunesh Dibaba |  ETH |  15:41.40 Minutes   |
|  2. |  Elvan Abeylegesse    |  TUR |  15:42.74 |
|  3.  |  Meseret Defar |  ETH  |  15:44.12 |
Men's 10,000m:
| | | | |
| --- | --- | --- | --- |
|  1. |  Kenenisa Bekele        |  ETH |  27:01.17 Minutes  |
|  2. |  Sileshi Sihine |  ETH |  27:02.77 |
|  3.  |  Micah Kogo |  KEN  |  27:04.11 |
Women's 10,000m:
| | | | |
| --- | --- | --- | --- |
|  1. |  Tirunesh Dibaba |  ETH |  29:54.66 Minutes  |
|  2. |  Elvan Abeylegesse     |  TUR |  29:56.34 |
|  3.  |  Shalane Flanagan |  USA  |  30:22.22 |
Men's Marathon:
| | | | |
| --- | --- | --- | --- |
|  1. |  Samuel Wanjiry                |  KEN |  2:06:32 Hours  |
|  2. |  Jaouad Gharib |  MAR |  2:07:16 |
|  3.  |  Tsegay Kebede |  ETH  |  2:10:00 |
Women's Marathon:
| | | | |
| --- | --- | --- | --- |
|  1. |  Constantina Dita |  ROU  |  2:26:44 Hours  |
|  2. |  Catherine Ndereba         |  KEN |  2:27:06 |
|  3.  |  Zhou Chunxiu |  CHN  |  2:27:06 |
© Copyright 2012-2022 by Take The Magic Step®. All Rights Reserved.
Article Archive