Olympic Special: Haile Gebrselassie Competes in his Fourth Games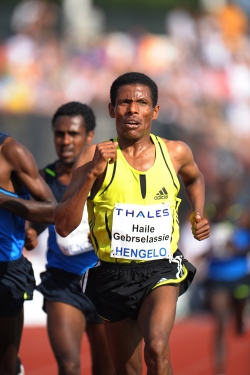 Haile Gebrselassie is perhaps the greatest runner of all time. The Ethiopian has broken 18 official and seven unofficial world records in his career, and has won two Olympic and four World Championship titles at 10,000. That puts the 35-year-old Ethiopian hero at least on a par with the legendary Finn Paavo Nurmi, who in a career lasting until the 1930s set 35 world records, or Emil Zatopek. The crowning moment of the Czech's career was the 1952 Olympic Games in Helsinki when he won gold in the 5,000m, 10,000m and marathon.
The one accomplishment remaining for Gebrselassie is victory in the Olympic Marathon. Although he has established himself as the fastest runner over 26.2 miles in recent years, he has surprisingly decided not to run the classic distance in Beijing. Gebrselassie is concerned that the air pollution in China's capital will permanently damage his health.
Instead, he'll be running the 10,000m for the fourth time at an Olympic Games. He won in Atlanta in 1996 and in Sydney in 2000, and was fifth in Athens. But victory next Sunday in Beijing would be a major surprise since it's two of his fellow countrymen who should prove too strong for him: defending champion Kenenisa Bekele, who has in the meantime successfully run down one after another of his records, and Sileshi Sihine who won the silver medal four years ago.
Has Gebrselassie deprived himself of the chance to crown his career by his decision not to run the Olympic Marathon? The standard answer would be yes, because in each of the last three years the father of four has been the world's fastest marathoner. In Berlin in September 2007 he broke the world record of Paul Tergat (Kenya) with 2:04:26. This year in Dubai he narrowly missed it with 2:04:53. His performance once again tops the world rankings for the year.
That Beijing is not the last chance of Olympic Marathon gold for Gebrselassie is the belief of his manager Jos Hermens. "I am sure—and he is also sure—that he can still win at the Olympic Games in London 2012" Hermens says. "His number one aim is first of all to bring the world record down to 2:03. Running the marathon in Beijing might get in the way of that because of the possible after-effects on his health from the air pollution." That's why Gebrselassie is likely to be chasing the record at the Berlin Marathon on September 28.
One interesting aspect of Gebrselassie's marathon career is that, in contrast to his earlier 10,000m races, he has never been able to win a race against strong opposition. The races in Berlin, Amsterdam or Dubai have always been tailor-made for him with pacemakers, but this hasn't been the case in London. He has run the big city marathon, which usually has the strongest field of the year, and has never finished higher than third. So it wouldn't have been easy for Gebrselassie in the marathon in Beijing, especially as his Kenyan rivals Martin Lel and Sammy Wanjiru are improving all the time. Is this a weakness of perhaps the greatest runner of all time? Sadly the 2008 Olympics will not be providing an answer.
Haile's Gebrselassie's Greatest Achievements
Olympic Games
1st
10,000m
1st
10,000m
5th
10,000m
World Championships
1st
10,000m
2nd
5,000m
1st
10,000m
1st
10,000m
1st
10,000m
3rd
10,000m
2nd
10,000m
World Indoor Championships
1st
3,000m
1st
3,000m
1st
1,500m
1st
3,000m
World Half Marathon Championships
1st, 2001
World Records and World Best Performances
1
12:56,96
5,000m
Hengelo 1994
2
8:07,46 *
2 Miles
Kerkrade 1995
3
26:43,53
10,000m
Hengelo 1995
4
12:44,39
5,000m
Zürich 1995
5
13:10,98
5,000m
Sindelfingen (indoors) 1996
6
7:30,72
3,000m
Stuttgart (indoors) 1996
7
12:59,04
5,000m
Stockholm (indoors) 1997
8
8:01,08 *
2 Miles
Hengelo 1997
9
26:31,32
10,000m
Oslo 1997
10
12:41,86
5,000m
Zürich 1997
11
7:26,14
3,000m
Karlsruhe (indoors) 1998
12
4:52,86 *
2,000 m
Birmingham (indoors) 1998
13
26:22,75
10,000m
Hengelo 1998
14
12:39,36
5,000m
Helsinki 1998
15
12:50,38
5,000m
Birmingham (indoors) 1999
16
27:02
10K
Doha 2002
17
8:04,69 *
2 Miles
Birmingham (indoors) 2003
18
41:22 *
15K
Tilburg 2005
19
44:23 *
10 Miles
Tilburg 2005
20
55:48
20K
Tempe (US) 2006
21
58:55
Half Marathon
Tempe (US) 2006
22
1:11:37 *
25K
Alphen (NED) 2006
23
56:26,0
20,000m
Ostrava 2007
24
21.285 Meter
One Hour
Ostrava 2007
25
02:04:26
Marathon
Berlin 2007
* not officially recognized by the IAAF
© Copyright 2008-2022 by Take The Magic Step®. All Rights Reserved.
Article Archive