Olympic Special: Constantina Tomescu-Dita Wins Marathon Gold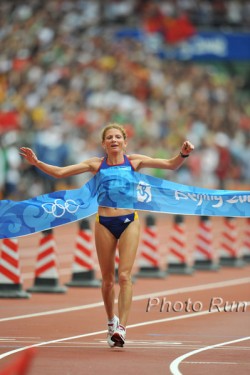 Constantina Tomescu-Dita is the new women's Olympic marathon champion. The 38-year-old Romanian won in commanding style in 2:26:44 after a solo run in the second half of the race. As in Athens four years ago, Kenyan Catherine Ndereba, who finished in 2:27:06, won the silver medal. Third, only one second behind Ndereba, was the Chinese Zhou Chunxiu.
A whole batch of potential favorites dropped out during the race, although the weather conditions were nowhere near as extreme as had been feared. The average temperature during the race was about 75 degrees with humidity at 70 percent, and smog played no part at all. The world record holder Paula Radcliffe, beset by injury, ran 2:32:38 to finish 23rd. Hundreds of thousands of spectators lined the route as well as around 50,000 in the stadium, making for a thrilling atmosphere in the morning hours.
Tomescu-Dita's victory certainly came as something of a surprise, as she wasn't among the top tier of pre-race favorites. But the first Olympic gold medalist in the marathon for Romania is no overnight sensation. In 2005 she won a world championship bronze and was world half marathon champion. Her best is 2:21:30, and she won Chicago in 2004 and was second in London in 2005.
However, the mother of a 13-year-old son hadn't reckoned with Olympic victory. "There were a lot of strong runners on the start line. So I didn't think about gold, but saw I might have a chance for silver or bronze," said Tomescu-Dita. "In the first half of the race I just wanted to run in the pack. But when the pace became too slow, I pushed on and was surprised that none of the other runners went with me."
In the second half of the race the Romanian was out in front on her own and increased her lead to as much as 70 seconds. It was only in the last few kilometers and too late that the runners in the seven-strong chasing group, among them Zhou and her teammate Zhu Xiaolin, raised the pace. But they were too late. "Perhaps the other runners were too wary of the weather conditions and that's why they didn't go with me. But apart from some humidity the conditions weren't too bad at all," said Tomescu-Dita, who has lived at altitude in Boulder, Colorado since 2005.
"I'm very happy with the silver medal, that represents a great success," said Ndereba. The Kenyan is the second female marathoner, following Rosa Mota, to have won two Olympic medals. The Portuguese was third in 1984 and champion four years later.
While the defending champion Mizuki Noguchi (Japan) was a late withdrawal from Beijing because of a thigh injury, the bronze medalist from Athens, Deena Kastor (USA), dropped out with a foot injury after just five kilometers. Also failing to finish were the Ethiopians Gete Wami and Berhane Adere, who in recent years have been highly successful in the big city marathon races.
"In recent weeks I've been having problems with my foot and have treated it with ice," said Kastor. "Suddenly in the race I had a strange feeling in my foot and couldn't step on it. I didn't expect to finish the marathon in a bus—but there are always highs and lows in a career. Unfortunately you can't pick and choose when you're going to have them. A second American runner, Magdalena Lewy Boulet, dropped before 20K.
Radcliffe produced an astonishing performance although she lost contact with the leading group shortly before 30K. Barely three months ago she was diagnosed with a stress fracture of the upper thigh, and doctors gave her almost no chance of running in Beijing. The 34-year-old took a big gamble and ran. But she simply didn't have enough weeks of training behind her to win Olympic gold at the second attempt after her dramatic failure to finish the marathon in Athens in 2004. During the race she also had problems with her calf and had to stop temporarily. "We knew it would be a risk to run here after the injury. In the last few weeks I've tried everything and felt good—but I just couldn't run any faster, that was what was frustrating," said Radcliffe, with tears in her eyes.
She has, however, not given up the hope for Olympic gold—she'll try again on home ground at the Games in London in 2012. The victory of the 38-year-old Tomescu-Dita has given her encouragement because in four years Paula Radcliffe will also be 38. "That shows once again that in the marathon you're not over the hill at 30." The Romanian is not the first marathon champion of this vintage. When Carlos Lopes triumphed in Los Angeles in 1984, he was 37 years old.
© Copyright 2008-2022 by Take The Magic Step®. All Rights Reserved.
Article Archive