Olympic News: Uganda's Stephen Kiprotich Wins Marathon Gold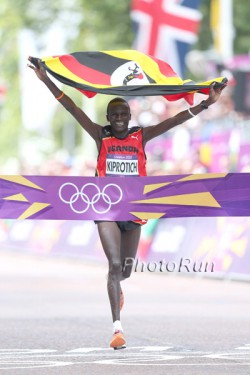 Uganda's top marathoner, Stephen Kiprotich, won his country's first gold medal in 40 years, joyfully crossing the finish line first at the Olympic Marathon on Sunday holding high his national flag. The 23-year-old's victory in London was a surprise: he had not previously won a major race over 26.2 miles. But he triumphed on a day when temperatures had reached more than 77 degrees Fahrenheit.
Stephen Kiprotich, who lives and trains in Kenya, was victorious with a time of 2 hours, 8 minutes, and 1 second, recording Uganda's first Gold in athletics at the Olympic Games since John Akii-Bua won the 400m hurdles in Munich in 1972. "I'm very happy to have won the gold medal here for my country," said Stephen. "I love the people in Uganda. They will be very happy now since we have never had a medal in the marathon before."
Kenya took the Silver and Bronze. The 2011 World Champion Abel Kirui was second in 2:08:27 with Wilson Kipsang, winner of the 2012 London Marathon, behind him in 2:09:37. Spurred on by thousands of cheering spectators, some ringing cow bells and waving signs of encouragement, Stephen Kiprotich passed Abel and Wilson with just five kilometers to go.
Meb Keflezighi of the U.S. ran an outstanding race, coming from behind to cross the finish line near Buckingham Palace in fourth (2:11:06). Marilson dos Santos (Brazil/2:11:10) and Kentaro Nakamoto (Japan/2:11:16) followed closely. The top European was Henryk Szost of Poland in a highly respectable ninth position with a time of 2:12:28. The Italian, Ruggero Pertile, placed tenth (2:12:45) ahead of Viktor Röthlin (Switzerland/2:12:48). Unfortunately, none of the top-rated Ethiopian runners were able to reach the finish.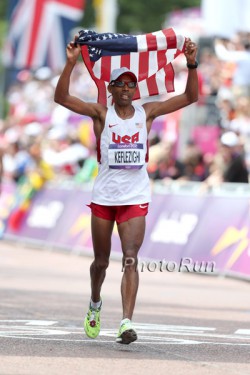 It was Wilson Kipsang, the pre-race favorite, who made the first decisive move early in the race. The Kenyan runner was the fastest man in the field, coming last year within just four seconds of the world record in the Frankfurt Marathon. After the leading group had gone through 10K in a relatively slow time of 30:38 minutes, Wilson raised the pace to a level which, had it been run for the entire marathon distance, would have improved the current world record of 2:03:38 by several minutes. The 30-year-old ran from the 10- to the 15-kilometer point in 14:11—the fastest ever for any 5K section of an Olympic Marathon.
It appeared that he had gambled on winning the Olympic Gold Medal in a similar way that his countryman, the late Sammy Wanjiru did in Beijing four years ago, when his brave tactics in difficult conditions saw him better the Olympic record to 2:06:32. But Wilson's approach would not pay off in the end. In this, his first championship marathon, he reached the half-marathon point in 63:15 minutes, 16 seconds ahead of Abel Kirui, Stephen Kiprotich, and the Ethiopian favorite, Ayele Abshero, who won the Dubai Marathon in January in 2:04:23—the fastest time in the world this year. Marilson dos Santos and Stephen Mokoka (South Africa) were also in the chase group.
However, soon afterwards Wilson Kipsang's lead began to diminish—partly caused by his missing his bottle at a drinks station and then having to run back a few meters to collect it. He went through 25K in 1:14:58, now with only a seven-second lead on Abel Kirui, Stephen Kiprotich and Ayele Abshero. Abel and Stephen were able to close the gap soon after, while Ayele slowed considerably and eventually had to drop out.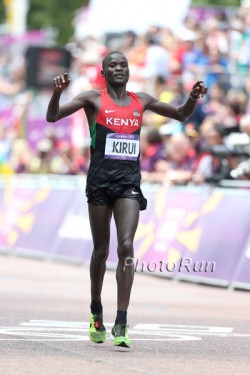 The race developed into a thrilling contest between the three runners, with the Kenyan athletes first seizing the initiative. Shortly after 35K (1:46:03), Wilson Kipsang broke away. Abel Kirui followed and then took over at the front. The pair had a lead of a few seconds over Stephen Kiprotich, who repeatedly held the back of his leg. "I thought at this point that Wilson and I would be contesting the gold and that we would be sprinting for victory in the last few kilometers," Abel Kirui said later. But Stephen Kiprotich unexpectedly caught them—and then went past his Kenyan rivals shortly after 37K. "I was surprised to see Stephen suddenly there again," admitted Abel. "He grew stronger and was able to break away and we couldn't catch him again. But I'm happy for Stephen."
Wilson Kipsang was also happy for the Ugandan marathoner: "Stephen is a friend," he said. "He won today, because in any race it's the best man who wins."
The stunning victory "means a lot for Uganda," said Stephen. "We haven't won a gold medal since 1972. The pace was too fast and I knew I could not run away from them so I just had to keep up with them. I tried to settle and then I had to break away because I wanted to win this medal. At last I've become a known athlete." The Olympic marathon was his fourth. In early 2011, he was recruited to perform pacemaker duties for the Enschede Marathon, but he felt so good he continued to run—and won in a national record of 2:07:20. He was selected for the World Championship Marathon in Daegu, South Korea, and he finished ninth in hot conditions at the World Championships. In Tokyo in February, Stephen, who trains in Kenya with a group that includes the world-class 5,000m runner, Eliud Kipchoge, ran his third race over 26.2 miles and placed third in 2:07:50. The Olympic victory marks his breakthrough on the biggest possible stage in the sport.
America's Meb Keflezighi—winner of the U.S. Trials—ran a very strong race. The 37-year-old, who sensationally won an Olympic silver medal in the marathon eight years ago in Athens, missed the bronze medal position by a minute and a half. "Coming here, I told my wife, 'I have a feeling I'm going to finish fourth,'" Meb said. "Did I want to finish fourth? No. But at the World or Olympic Games, I'll take it, especially considering that I did not make the Olympics [in 2008]. In 2004, to be a silver medalist, I know how that feels, so I congratulate those people who finished first, second, and third. Everybody works hard to accomplish such a thing and I am very proud of myself and our country to finish fourth. It's not where you want to be sometimes, but fourth place at my last Olympics, I'll take it anytime."
His teammate Ryan Hall had to drop out shortly after 15K, when he was back in 50th place. "I had problems with my right hamstring," he said. "The muscles were getting tighter and tighter during the race. I didn't want to risk serious injury so that's why I dropped out for the first time in my career. That's usually not an option for me but I didn't want to do something which would jeopardize the future."
Abdi Abdirahman, the third American, suddenly developed knee problems in the middle of the race and had to give up because of the pain. "I was feeling good and didn't have any problems before that," he recalls. "Something happened with my knee. It's hard, dropping out here at the Olympics."
Article Archive