Olympic News: Tirunesh Dibaba Makes Olympic History with Double Win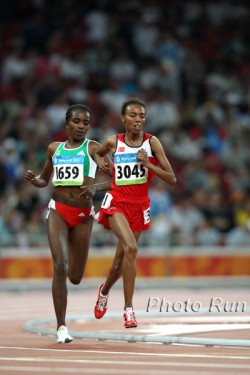 Tirunesh Dibaba has made track and field history in the Beijing Olympics. Barely one week after taking the 10,000m, the 23-year-old Ethiopian won the 5,000m in 15:41.40 as she made a decisive final burst after a slow, tactical race. As in the 10,000m, Elvan Abeylegesse of Turkey took the silver medal in 15:42.74, while Meseret Defar of Ethiopia won the bronze in 15:44.12.
"This is a huge success for me. I never expected this when I arrived in Beijing," said Dibaba, who is the first woman to have completed this Olympic double. In the history of the Games, only five men have achieved this remarkable feat: the Finn, Hannes Kolehmainen (1912); the Czech, Emil Zatopek (1952; also won the marathon); the Russian, Vladimir Kuts (1956); the Finn, Lasse Viren (1972 and 1976); and the Ethiopian, Miruts Yifter (1980).
The final, which was packed with talented runners, began at a pedestrian pace. The Olympic 3,000m steeplechase champion and world-record holder, Gulnara Galkina-Samitova (Russia), led the field through the opening 1,000m in 3:39.20. She ultimately finished in 12th place in 15:56.97, behind American runners Kara Goucher (9th in 15:49.39) and 10,000m bronze medalist Shalane Flanagan (10th in 15:50.80). Only the last kilometer was run at any real pace as Dibaba covered the 1,000m split in only 2:37. With more than a lap from the finish, she took the lead from Elvan Abeylegesse and then increased the pace decisively with 200 meters remaining. "I knew I could win a second medal here—I'm very happy with silver. Tirunesh Dibaba is a really strong athlete," said Abeylegesse.
Despite her youth, Dibaba has experienced unprecedented achievement for an athlete of any age. At the 2003 World championships in Paris, she became and remains the youngest gold medalist in an individual event in the history of the championships that began in Helsinki in 1983. At the age of only 18 years and 90 days, she won the 5,000m. A year later, Dibaba again had us searching for superlatives when she took third in Athens in the 5,000m, becoming the youngest Olympic medalist of all time from her country. She achieved yet another landmark as a 20-year-old at the World championships in Helsinki, when she became the first in the history of the championships to complete the double in the 5,000m and 10,000m.
"My ambition is to become Ethiopia's most successful female Olympian. First of all, I want to win everything on the track that I can. Then it's the marathon," said Dibaba. After her stellar performance in Beijing, it appears that she is on course to realize her ambitions.
© Copyright 2008-2022 by Take The Magic Step®. All Rights Reserved.
Article Archive