Olympic News: Tiki Gelana Sets New Olympic Marathon Record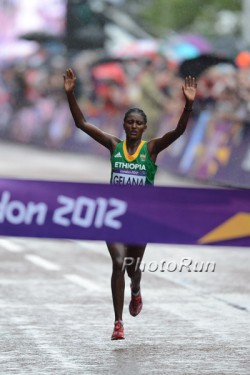 Ethiopia's Tiki Gelana is the new women's Olympic Marathon champion. The 24-year-old triumphed with an Olympic record of 2 hours, 23 minutes, and 7 seconds to win a thrilling race marked by occasional heavy rain showers and temperatures barely reaching 68 degrees Fahrenheit. Priscah Jeptoo of Kenya (2:23:12) took second and Russia's Tatyana Petrova finished a surprising third in 2:23:29. The pre-race favorite, Mary Keitany of Kenya, placed fourth in 2:23:56.
The 26.2-mile journey began with 118 runners at the starting line on the Mall, near Buckingham Palace—and ended as the closest medal race since the women's Olympic Marathon was first run in 1984. Tiki Gelana's winning margin was only five seconds and the first three finished within 22 seconds of each other.
On a twisting, looped course through central London with a number of small hills, the marathon began typically slowly for a championship race with the leading women going through the first 10K in 34:46 minutes (2:27-hour pace).
By the half-way point, 28 runners remained in the large lead group as they went through in 1:13:13. Liliya Shobukhova, the Russian athlete who won the World Marathon Majors (WMM) Series 2010-2011 and had not run a race since her victory in the Chicago Marathon last year was clearly falling off the pace. She eventually dropped out before 25K, clutching her hamstring.
The first serious move, which split the field, came shortly before 25K when Kenyan world champion Edna Kiplagat took the initiative and increased the speed. A five-strong lead group comprised of runners from rival nations Kenya and Ethiopia quickly formed. At this point, the chase pack, including Germany's Irina Mikitenko, was only a few seconds behind.
However, by 30K, the picture looked very different. The leading group ran this 5K split in 16:21. That gave the Kenyan trio of Mary Keitany, Edna Kiplagat and Priscah Jeptoo, together with Tiki Gelana and Mare Dibaba from Ethiopia, a 30K split of 1:42:44 and a lead of nine seconds over Tatyana Petrova. The Russian marathoner had surprisingly left the chase pack behind her and this group had broken up, with Irina Mikitenko dropping further back. The double London Marathon winner (2008 and 2009) would eventually cross the finish line in 14th place with a time of 2:26:44.
Mare Dibaba was the next to drop out of the lead pack and at this point, Tatyana Petrova caught up with the leaders. Never predicted to be in contention for a medal, she went into the race with a personal best of 2:25:01, set last year in Berlin. But now, in London, Tatyana Petrova was going to improve her personal best by a minute and a half. Shortly before 35K, Edna Kiplagat slowed and eventually fell back to finish 20th overall. The remaining four leaders—Mary Keitany, Priscah Jeptoo, Tatyana Petrova, and Tiki Gelana—remained together beyond 40K. Then Mary Keitany began experiencing cramps in her back with only 1.5K to go to the finish—and Tike Gelana made the strong move that ended with the Gold Medal.
"It was a great race," Tiki Gelana said afterwards. "I really loved it. I love running in the rain. I have been doing that since I was a small child. I slipped in the middle of the race and my elbow is still injured. But I didn't feel any pain during the race." It was her second victory this year—in April, she upset the field to win the Rotterdam Marathon with an impressive 2:18:58.
Her inspiration, she says, is her countrywoman Fatuma Roba, who won the 1996 Olympic Marathon in Atlanta. "Fatuma is my hero," said Tiki. "I am extremely happy to share history with her. This gold medal is a gift for all Ethiopians."
"It's the Olympic Games—that's why I took a risk when the pace increased before the 25-kilometer mark," Germany's Irina Mikitenko recalled after the race. "I tried to stay with it and hope for a chance but it wasn't enough. The course was very tough with lots of turns and some slippery cobblestone sections—it was like stop and go." She paid tribute to the support of the huge crowd that lined the route.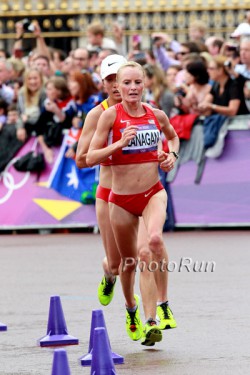 American runners Shalane Flanagan and Kara Goucher, who train together, did well, finishing tenth (2:25:51) and eleventh (2:26:07) respectively.
"There were some really tough spots," admitted Shalane. "It was tough just to let people pass me. I tried to react, like in a track race, but it's really different for me in the marathon. You already have a lot of miles in your legs and it's so hard. I could feel myself cramping, but it is what it is. The fans were amazing—I couldn't even hear my own thoughts. The fans were just deafening. This is my third marathon and I'm learning every time. I've got to make some mistakes to get to that level."
Kara Goucher commented afterwards to NBCOlympics.com: "[Shalane and I] had big dreams for this race, of us both doing something special. I'm disappointed but I also feel like I don't really know what else we could have done today. We ran as hard as we could, which is a good feeling. I don't feel like we walk away with regret."
In spite of the rain, thousands of flag waving spectators cheered on their favorites, lining the entire course as it wound past many of London's famous landmarks, like Buckingham Palace, St. Paul's Cathedral, the Tower of London and Parliament.
Article Archive