Olympic News: Sammy Wanjiru—Kenya's Pride in the Marathon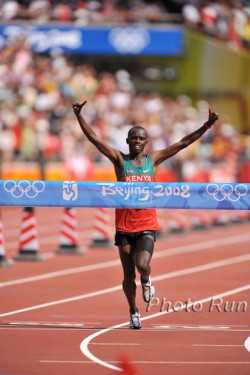 Sammy Wanjiru has literally run his way to the status of a Kenyan folk hero. The 21-year-old became the first Olympic marathon champion from his country on Sunday. Although Kenyans have dominated the marathon scene for years, none of their top runners has previously been able to win the classic race of 26.2 miles. In the final event of Beijing's Olympic track and field competition, Wanjiru set an Olympic record as he finished in 2:06:32 hours in front of 60,000 spectators who were gathered in the Olympic stadium that morning.
It was only the third marathon of the young Kenyan's career. In Fukuoka (Japan) in December 2007, Wanjiru became the third fastest marathon debutant of all time with 2:06:39. In April, he was only narrowly beaten into second in the London Marathon in 2:05:24. The winner then was his compatriot Martin Lel (2:05:15), who finished fifth in 2:10:24 in Beijing.
Also taking medals in this year's event were Moroccan Jaouad Gharib, who won the silver medal in 2:07:16, and Tsegay Kebede, who took the bronze medal in 2:10:00. Only in the stadium did the Ethiopian overtake his compatriot Deriba Merga (2:10:21), leaving him in fourth place. The best non-African runner was once again Viktor Röthlin (Switzerland), the World championship third-place finisher, who made yet another high-class performance in sixth place in 2:10:35.
In a championship race with temperatures during the race rising from 75 to 86°F and humidity dropping from 52 to 39 percent, Wanjiru's winning time of 2:06:32 was extraordinary. In a big-city marathon race with pacemakers and cooler temperatures, he should be able to break the current world record of 2:04:26 set by Ethiopian Haile Gebrselassie, especially after being able to best by 3 minutes the 1984 Los Angeles Olympic record, held for 24 years by Portuguese Carlos Lopes.
"Our athletes already have won many medals for Kenya but I'm happy to have won this one. It's a great feeling to have made history for Kenya," said Wanjiru, who had already taken Haile Gebrselassie's world half-marathon record from him last year and brought it down to 58:33.
The Kenyans caused a surprise in the Beijing Olympics by delivering an unusually fast tempo for a championship race from the start. "That was our plan, to run fast from the start, because we wanted to sort out the wheat from the chaff and drop the Europeans and Americans especially," explained Martin Lel. The tactic worked. The field of 95 runners was soon split. When the half-marathon point was reached in a very fast 62:34, the Africans had it all to themselves: next to Wanjiru and Lel ran the Ethiopian Deriba Merga and the Eritrean Yonas Kifle, as well as the Moroccan Jaouad Gharib at the front. About five kilometers from the finish, Wanjiru went clear from Gharib, his last rival.
"It was a hard race because of the high temperatures," said Wanjiru, who was awarded a scholarship at the age of 16 and moved to Japan, where he speaks the language and continues to live part-time. Quite a few world-class runners have followed that path before him. "It wasn't easy in the beginning, but my teacher was very understanding and he helped me a lot," said Wanjiru, whose coach is Koichi Morishita. The Japanese won the silver medal in the Olympic marathon in Barcelona in 1992. However, Wanjiru trained for the Olympic marathon in Kenya. His next goal is already decided: "Next year I want to run in Berlin. Not at the World Championships but in the Berlin Marathon. On that fast course, I want to break the world record and run under 2:04."
Once again, Viktor Röthlin came through the field to outstanding effect. The 33-year-old Swiss, who had already won the Tokyo marathon this year, had to run on his own for large parts of the race. "To finish sixth here and be the best white runner is fantastic for me. A medal would have been the absolute pinnacle but unfortunately it didn't quite work out that way," said Röthlin, who added: "The pace at the start was too fast for me. I wanted to run into the stadium and finish and not end up on the bus. I think I struck a good balance. I ran to my limit but not beyond. These Olympic Games were my chance because four years ago I hadn't come on so much and in another four years I'll be too old."
Coming in behind Röthlin were convincing performances from two other non-Africans, the Americans Dathan Ritzenhein, who came in ninth place in 2:11:59, and Ryan Hall, who finished tenth in 2:12:33.
© Copyright 2008-2022 by Take The Magic Step®. All Rights Reserved.
Article Archive