New Year's Eve is a Celebration and a Feast for Runners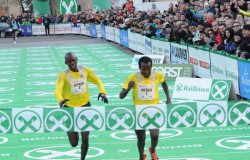 For running fans, the New Year's Eve races around the world are as much part of the festivities as bursting fireworks or bubbly champagne. In the spring and autumn spectacular marathon races fill up the calendar, but no other day of the year has so many running events within a few hours as New Year's Eve. The numbers of participants on Tuesday evening was probably well over half a million worldwide, and in many events runners wore fancy costumes to say farewell to the old year. Below you can read Take The Magic Step's wrap up of the exciting events in Bolzano, Italy, Peuerbach, Austria, Madrid, Spain, São Paulo, Brazil, and Trier, Germany.
Uta, who won the 1990 edition of the race in Bolzano, Italy, is a fervent fan of New Year's Eve runs. "I can still remember the fun atmosphere at the BOclassic in Bolzano and would like to congratulate this year's winners, Imane Merga and Maryam Jamal, on their success," she said. "New Year's Eve races are a great chance to ring out the year with sport. When I was competing, I always loved to run at these events." Perhaps you would like to join the runners next time? Uta's six-week training plan for beginner runners can be a great start for 2014, she says, adding, "I wish you all the best and much success as you pursue your fitness goals."
Bolzano: Imane Merga Wins Photo Finish from Wilson Kiprop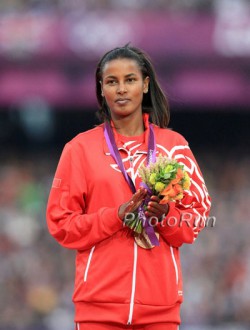 Imane Merga and Maryam Jamal triumphed at one of the most competitive New Year's Eve races. The 25-year-old Ethiopian and the 29-year-old from Bahrain won the prestigious BOclassic in chilly conditions in the southern Tyrolean town of Bolzano.
Just as the Olympic champion Mo Farah of Great Britain came to realize in the Italian classic three years ago, Wilson Kiprop discovered just how strong a finish Imane Merga possesses. In a thrilling 10-kilometer race, the Ethiopian title holder won by just a tenth of a second over the Kenya's 2010 World Half-Marathon champion, Wilson Kiprop. The extended duel in the finishing straight over 300 meters was probably the most exciting ever seen at the BOclassic. Both men were going for the win right up to the final meter as they crossed the finish line in the same time of 28 minutes and 44 seconds. Morocco's Aziz Lahbabi—third in the 5,000m at the 2010 World Junior Championships—had set the pace from the start and was rewarded with third place in 29:00.
It was Imane Merga's third win in Bolzano and only Sergey Lebid of Ukraine with five wins and Edwin Soi from Kenya with four have achieved more victories. Edwin Soi, the Olympic bronze medalist in 2008, saw his chance of drawing level with in the victory tally with Sergey Lebid disappear before halfway on Tuesday. At the finish he was seventh in 30:00 behind the Kenyan duo of Jairus Birech (fourth place, 29:05), Leon Ndiema (fifth in the same time) as well as Solomon Mutai (Uganda, sixth in 29:49).
"I am very proud to have won for the third time," said a happy Imane Merga, who took the silver medal at the 2013 World Cross-Country Championships and lists compatriots Haile Gebrselassie and Kenenisa Bekele as his role models. "This is a very special victory because [Wilson] Kiprop gave me a hard time." Wilson Kiprop, said: "I have to appreciate the result. Second place is a good result and [Imane] Merga deserved to win. Of course I wanted to win but there can't be two winners."
Maryam Jamal, a double world champion at 1,500m, won the women's 5K race. The runner from Bahrain did not leave Gladys Cherono of Kenya, the world 10,000m silver medalist any chance over the final 300 meters, although it was close. The winning time for the 2012 Olympic bronze medalist in London was exactly 16:00 and Maryam Jamal became the first 1,500m specialist to win Bolzano. Gladys Cherono was just a second behind with the Ethiopians Afera Godfay (16:19) and Worknesh Degefa (16:25) placing third and fourth respectively. The highest-finishing European was the Italian Margherita Magnani who came across the line in fifth place in 16:27.
"That wasn't easy, because [Gladys] Cherono is one of the best in the world over the longer distances," said Maryam. "When I pulled away with 300 meters to go, I knew I could win the race. This was the first time in Bolzano for me, it's a great event and the atmosphere was unique."
Runner-up Gladys had this to say about the race: "I tried everything to shake [Maryam] Jamal off, because I knew she would be very strong in the finish but I couldn't do it. But I can be happy with second place."
Peuerbach: Cornelius Kangogo Wins on His Birthday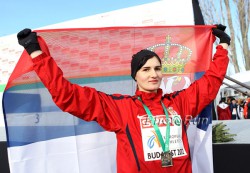 The Kenyan Cornelius Kangogo and Amela Terzic of Serbia were winners in the 33rd edition of the New Year's Eve Race in Peuerbach in Austria. In the 6.8K men's race, it looked for much of the time as if the favorite, Albert Rop of Bahrain, would emerge victorious. He led the field with Cornelius Kangogo until the penultimate lap and as the chase group whittled down, lap by lap, the Austrian, Günther Weidlinger, put in a strong performance to stay with them.
Cornelius Kangogo, who finished sixth in Peuerbach in 2012, then went a couple of meters clear of Albert Rop, the Asian 5,000m record holder, on the seventh lap, winning by just one second in 18:58. The triumph for Cornelius was particularly sweet: he celebrated his twentieth birthday on New Year's Eve. Third place went to the Belgian, Pieter-Jan Hannes, in 19:14. Günther Weidlinger and the German, Richard Ringer, finished a few seconds behind. They produced a thrilling duel for fourth with Günther Weidlinger winning the contest in 19:17.
In chilly but excellent weather conditions the women's champion and favorite retained her title: Amela Terzic went clear on the last lap but one and won the 5.1K in 16:38. The course record holder, Sonja Stolic of Serbia, was runner-up in 16:44. Amazingly, her course record of 15:55 in Peuerbach has been standing for eleven years. She led the field of ten for the first four laps along with the Hahner twins, Anna and Lisa. Anna Hahner finished behind Agatha Strausa (Latvia, 16:45) with fourth place in 16:54. Lisa finished eighth in 16:59
Madrid: Leonard Komon and Linet Masai Dominate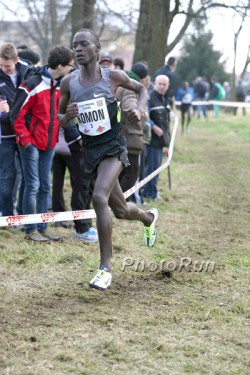 Madrid's outstanding field for its New Year's Eve race produced a Kenyan "double." With two world-class athletes, Leonard Komon and Linet Masai, prevailing over 10K in the Spanish capital.
Leonard Komon, the 10K world-record holder who set that best time of 26:44 in 2010, went clear of his rivals in the opening kilometer and built a commanding lead. The 25-year-old went through halfway in 13:41, ahead of the chasing group's 14:25, and the winning margin at the finish was over a minute with Leonard Komon recording 28:02. Spain's Ayad Lamdassem (29:05) and Roberto Alaiz (29:08) were second and third respectively with their fellow compatriot, Javier Polo, finishing fourth in 29:10.
The women's race developed in similar fashion to the men's at the front. In this case it was Linet Masai, the 2009 World Champion at 10,000m, who seized the initiative early. The 24-year-old went through 5K in a very fast 15:24 and by then was six seconds ahead of Rita Jeptoo of Kenya. Malika Asahssah of Morocco was four seconds behind.
While Linet Masai built up her lead in the second half, the Boston and Chicago Marathon champion Rita Jeptoo dropped off the pace and was eventually caught by Malika Asahssah. Masai won in a speedy 31:33 ahead of the Moroccan (31:57) and Rita Jeptoo (31:59). Magdaline Masai of Kenya was well down in fourth coming through the finish in 32:56 and Jessica Augusto of Portugal was fifth in 32:58.
São Paulo: Edwin Rotich Once More Victorious
The longest-established New Year's Eve race of them all is the "Corrida Internacional de São Silvestre." The 89th edition of the 15K race in São Paulo, Brazil, attracted almost 27,000 runners, with Edwin Kipsang Rotich winning the title for the second consecutive year. The Kenyan runner crossed the finish line in 43:48, 16 seconds faster than a year ago. Mark Korir, third in 2012 on New Year's Eve, improved by one place to finish second in 44:09. Stanley Koech completed the Kenyan triple triumph in perfect style with third in 44:30. The women's champion also came from Kenya: Nancy Kipron won in 51:58 ahead of Ethiopia's Netsanet Kebede and Jackline Sakilu of Kenya.
Trier: Double German Victory with Homiyu Tesfaye and Corinna Harrer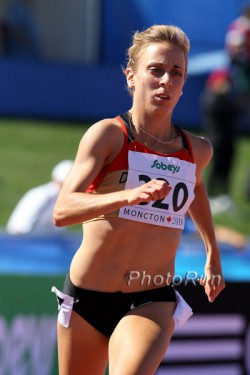 The New Year's Eve race in Trier ended in a double German success. Weather conditions were good as Homiyu Tesfaye triumphed in the men's race and Corinna Harrer repeated her win from last year.
An estimated 15,000 spectators watched the men's race, which delivered a thrilling three-way contest over 8K. Homiyu Tesfaye ran together with Thomas Ayeko of Uganda and Dame Tasame of Ethiopia at the head of the field and the outcome was not decided until the finishing straight when Homiyu Tesfaye brought his sprinting powers to bear. The 20-year-old, who finished a surprise fifth in the World Championship 1,500m final in Moscow this summer, won in 22:38 with Thomas Ayeko and Dame Tasame given the same time. Fourth across the line was Kenya's Evans Korir. Homiyu Tesfaye was the first German winner of the men's race in Trier since 1996. The previous German winner of the race through the historic city center was Thorsten Naumann.
One of Germany's promising young distance runners also claimed victory in the women's race, with Corinna Harrer retaining her title over 5K. Just as with Homiyu Tesfaye, she is a middle-distance specialist. But in Trier the 22-year-old did not give her rivals a chance and won convincingly in 15:51. Eleni Gebrehiwot from Germany and Cynthia Kosgei of Kenya were second and third respectively, clocking 16:07 and 16:14. Fourth was another German middle-distance runner, Diana Sujew in 16:20.
Article Archive