Mike Ryan's Family Unveils a Century-Old Memory at the 2012 Boston Marathon
By David Wright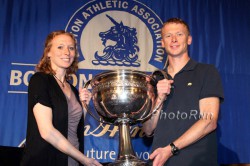 Once upon a time it was used as a humble doorstop. Later, flowers grew in it. But when it was unveiled at Boston's annual gathering of marathon greats on April 14, 2012, it brought gasps of admiration—and opened up an historic 100-year-old link to the glorious past of the world's most famous race.
Restored and polished to a high sheen, the huge silver cup Mike Ryan won at the 1912 Boston Marathon—running through slush, mud, and rain to an unlikely record time—was presented at the 2012 Boston Athletic Association "Breakfast of Champions" by a proud group of his descendants. "I brought a polishing cloth with me just in case it needed a final rub," Mike Ryan's 53-year-old grandson, Bill Ryan, told Take The Magic Step®. And with a smile he pulled it from his pocket.
Exactly a century ago, 123 runners from all over America came to compete in the 16th Boston Marathon. Mike Ryan was 23, a tall-for-the-times 5 feet 11 inches, and weighing 161 pounds—and he had a mission. He hadn't been able to finish in the 1908 Olympic Marathon and now, in 1912, he had a second chance. The first three finishers in Boston would go to the Olympics in Stockholm. Mike traveled from his Irish ghetto home in New York's tough Hell's Kitchen to join what a reporter from the Trenton Evening Times described as "a field of the fastest marathon runners ever gathered together in this country." The excitement generated by the race was rivaled by other headlines: four days earlier the Titanic had sunk, with the loss of 1,514 lives. The day after the marathon, Fenway Park, brand new home of the Red Sox, would open.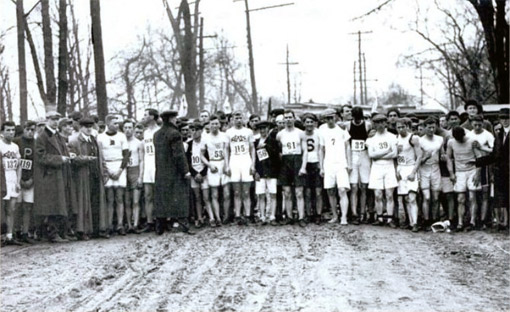 Back then, the race began not in Hopkinton, as it does now, but in Ashland, and the course was a little shorter: 24.5 miles. It was not extended to the standard Olympic distance of 26.2 miles until 1924.
It had snowed heavily the night before. Steadily-falling rain turned the route—much of it unpaved—into a path of slush and mud. The footing was so uncertain that when they got the opportunity, the men ran on the sidewalk to get traction. "Never were conditions so poor," recorded the man from the Trenton Evening Times. "With such conditions to face, the runners did remarkably well to finish at all."
A young Yale freshman, Johnny Gallagher, took an early lead, but Andrew Sockalexis, a 20-year-old Penobscot Indian from Maine, caught him near Cleveland Circle. Then, with only two miles to go, Ryan came from behind, passed Sockalexis—and stayed in front to beat him by just 34 seconds. His time of 2:21:18 was a Boston Marathon record that stood for a decade. It eclipsed by 21 seconds the mark set the previous year by Boston legend Clarence DeMar.
After five attempts, with fourth place his best finish, Mike finally was able to hoist the magnificent silver victory cup.
Mike Ryan led the American marathon team to Stockholm. But the race was run in 90 degree heat—an eerie premonition of the ordeal faced 100 years later by the 2012 Boston Marathoners—and once again he had a DNF. He retired from running soon afterwards and began a distinguished career as a coach. He died in 1971 at age 82.
And his Boston trophy? "For a while it was used as a doorstop in my grandparents' home," grandson Bill Ryan told Take The Magic Step. "Then my grandmother had plants growing out of it." At one point, the cup was loaned to a Los Angeles sports museum, where it languished for 15 years. Finally, in 2002, Mike's last surviving sibling, brother Bob Ryan, now 90, retrieved it and gave it a prideful place at his Sacramento home. "Bob's wife, who's just passed away, was in charge of polishing it," said Bill.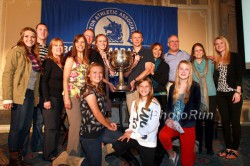 On April 14th, more than 50 Ryan descendants gathered in Boston, for the 100th anniversary—bringing with them the gleaming trophy that would get its surprise unveiling at the 2012 "Breakfast of Champions." And to complete the century-old circle, four of Mike Ryan's great grandchildren ran the 2012 race. One of them carries on his illustrious name: Mike Ryan, a 34-year-old airline executive from Flower Mound, Texas, who finished in 3:12:13. "I'm proud to be part of this history," he told Dallasnews.com. "To share this experience with many descendants of Mike Ryan is something we couldn't pass up."
There is one more startling footnote connecting the Mike Ryan of a century ago and present day Boston. Ryan Hall, the American marathon record holder and fourth place finisher at Boston last year, was named after him! It happened because Ryan Hall's parents are close friends of the family of one of Mike Ryan's grandchildren. And Ryan Hall will be following in his namesake's footsteps in London in August as a member of the U.S. Olympic marathon team.
Posted April 24, 2012
© Copyright 2012-2015 by Take The Magic Step®. All Rights Reserved.
Article Archive