Meseret Defar Breaks 5,000m World Record in Oslo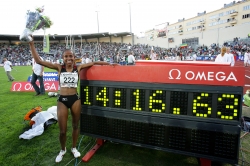 Meseret Defar continued the world-record tradition at Oslo, Norway's Bislett Games with a 5,000m world record clocking 14:16.63. Including Defar's mark, 64 world records have been set at the Bislett Games. In comparison, Berlin's annual meet, which began in 1937, has been the site of 15 world records.
Defar was paced for just less than the first half of the race. "[A]fter three kilometers I knew that I would be able to run a time around 14:20," she said. "I was prepared very well and I knew that I was fit." Defar reached 3,000m in 8:35.76, which would win most 3,000m races.
Defar's mark was the fifth world record in just more than a year from the 23-year-old from Addis Abeba. In April 2006, she set the road 5K mark of 14:46 in Carlsbad, California. Two months later, she ran 14:24.53 for 5,000m at the Reebok International Meet in New York City. This winter, she set a new 3,000m indoor world record in Stuttgart, Germany, clocking 8:23.72 minutes, and last month she ran two miles in 9:10.47 in Carson, California.
"If I can further improve my training, another improvement is maybe possible. Then I could even think of running 14:10," said Defar, who set the first world record in the newly renovated Bislett Stadium. The Bislett record list is like a who's who of distance running: Australia's Ron Clarke, the first to break 28:00 for 10,000m, in 1965; Kenya's Yobes Ondieki, the first to break 27:00, in 1993; plus Grete Waitz, Ingrid Kristiansen, John Walker, Henry Rono, Sebastian Coe, Steve Ovett and Defar's countryman, Haile Gebrslassie.
Maria Mutola Announces Retirement
Maria Mutola, the most successful 800m runner of the past 15 years, announced that she will retire. The 34-year-old runner from Mozambique intends to quit her sporting career next year. This summer's World Championships will be her last major international championship.
Mutola has wonthree outdoor and seven indoor world championships, and was the 2000 Olympic champion. She has been ranked in the top ten in the world each of the last 16 years. With her personal best of 1:55.19, she is the seventh-fastest 800m runner ever. In 1995 she set a 1000m world record, clocking 2:29.34.
Haile Gebrselassie to Return to Berlin Marathon
Haile Gebrselassie, the defending champion, will return to this fall's Berlin Marathon. Last year, Gebrselassie won Berlin in 2:05:56, the fastest time in the world for the year. The race, part of the World Marathon Majors, will be held on September 30, with an expected field of 40,000 runners.
"With Haile Gebrselassie we have signed one of the best runners of all times," said race director Mark Milde. "We are delighted that after his impressive performance last year Haile has again chosen the real,- Berlin Marathon for his fall marathon race."
© Copyright 2007-2022 by Take The Magic Step®. All Rights Reserved.
Article Archive