Meseret Defar Begins Olympic Year With World Record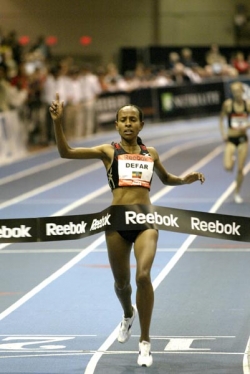 Meseret Defar has begun the Olympic year right where she left off last year – with a world record. The 24-year-old Ethiopian covered the rarely run distance of 2 miles at the Boston indoor meeting in 9:10.50. With that time, Defar bettered the old mark, set by the American Regina Jacobs at the same meeting six years ago, of 9:23.38. Defar's time brings the indoor 2-mile standard much closer in line with the world indoor marks for 3,000m and 5,000m.
Defar, the 2004 Olympic 5,000m champion, was taken through 1,000m in 2:53 by the pacemaker Marina Muncan of Serbia. Running alone, she then went through the 2K and 3K splits in 5:44 and 8:35. "Today I didn't go all out to run this time," said Defar. The International Association of Athletics Federations does not recognize world records for the 2-mile distance, so Defar's mark is officially a "world best."
Last year Defar set four world records. She ran indoors in Stuttgart in the winter and clocked 8:23.72 for 3,000m. In Carson City, California, she broke the outdoor 2-mile record with 9:10.47, and then she ran 14:16.63 for 5,000m in Oslo. Finally she improved the 2-mile time to 8:58.58 in Brussels. Boston marked the seventh time in Defar's career that she has set a world mark.
Behind Defar the New Zealander Kim Smith was also well inside Jacobs' time with 9:13.94. Jen Rhines of the USA was third in 9:35.29. In the 3,000m Tirunesh Dibaba won in 8:33.37 from her sister Ejegayehu (8:36.59) and Megan Metcalfe of Canada, who finished in 8:52.85. Dibaba, surely Defar's strongest rival for Olympic gold, ran a world record for 5,000m (14:27.42) in Boston a year ago.
The men's 3,000m in Boston was also top quality. Craig Mottram made an ideal start to his Olympic year, setting an Australian national record with 7:34.50, winning from Markos Geneti of Ethiopia (7:41.81) and Andy Baddeley of Britain (7:45.10).
Briton Yamauchi Springs a Surprise in Osaka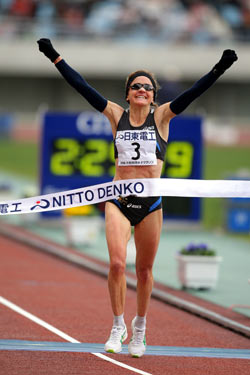 The Briton Mara Yamauchi was the surprise winner of the prestigious elite women's marathon in Osaka, Japan. The 34-year-old finished in 2:25:10, improving her personal best by 3 seconds. While Yamauchi, who lives in Japan and whose husband is Japanese, has surely secured a spot on Britain's Olympic team, the race in Japan for probably the one remaining Japanese place on the plane for Beijing is still undecided.
In Osaka Tomo Morimoto, winner of the 2006 Vienna Marathon, was second in 2:25:34 from the Kenyan Julia Mombi (2:26:00). But Morimoto's time might not be fast enough to give her a place on the start line in Beijing. Already selected for the Olympics is Reiko Tosa, and there is bound to be a place for the Olympic champion Mizuki Noguchi. Japan's women can still attempt to qualify for the third place in Nagoya in early March.
In cold weather, with temperatures around 40 degrees, it was a marathon debutante who first took the initiative. There were high expectations of Kayoko Fukushi in Japan. The 25-year-old, national record holder for the half marathon with 67:26, went through 10K in 33:11. That was on course for a time of 2:20. At halfway (1:10:32) Fukushi had a lead of almost 2 minutes over her rivals. But the newcomer wasn't able to sustain this pace. Soon after 30K she fell apart to such an extent that she was reduced to jogging, and she even fell several times. She finished in 2:40:54, well back in 19th place.
Yamauchi overtook Fukushi shortly before 35K and went on to celebrate her first marathon victory. The 34-year-old Briton has produced impressive results in the marathon in the past two years: in 2006, she was sixth in London in 2:25:13, and last year she was also sixth at London (2:25:41) and ninth at the World Championships in Osaka. The winner admitted that it helped to know the Osaka course. "I actually wanted to run faster, but a win is a win," said Yamauchi.
Results – Osaka Marathon:
| | | |
| --- | --- | --- |
| 1. | Mara Yamauchi (GBR) | 2:25:10 |
| 2. | Tomo Morimoto (JPN) | 2:25:34 |
| 3. | Julia Mombi (KEN) | 2:26:00 |
| 4. | Miki Ohira (JPN) | 2:26:09 |
| 5. | Madoka Ogi (JPN) | 2:26:55 |
| 6. | Lidia Simon (ROM) | 2:27:17 |
| 7. | Mika Okunaga (JPN) | 2:27:52 |
| 8. | Aki Fujikawa (JPN) | 2:28:06 |
| 9. | Constantina Tomescu (ROM) | 2:28:15 |
| 10. | Christelle Daunay (FRA) | 2:28:23 |
Defending Champs, VIPS to Run Boston Marathon
Both of last year's winners as well as two VIP runners will be on the start line for the 112th Boston Marathon on April 21. The race organizers announced the signings of Robert Cheruiyot of Kenya and Lidiya Grigoryeva from Russia, who triumphed amidst the rain and storms of last year. The Kenyan has the chance of winning after already securing victories in 2003, 2006 and 2007. Cheruiyot also holds the course record in Boston with 2:07:14. Grigoryeva has already won marathon races in Los Angeles (2006) and Paris (2005).
At the same the organizers announced that Mike Huckabee, Republican candidate for president, will toe the line in Hopkinton. Huckabee has run four marathons, including New York in 2006, with a best time of 4:26:05. In addition Lance Armstrong will run Boston. The seven-time winner of the Tour de France has so far twice run New York and improved his best to 2:46:43 in 2007.
© Copyright 2008-2022 by Take The Magic Step®. All Rights Reserved.
Article Archive