Meb Keflezighi Prevails In Glorious Boston Marathon
It goes without saying that every edition of the Boston Marathon—the world's oldest annual marathon—is special, but this year was different.
The 118th running of this historic race began, as it always has, on Patriots' Day, the third Monday in April. About 36,000 runners, many wearing "Boston Strong" apparel to show support, unity, respect, and remembrance given the tragic events of last year, lined up for the start in the sleepy town of Hopkinton.
And amid joyful celebrations, for the first time since 1983 an American won the men's race. Olympic silver medalist and New York City Marathon champion, Meb Keflezighi, broke the finish-line tape in Copley Square in two hours, eight minutes, and 37 seconds. Coming in second was Kenya's Wilson Chebet who ran 2:08:48 while fellow Kenyan Frankline Chepwony was good for third in 2:08:50.
In the women's race, Rita Jeptoo of Kenya was the first to cross the finish line with a winning time of 2:18:57—a new course record. The previous best, 2:20:43, belonged to Kenya's Margaret Okayo who set it back in 2002. It was the third Boston victory for Rita, who won in 2006 and was last year's champion.
At 9:30 a.m., the women's race kicked off under sunny skies in near-perfect conditions with temperatures of 54 degrees Fahrenheit and a relatively calm wind. Going out to the front from the onset was the American crowd favorite Shalane Flanagan, who pushed the pace into potential record-setting territory. Shalane clocked splits of 32:32 minutes for 10K and then 1:09:25 for the half marathon and a long line of runners trailed her. However, Shalane began to fade at 1:43 into the race and the chase group, led by Ethiopia's Mare Dibaba and Rita Jeptoo eventually caught her. With 5K left to go in the race, Rita Jeptoo found another gear and took a commanding lead from three other runners. Incredibly, the Kenyan marathoner blazed a 4 min and 48 seconds 24th mile. The 33-year-old's official winning time was 2:18:57—an astonishing 7 minutes and 29 seconds faster than her victory last year. Buzunesh Deba came across the finish line second more than a minute later in 2:19:59. Mare Dibaba, also from Ethiopia, was third in 2:20:35.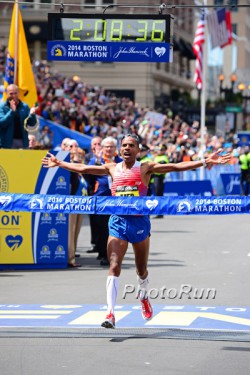 Meanwhile, the men's race was all about 2004 Olympic silver medalist Meb Keflezighi. The popular 38-year-old took it out from the start and never looked back.
Meb, who won the 2009 edition of the New York City Marathon, had established an 8-second lead with Josphat Boit (United States) by the 8-mile mark. But after that, it was Meb's race to lose. His lead grew to 14 seconds heading into the Newton Hills and in the final 5K had gapped the field by as much as 40 seconds. However, at that point, things looked like it could become a close race. Kenya's Wilson Chebet began to reel him in, but Meb was able to hold on to the end. He crossed the finish line to a thunderous ovation, raised his arms in celebration, and began to cry with emotion.
"It's beyond words," he said after catching his breath. "This is for Boston, the United States, and the world. We are resilient and never give up."
Speaking about the last stretch of the race where Wilson Chebet almost caught him, he added: "I was a little fearful, but I was running strong. Boston Strong. I do the small things [in training] and God has blessed me in many ways."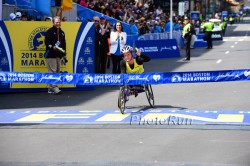 In the wheelchair division, Ernst Van Dyk of South Africa prevailed for the 10th time at Boston. He led from the start and broke the tape in 1:20:36. Second and third place went to Kota Hokinoue and Masazumi Soejima (both from Japan and both awarded the same time of 1:21:14). The women's winner was Tatyana McFadden of the United States who clocked 1:35:06 to defend her title from last year. Tatyana also won this year's London Marathon and is a multiple Paralympic medalist. Second place went to Wakako Tsuchida (1:37:24, Japan), while Susannah Scaroni of the United States was third in 1:38:33.
As in past years, Uta was at this wonderful event all weekend to show support and encourage her fellow runners. On Saturday, she was honored to be the guest speaker at the Leukemia & Lymphoma Society's Team In Training Annual Inspiration Luncheon as well as at Team Hoyt's Pasta Dinner later in the day. There, Uta, who won the Boston Marathon three times, shared some last-minute tips with the Hoyt Foundation team. Sunday, Uta celebrated the 25th anniversary of the Dana-Farber Marathon Challenge ("DFMC") with her friends at their annual pasta party.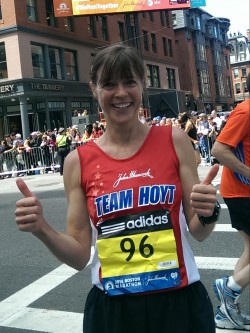 And on marathon day, Uta was at the start, the finish and for several miles also on the course to show support for Dick and Rick Hoyt, who ran their 32nd consecutive Boston Marathon. She also provided inspiration for the selfless Hoyt Foundation athletes, who she coached during the months leading up to the race, as well as her many running friends.
"What a day this was for Boston," said Uta afterwards. "The atmosphere along the course was like nothing I'd experienced before—it was a huge celebration of the human spirit by the most fantastic and supportive crowds ever."
Elite competition aside, the Boston Marathon is also about giving back to the community. Since the charitable program began back in 1989 it has raised more than $150 million for 35 official groups.
The Results of the Boston Marathon
Men:
| | | | |
| --- | --- | --- | --- |
|  1. |  Meb Keflezighi |  USA |  2:08:37 Hours |
|  2. |  Wilson Chebet |  KEN |  2:08:48 |
|  3. |  Frankline Chepkwony |  KEN |  2:08:50 |
|  4. |  Vitaliy Shafar |  UKR |  2:09:37 |
|  5. |  Markos Geneti |  ETH |  2:09:50 |
|  6. |  Joel Kimurer |  KEN |  2:11:03 |
|  7. |  Nicholas Arciniaga |  USA |  2:11:47 |
|  8. |  Jeffrey Eggleston |  USA |  2:11:57 |
|  9. |  Paul Lonyangata |  KEN |  2:12:34 |
|  10. |  Adil Annani |  MAR |  2:12:43 |
Women:
| | | | |
| --- | --- | --- | --- |
|  1. |  Rita Jeptoo |  KEN |  2:18:57 Hours |
|  2. |  Buzunesh Deba |  ETH |  2:19:59 |
|  3. |  Mare Dibaba |  ETH |  2:20:35 |
|  4. |  Jemima Jelagat Sumgong |  KEN |  2:20:41 |
|  5. |  Meselech Melkamu |  ETH |  2:21:28 |
|  6. |  Aleksandra Duliba |  BLR |  2:21:29 |
|  7. |  Shalane Flanagan |  USA |  2:22:02 |
|  8. |  Sharon Cherop |  KEN |  2:23:00 |
|  9. |  Philes Ongori |  KEN |  2:23:22 |
|  10. |  Desiree Linden |  USA |  2:23:54 |
© Copyright 2014-2022 by Take The Magic Step®. All Rights Reserved.
Article Archive