Mary Keitany: The Next Great Woman Marathoner?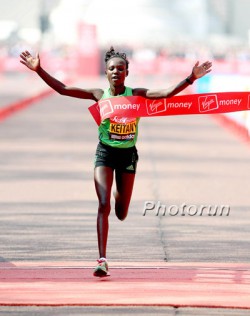 Kenyan runner Mary Keitany became the fourth-fastest woman marathoner ever when she won the Virgin London Marathon in April in a blistering 2:19:19. In only her second race over the classic 26.2-mile distance she improved her personal best of 2:29:01—set in New York in 2010—by nearly ten minutes. And her time is the fastest for a female marathoner since September 2008 when Irina Mikitenko ran an identical 2:19:19 hours to win the real,- Berlin Marathon. Mary and Irina now share fourth-fastest all-time.
With the Olympic Games now only a year away, the 29-year-old Kenyan could be emerging as the next great woman marathon runner. Before her London breakthrough, Mary had already shown enormous potential over shorter distances. In an incredible performance in February 2011, she won the Ras Al Khaimah Half Marathon in the United Arab Emirates with a world-record time of 65:50 minutes. En route to victory, she also set two other world-best times (24:30 for 8K and 50:05 for 10 miles) as well as a world record for 20K (1:02:36). She actually improved another world best but a measurement error at 12K—the distance was four meters short—prevented official recognition (Mary was timed at 37:04 at that point.). Last year at the Big 25 Berlin she also ran a 25K world record with 1:19:53 in what was then the longest race of her career, lowering the previous best by an astounding 2 minutes and 20 seconds. She became the first woman ever to go under 1:20.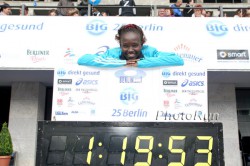 Who is this phenomenal runner who has the marathon world buzzing? Mary grew up one of five children in a farming family in Koibatek in Kenya's Rift Valley, home of so many world-class athletes, and she credits one of her older sisters for her motivation to take up running. "My sister ran in school," she explained. "I saw that she was talented and thought that I should try this as well." Ironically, her sister subsequently gave up the sport even though she had run in national championships while still at school. It was to be Mary who went on to greatness in the professional arena.
The talented youngster began running in elementary school, but only really started training and racing seriously when she was 18 and in high school. It wasn't until 2006, when she was 24, that she appeared in Europe for the first time. "I ran a few road races in Spain and a half marathon," she recalled. Her first mentor was former Kenyan professional runner, Philip Singoei, who won the 2007 Eindhoven Marathon in 2:07:57.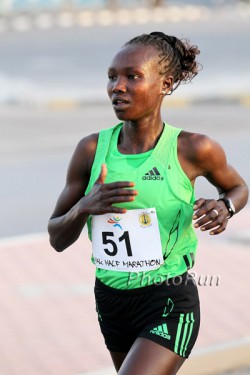 "When Gianni Demadonna opened a training camp in Iten in April 2007, Mary joined the group there because she lived in the area," explained her current coach, Gabriele Nicola, who is a "technical director" for the Italian Demadonna management group in Kenya, and guides the training groups. Step by step, Gabriele Nicola took over Mary's training. "I'm in Iten for long periods throughout the year, overseeing the training of my runners and a team of coaches and physios are available to help the athletes," he said.
"In Iten, I run with boys—my manager pays them to help us," Mary explained. Her female training partners include three established stars—Peninah Arusei, Helena Kirop, and Lydia Cheromei. Peninah won 2008 and 2009 editions of the Berlin 25K; Helena triumphed at the 2009 Volkswagen Prague Marathon; and Lydia is the current Prague champion.
Mary is married to road-racing champion Charles Koech, and after she won the silver medal at the 2007 World Half Marathon Championships at Udine in Italy, she became pregnant and took a break from the sport. Mary decided not to train throughout her pregnancy and in June 2008, their son, Jared, was born. Husband Charles has run 27:56 for 10K and 61:27 for the half marathon and sometimes they train together, says Mary. They have hired a nanny to look after Jared while they undergo the arduous hours of training required of professional runners.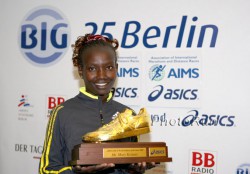 "When Mary began running again after her son was born, we set various goals," explained Gabriele Nicola. "The first was to qualify for the World Half Marathon Championships in 2009 and to run well." She ran so well she won the Championship in 1:06:36! She was also the best in the world at 10K (31:04) and 20K (1:02:59) in 2009 and was soon recognized as the best female road racer in the world by the "Association of International Marathons and Distance Races" (AIMS) in Berlin.
The marathon was the natural next step for Mary, who says she has been inspired by Catherine Ndereba, Kenya's double World Champion and former world-record holder, as well as Britain's world-record holder, Paula Radcliffe. "I would love to win the gold medal in the marathon at the Olympic Games in London next year—but first of all I have to be selected, of course," she says modestly. She is also dreaming of another significant achievement: "Perhaps one day I could be in the kind of shape to attack the world record." Mary is well aware that Paula Radcliffe's record 2:15:25 from the 2003 London Marathon is not going to be easy. No woman has come close to the mark in recent years.
"Right now we can't speak about the marathon world record," says trainer Gabriele. "But Mary has the potential to go for it in future. That does not mean that she'll break it—but there aren't many runners who can even think of attacking this record. Mary has great potential, and we are lucky to have her. We will only get a Mary Keitany every 20 years."
© Copyright 2011-2022 by Take The Magic Step®. All Rights Reserved.
Article Archive