Marilson Gomes dos Santos Wins in New York, KIMbia's Stephen Kiogora Takes Second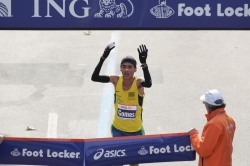 Expect the unexpected. With great weather and stacked fields, most commentators expected fast races and close finishes at this year's ING New York City Marathon. They got neither. But despite the slow pace, the performances were still impressive—especially KIMbia's Stephen "Baba" Kiogora, who accepted the silver medal from Mayor Bloomberg. Baba dueled world record holder Paul Tergat over the final mile, pulling away in the last 600 meters to finish second in 2:10:06 hours. Tergat finished third, four seconds behind, in 2:10:10 hours. But neither athlete could catch Marilson Gomes dos Santos, who became the first Brazilian to win the New York City Marathon.
The pace went out slow in the men's race, averaging 5-minute miles (2:11 pace) and allowing a large lead pack to form. At the half-marathon mark, the pace still had not picked up, and the lead pack contained 28 runners. But that changed just before the 17-mile mark when the pacesetters surged and the lead pack split up. After some jockeying over the next few miles, by mile 21 the field strung out, with Marilson Gomes dos Santos of Brazil leading a chase pack of seven runners by over 30 seconds. Although Gomes' lead would dwindle with each mile, he held on through the finish, where he won in 2:09:58. By mile 24, the chase pack was down to two—Tergat and Baba—who were quickly making ground on Gomes. But over the final mile it was clear that the chase pack let Gomes get too far away. He ran through Central Park unchallenged and rejoiced triumphantly as he crossed the line.
Baba may not have run a PR (he has run 2:09:21 at the LaSalle Bank Chicago Marathon and 2:09:51 at the Coke Zero Rock n' Roll Marathon), but finishing 2nd in New York is remarkable for an athlete not touted as a top contender in this year's race. Surprising many, Baba ran a consistent race and beat a stacked field, including Olympic champion Stefano Baldini Olympic silver medalist Meb Khefelzighi.
KIMbia's Thomas Nyariki also ran a consistent race and finished 13th in 2:15:58. After a summer of great success, winning the New York City Half-Marathon and the Beach to Beacon 10K, Nyariki capped off a long season with a solid performance in his marathon debut.
Other notable performances included the first American finisher, Peter Gilmore (10th place in 2:13:13), and Dathan Ritzenheim's debut (11th place in 2:14:01). The Olympic champion from 2004, Baldini, finished 6th (2:11:33) and the American silver medalist, Meb Kefelzighi, finished 21st in 2:22:02.
In the women's race, the pacesetter Luminita Talpos went out right on pace, but the lead pack decided to take it more slowly. Staying with Talpos, defending champion Jelena Prokopcuka of Latvia had an early lead of over 20 seconds, but eventually even she slowed and moved back towards the pack. But by the half-marathon she had pulled away again as Jelena and Tatiana Hlaydir distanced themselves from a seven-woman chase pack that included Deena Kastor, Lornah Kiplagat and Catherine Ndereba. Although Jelena and Tatiana continued together through 21 miles, by mile 24 Jelena had a lead of more than 30 seconds. She would hold onto that lead to win her second consecutive New York City Marathon (2:25:05), while Tatiana finished second in 2:26:05. Third place was Catherine Ndereba of Kenya in 2:26:58. The first American finishers were Deena Kastor (6th place in 2:27:54) and Katie McGregor (7th place in 2:32:36).
Overall it was a day of surprises in New York—slow paces and relatively unchallenged leaders. But KIMbia Athletics was pleased with their surprise of the day—underdog Stephen Kiogora outrunning world record holder Paul Tergat for a second-place finish.
Article Archive