Marathon Spring: Highlights in Boston, London, Rotterdam and Hamburg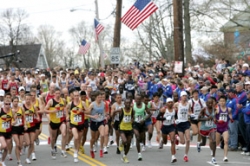 April is traditionally the biggest marathon month of the year, but this year the top spring races over the classic 26.2-mile distance are grouped closer than ever. Over three weekends in the second half of the month, more than 150,000 will take part in various mass races around the world; 96,000 applied to run in the Flora London Marathon alone. London, Boston and Rotterdam traditionally have the strongest fields of the spring races. In recent years Hamburg and Paris have also consistently produced high-class results, and the Vienna Marathon has also risen to the fore on the scale of international events.
Points for the World Marathon Majors will be at stake in Boston, as well as six days later in London. The first winners of the World Marathon Major series, which also includes the autumn races in Berlin, Chicago and New York as well as the World Championship races in Osaka, will be decided at the latest by the race in New York this year.
The depth of marathon talent and the appeal of the distance is so great that other races continue to grow in numbers and quality. For example, the Vienna Marathon has come on well in the last few years. Almost 24,000 participants, including those involved in related disciplines, were on the start line last year. The signs are that this figure could be equalled or even exceeded this time. In the field will be the Japanese winner of the women's race last year, Tomo Morimoto, who improved her best to 2:24:33 in Vienna in 2006. A year ago the men's title went to the Moroccan Lahoucine Mrikik in a course record of 2:08:20. But well-known names in the men's field have still be confirmed. In Paris, on the same day as Rotterdam, 2:06 Spaniard Julio Rey is expected to lead a field of more than 31,000.
Here's a preview of April's top four marathons, in chronological order.
Rotterdam
Date: April 15
Expected Starters: 20,000 (including non-marathon races)
Winner's Prize Money: Depends on winning time
Course Records:
2:06:14 – Felix Limo (KEN)
2:21:47 – Tegla Loroupe (KEN)
Favorites and PRs:
Men: Benoit Zwierzchlewski (FRA) 2:06:36, William Kipsang (KEN) 2:06:39, Wilson Onsare (KEN) 2:06:47, Charles Kibiwott (KEN) 2:06:52, Rodgers Rop (KEN) 2:07:34, Patrick Ivuti (KEN) 2:07:46, Jimmy Muindi (KEN) 2:07:50, Joseph Ngolepus (KEN) 2:07:57, Salim Kipsang (KEN) 2:08:04, Daniel Yego (KEN) 2:08:16, Solomon Bushendich (KEN) 2:08:52
Women: Malgorzata Sobanska (POL) 2:26:08, Martha Tenorio (ECU) 2:27:58, Nadja Wijenberg (NED) 2:28:45, Ana Dias (POR) 2:28:49, Helena Kiprop Loshanyang (KEN) 2:28:51, Dulce Maria Rodrigu (MEX) 2:28:54
Rotterdam has an extremely flat, fast course. It usually concentrates on the men's race, and this year is no exception. The field includes four athletes who have run under 2:07. The European record holder, Benoit Zwierzchlewski (France/2:06:36) has the fastest time of the four, but the winner is likely to come from the other three: Kenyans William Kipsang (2:06:39), Wilson Onsare (2:06:47) and Charles Kibiwott (2:06:52). Last year Kibiwott was third in Rotterdam in his fastest time, although he suffered back problems at the end. The course record of 2:06:14 certainly seems within reach, especially if Sammy Korir, the previous year's winner, is present. The Kenyan ran 2:04:56 in Berlin in 2003 and is the second fastest marathon runner of all time.
Boston
Date: April 16
Expected Starters: 20,000
Winner's Prize Money: $100,000
Total Prize Money: $575,000
Course Records:
2:07:14 – Robert K. Cheruiyot (KEN)
2:20:43 – Margaret Okayo (KEN)
Favorites and PRs:
Men: Robert Cheboror (KEN) 2:06:23, Benjamin Maiyo (KEN) 2:07:09, Robert Kipkoech Cheruiyot (KEN) 2:07:14, Philip Manyim (KEN) 2:07:41, Teferi Wodajo (ETH) 2:08:11, Hailu Negussie (ETH) 2:08:16, Stephen Kiogora (KEN) 2:09:21, Ruggero Pertile (ITA) 2:10:12, Stanley Leleito (KEN) 2:10:17, Hosea Rotich (KEN) 2:10:18, James Kipsang Kwambai (KEN) 2:10:20
Women: Deena Kastor (USA) 2:19:36, Jelena Prokopcuka (LAT) 2:22:56, Madai Perez (MEX) 2:22:59, Rita Jeptoo (KEN) 2:23:38, Roba Tola Guta (ETH) 2:24:35, Lidiya Grigoryeva (RUS) 2:25:10, Lyubov Denisova (RUS) 2:25:18, Alice Chelangat (KEN) 2:26:36
The day after Rotterdam, Boston will mark the start of the 2007-2008 World Marathon Majors series. The race continues to adapt to the modern marathon age–the elite women now start before the men, and for the first time this year, the race will forego its traditional noon start for a 10:00 a.m. start. Still, the world's oldest marathon remains rich with tradition, especially with its quirky, one-of-a-kind point-to-point course along Boston's old train station routes.
Both series leaders in the World Marathon Majors will be on the start line in Hopkinton. Defending champion Robert Kipkoech Cheruiyot faces a very strong contingent of fellow Kenyans, including KIMbia runners Ben Maiyo, who was second here last year, and Stephen Kiogora, who was second at New York in November. World Marathon Majors women's leader Jelena Prokopcuka (Latvia) has to contend with the American record holder Deena Kastor and last year's winner, Rita Jeptoo (Kenya). Last month Kastor barely missed her American record at 15K in hot, humid weather, and appears to have an excellent chance of being the first American winner here in almost 20 years. She should have great crowd support, as she was born in the Boston area.
London
Date: April 22
Expected Starters: 35,000
Winner's Prize Money: $65,000
Total Prize Money: $295,000
Course Records:
2:05:38 – Khalid Khannouchi (USA)
2:15:25 – Paula Radcliffe (GRB/WR)
Favorites and PRs:
Men: Paul Tergat (KEN) 2:04:55, Khalid Khannouchi (USA) 2:05:38, Haile Gebrselassie (ETH) 2:05:56, Felix Limo (KEN) 2:06:14, Martin Lel (KEN) 2:06:41, Hendrick Ramaala (RSA) 2:06:55, Jaouad Gharib (MAR) 2:07:02, Stefano Baldini (ITA) 2:07:22, Benson Cherono (KEN) 2:07:58, Hicham Chat (MAR) 2:07:59, Marilson Gomes dos Santos (BRA) 2:08:48, Jon Brown (GBR) 2:09:31, Meb Keflezighi (USA) 2:09:53, Ryan Hall (USA) Debut
Women: Chunxiu Zhou (CHN) 2:19:51, Berhane Adere (ETH) 2:20:42, Galina Bogomolova (RUS) 2:20:47, Constantina Tomescu-Dita (ROM) 2:21:30, Geta Wami (ETH) 2:21:34, Susan Chepkemei (KEN) 2:21:46, Lornah Kiplagat (NED) 2:22:22, Lyudmila Petrova (RUS) 2:22:33, Benita Johnson (AUS) 2:22:36, Salina Kosgei (KEN) 2:23:22, Isabella Ochichi (KEN) Debut
No race this will have as strong a field as the Flora London Marathon on April 22, not even the World Championships in Osaka. The Londoners are able to work with a seven-figure budget dedicated solely to recruiting elite athletes, a sum that exceeds the entire budget of many other races. For that reason the entry list reads like a "Who's Who" of running. "The field in London is so strong, you have to be in world record shape to win," says South African Hendrick Ramaala. "I am very motivated for this and will try to be in the form of my life."
Hendrick Ramaala's rivals include last year's winner Felix Limo (Kenya), the reigning Olympic champion Stefano Baldini (Italy) and the reigning world champion Jaouad Gharib (Morocco). Yet even these leading stars can't oushine the expected duel between the world record holder, Paul Tergat (Kenya), and his long-time rival, the superstar Haile Gebrselassie (Ethiopia). In all, three athletes will be on the start line who have personal bests under 2:06, joined by three others with sub-2:07 bests.
The world record remains Gebrselassie's objective, though the chances of it happening in London appear less than likely. The race is so high in quality that the favorites are more likely to be watching each other's every move in the closing stages rather than pacemaking for each other.
"We are delighted to be able to recruit such a strong field," says race director Dave Bedford. "With the world record holder, Olympic champion, world champion, defending champion and a strong Haile Gebrselassie we shall certainly have yet another thrilling race on the streets of London.
In the women's field the London organizers have had to cope with the withdrawal of the Olympic champion Mizuki Noguchi (Japan) because of injury, as Berlin did last September. However, and this is a reflection of the huge resources of the Flora London Marathon, the women's field also has the highest pedigree of any going to the start line this spring. The Chinese Chunxiu Zhou is the fastest among the starters with 2:19.51. Two other women have gone under 2:21, and another three under 2:22 and 2:23.
Hamburg
Date: April 29
Expected Starters: 18,000
Winner's Prize Money: $40,000
Total Prize Money: $200,000
Course Records:
2:06:52 – Julio Rey (ESP)
2:24:35 – Katrin Dörre-Heinig (GER)
Favorites and PRs:
Men: Wilfred Kigen (KEN) 2:08:29
Women: Edith Masai (KEN) 2:27:06, Ulrike Maisch (GER 2:30:01, Claudia Dreher (GER) 2:27:55. Rest of elite field will be announced soon.
The German marathon with the strongest field this spring will be Hamburg. "There's big competition in April, of course," says the organizer Wolfram Götz, who wants to present a top-class field to 700,000 spectators at the start on April 29. "We don't have to go hiding ourselves behind Rotterdam any more," says Götz. However, his course record holder Julio Rey (Spain) whose time of 2:06:52 last year was the first to go under 2:07, will be among the 31,500 runners in the Paris Marathon. Instead he has Wilfred Kigen (Kenya), course record holder for the Frankfurt Marathon (2:08:29). Götz was unable to give details of other recruits for the men's race at this stage.
Among the women Edith Masai will want to show that she can be world-class in the marathon. The Kenyan will turn 40 this month, so she has a chance of breaking Priscilla Welch's 20-year-old masters world record of 2:26:51. Masai's best time is 2:27:06, which she ran in winning Hamburg in her marathon debut two years ago. There's a big question mark over the participation of Ulrike Maisch. The surprise winner of the 2006 European title has had injury problems and until recently could not run further than 15 kilometers.
© Copyright 2007-2022 by Take The Magic Step®. All Rights Reserved.
Article Archive