Leonard Komon Shatters the 15K World Record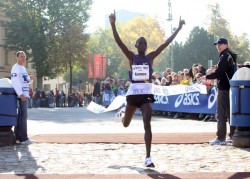 The 22-year-old Kenyan, Leonard Komon, has now added the world record for 15 kilometers to his list of impressive achievements. Leonard Komon won the Seven Hills race in Nijmegen in the Netherlands on Sunday, setting a time of 41:13 minutes. Just two months ago and also in the Netherlands, the Kenyan had broken the world best for 10K at Utrecht when he ran 26:44. In March of 2008, the then 20-year-old farmer's son achieved his first notable success when he won a silver medal at the World Cross Country Championships, held in Edinburgh, Scotland. His best time for 10,000 meters on the track is currently 26:57.08. More than 23,000 runners were at the starting line of the 27th ABN AMRO 'Zevenheuvelenloop.'
The pace for the first 5K (14:01), which was run on the undulating course in cool conditions, was slower than required to break the record. However, Leonard Komon then forced the pace and soon took the lead. He reached 10K in 27:39 with a lead of 19 seconds over Aberu Kuma (Ethiopia). The 22 year old was able to maintain pace through to the finish, improving the record by 16 seconds. In 2001, Felix Limo ran 41:29 at the Seven Hills race, and last year, Ethiopian Deriba Merga equaled that time during the Ras Al Khaimah Half Marathon in the United Arab Emirates.
Finishing well behind Leonard Komon, who won a 10K race in Berlin in October with the fastest time ever run in Germany (27:12), were two Ethiopian runners. Aberu Kuma was second in 42:01 and Ayele Abshiro finished third in 42:02. The previous world record holder, Felix Limo (Kenya), was also running and finished 19th in 46:44.
Genet Getaneh of Ethiopia won the women's race in 47:54. Her time was the second fastest in the world this year for the 15K distance. The current world half-marathon champion, Florence Kiplagat (Kenya), finished second in 48:08, while third place went to Sayo Nomura (Japan) in 49:45.
© Copyright 2010-2022 by Take The Magic Step®. All Rights Reserved.
Article Archive