Lelisa Desisa, Caroline Rotich Prevail in Thrilling 119th Edition of the Boston Marathon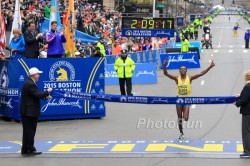 Every year since 1897, runners have toed the line at the Boston Marathon—the world's oldest annual 26.2-mile race. And for 119 years, this incredibly historic event has drawn some of the most committed and passionate runners from around the globe. Boston has always been a special, exciting race and this year was no different.
More than 30,000 spirited participants assembled on Patriots' Day—Massachusetts' famous holiday—in the little town of Hopkinton, Massachusetts, ready to stare down that famous road that winds a marathon distance to the finish in the heart of Boston at Copley Square.
This magical Boston race is also about giving back to the community, and last year alone runners raised an incredible $38.4 million for charitable organizations. Typical of their immense efforts is Jessica Brovold, who this year ran to raise money and awareness for her own six-year-old daughter, who suffers from brain cancer. Jessica ran for the Home Away charity and dedicated every mile of her race to a brain cancer patient. "I just figured it was the least I could do after all they'd done for us," she told the Argus Leader. "It's more than a once-in-a-lifetime opportunity and I'm really honored to do it."
The fact that this annual event is held on a point-to-point course means that race-day conditions are always a factor in determining both the strategy and the outcome. And today's marathon was all about concerns regarding the headwinds that were reported as high as 18 miles per hour on the course and rainy conditions with temperatures in the mid 40s.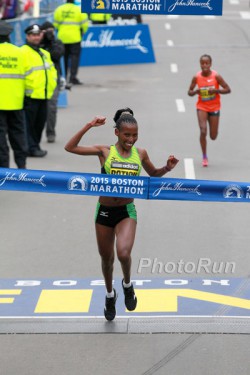 The starting gun sounded for the elite women competitors first and the pace opened with a 5:40-minute mile (approximately 2:28 hours finishing pace) on the early downhill section. From there, the pace picked up, with a large group of over 20 runners crossing the first 5 kilometers in under 17 minutes. By the fifth mile, the lead was captured by American Desiree Davila Linden, a second-place Boston finisher back in 2011, and the leading group thinned to 11. Desiree's bold moves drew thunderous cheers from the thousands of spectators who lined the entire route to Boston.
By 10K (34:19 minutes) the pace was still fast, with Aliaksandra Duliba of Belarus (a sixth-place finisher at Boston) taking on the front-running duties. But some seesaw action occurred in the 8th mile when Desiree Linden returned to the front. She remained in the lead through 15K (51:45) and this dynamic remained unchanged for the next 9 or so miles until Desiree fell back and 10 of her followers passed her.
The field was further narrowed down to three key runners: Mare Dibaba of Ethiopia, Buzunesh Deba of Ethiopia, and Caroline Rotich of Kenya, with Desiree Linden further back in fourth place. As the runners neared the finish on Boylston Street it came down to a sprint between Mare Dibaba and Caroline Rotich. But Monday proved to be Caroline's day and the 30-year-old ended up breaking the finish line tape in 2:24:55. It was her first Boston win and a big improvement from her fourth-place showing back in 2011. Mare (2:24:59) and Buzunesh (2:25:09) were second and third respectively, with Desiree fourth in 2:25:39.
"I have been waiting for this and training and training," admitted an emotional Caroline after her victory. "I feel like, 'Yeah I want to do this and I can't let it go.'"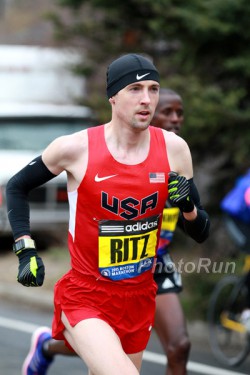 The men's race was less of a Boylston Street nailbiter, but equally thrilling. From the start, an enormous group took off with a 14:42 minutes 5K split in the opening miles, which are traditionally fast ones. By 10K, a 15-strong group had settled in, with the leaders coming across the mark in 29:42. Included in that field was last year's winner, Meb Keflezighi of the United States. The dynamic changed a bit between the 8th and 9th miles, the pace quickening by 15 seconds as the leaders tried to thin the group. By 15K, Ethiopia's Lelisa Desisa, the 2013 Boston Champion, made a bold move to the front. And at this point, the only American in the 10-man group was Meb Keflezighi who was part of a long single-file line behind Lelisa Desisa.
But by the half-marathon mark (1:04:01), an interesting change occurred when American Dathan Ritzenhein suddenly came back to take the lead. Yemane Adhane Kebede of Ethiopia was the only person who could hang on to him and these two maintained a two-second lead. Dathan pushed the pace through 15 miles, but after a bold and courageous attempt to win the race he fell back at the 22-mile mark. He left his seven pursuers—including Lelisa Desisa and Meb Keflezighi, the only American left in the chase, to battle it out for the win.
It ended with a dramatic sprint down Boylston Street between the two Ethiopians Yemane Adhane Tsegay and Lelisa Desisa, with Lelisa managing to reach down for a final gear to shake off his rival and break the tape in 2:09:17, 31 seconds ahead of Yemane. Wilson Chebet of Kenya was third in 2:10:22. Dathan Ritzenhein clocked 2:11:20 in his Boston debut, making him the fastest American in the field.
Lelisa Desisa was a popular winner, with the crowd remembering how he donated his 2013 victory medal to the city of Boston in a tribute to the victims of the 2013 attack. "I am happy to win, No. 1," he said afterwards, "and for Boston—Boston 2013!"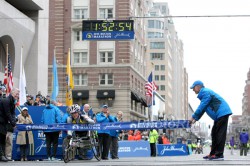 In the wheelchair division, Marcel Hug of Switzerland triumphed in 1:29:53 ahead of Masazumi Soejima (1:36:27/Japan) and Ernst Van Dyk (1:36:27/South Africa). Tatyana McFadden of the United States was able to capture her third consecutive Boston title today in the women's race with a time of 1:52:54. Second and third place went to Tsuchida Wakako (1:53:48/Japan) and Susannah Scaroni (1:57:21/USA), respectively.
Another memorable milestone was reached this year by Team Hoyt, the legendary father-son wheelchair duo of Rick and Dick Hoyt, who have inspired countless runners along the streets of Boston and around the world throughout the years. Dick, 74, retired from the marathon this year—and Bryan Lyons, a member of the Hoyt Foundation team since 2009 took his place pushing Rick's chair. "I'm not replacing Dick—no one could," Bryan told Take The Magic Step. "I'm merely a fresher set of legs—and my heart and my inspiration is sitting in the running chair in front of me." (You can read more about Bryan here). Meanwhile Dick also played a starring role in the marathon he has graced for so long: he was named Grand Marshal of the event.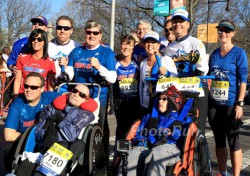 Boston has always been near and dear to Uta and this year was no different for the celebrated three-time winner who first wore the laurels here back in 1994. During this marathon weekend, Uta was back in Beantown to support her friends from the Hoyt Foundation—she trained their runners—and the Dana-Farber Marathon Challenge. She spent several hours at the finish line and the along the last mile of the course greeting and congratulating these courageous runners on their success.
"Today was not easy," said Uta afterwards. "There were headwinds, and rain soaked the runners." She paid tribute to the huge crowds of spectators who came out in spite of the weather to line the course and cheer the runners until the end. "The atmosphere was terrific!" Uta said. And she added, "I congratulate Caroline Rotich on her win—what a thrilling duel to the finish line with Mara Dibaba it was—and Desiree ran such a courageous race as did Lelisa Desisa, the winner in the men's field. My big congratulations also to Bryan Lyons and Rick Hoyt, who continued the legacy of Team Hoyt in Boston. What a gutsy race! And of course thank you to the city of Boston and the organizers of the marathon with the B.A.A. and John Hancock for making this beautiful race possible. We run together!"
The Results of the Boston Marathon
Men:
| | | | |
| --- | --- | --- | --- |
| 1. | Lelisa Desisa | ETH | 2:09:17 Hours |
| 2. | Yemane Adhane Tsegay | ETH | 2:09:48 |
| 3. | Wilson Chebet | KEN | 2:10:22 |
| 4. | Bernard Kipyego | KEN | 2:10:47 |
| 5. | Wesley Korir | KEN | 2:10:49 |
| 6. | Frankline Chepkwony | KEN | 2:10:52 |
| 7. | Dathan Ritzenhein | USA | 2:11:20 |
| 8. | Meb Keflezighi | USA | 2:12:42 |
| 9. | Tadese Tola | ETH | 2:13:35 |
| 10. | Vitaly Shafar | UKR | 2:13:52 |
Women:
| | | | |
| --- | --- | --- | --- |
| 1. | Caroline Rotich | KEN | 2:24:55 Hours |
| 2. | Mare Dibaba | ETH | 2:24:59 |
| 3. | Buzunesh Deba | ETH | 2:25:09 |
| 4. | Desiree Linden | USA | 2:25:39 |
| 5. | Sharon Cherop | KEN | 2:26:05 |
| 6. | Caroline Kilel | KEN | 2:26:40 |
| 7. | Aberu Kebede | ETH | 2:26:52 |
| 8. | Shure Demise | ETH | 2:27:14 |
| 9. | Shalane Flanagan | USA | 2:27:47 |
| 10. | Joyce Chepkirui | KEN | 2:29:07 |
© Copyright 2015-2022 by Take The Magic Step®. All Rights Reserved.
Article Archive