Lelisa Desisa Triumphs at the Boston Marathon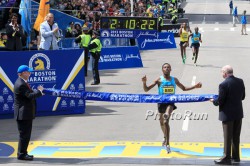 Every year since 1897, runners have taken to the streets of Massachusetts' biggest city to tackle the oldest annual 26.2-mile race in the world: the Boston Marathon.
This storied point-to-point race, held every Patriots Day—the third Monday of April—starts in the quiet town of Hopkinton and ends on Boylston Street in downtown Boston. With its challenging qualifying standards, the Boston Marathon truly is a race like no other, and to be able to say that you have "run" Boston is a badge of honor.
And in spite of the tragic events, there were many outstanding and inspiring stories everywhere along the famous course. As I was completing this report, I spoke to Uta, who told me she wants to thank everyone who trained and prepared for Boston. "They were ready, and bravely faced the challenges of that long day," Uta said.
Lelisa Desisa, a 23-year-old Ethiopian, ran to victory in the men's race in two hours, 10 minutes, and 22 seconds. In the women's event, top honors went to Kenya's Rita Jeptoo who clocked 2:26:25.
Around 9:30 a.m., the starting gun for the women's competition sounded in Hopkinton. Weather conditions in this tradition-packed race have always been a factor, but this year they were not a concern. Runners began with temperatures hovering around 50 degrees Fahrenheit. From the start, the women's marathon was set up as a tactical race with the opening downhill mile passed in a relatively slow 6:01 minutes. A small lead group then formed: Ana Dulce Felix of Portugal, Yolanda Caballero of Columbia, and Sabrina Mockenhaupt of Germany. They went through the 5-kilometer mark in 18:22.
The race's dynamic remained unchanged in the following 5K (10K reached in 35:52). A large chase pack hung approximately 10 seconds behind and in the seventh mile (40:18), Diana Chepkemoi Sigei of Kenya joined the leaders.
At the 15K point, Yolanda Caballero went to the front with most of the pursuing group on her heels. She crossed the half on target for a 2:28 finish, 30 seconds ahead. Near the arduous Newton Hills, however, she began to fade and was passed by Ana Dulce Felix who took control all the way to Mile 22.
At that point, where the course flattens and with less than 5K to go, excitement mounted as a group led by Kenya's Rita Jeptoo caught the Portuguese runner.
Rita Jeptoo never looked back, winning in commanding fashion with a 2:26:25 for her second triumph in Boston—she also took the laurel wreath in 2006. Second-place finisher, Meseret Hailu was over 30 seconds behind in 2:26:58, while Kenya's Sharon Cherop clocked 2:27:01 for third place.
"I want to say that I am very happy," Rita Jeptoo said at a press conference afterwards. "It's not easy to win in Boston. For this marathon, you need a lot of training."
From the start, the men's competition was a much closer affair. And action in the early stages made it appear that perhaps a North American victory was in the works with Americans Jason Hartmann and Fernando Cabada sharing the lead, later joined by Canadian Rob Watson.
Vancouver's Rob Watson led at the 15-mile mark by as much as eight seconds, but he was finally reeled in by a chase group comprised mostly of Kenyan and Ethiopian contestants. Eventual winner Lelisa Desisa took a firm grip on the race with a fast 4:45-minute mile at the 19-mile point and only Gebre Gebremariam of Ethiopia and the Kenyan trio of Micah Kogo, Dickson Chumba, and Levy Matebo could stay with him.
The group ran together all the way to Mile 24, when Gebre Gebremariam tried to pull away. But Lelisa Desisa quickly countered and was able to leave his fellow countryman behind in the final mile, breaking the finish-line tape on Boylston Street in 2:10:22. Micah Kogo followed in 2:10:27 and Gebre Gebremariam placed third in 2:10:28.
"I came here to win," said Lelisa Desisa after the race. "I saw the finish line and so I sprinted." Lelisa is a newly-minted marathoner. A gifted road racer, he has enjoyed much success on the American racing circuit going back to 2010—but in his first marathon in Dubai in January he sent an impressive signal to the running community, recording a world-leading 2:04:45 for the year.
In the men's wheelchair competition Hiroyuki Yamamoto of Japan won in 1:20:33, while Tatyana McFadden of the United States was victorious in the women's event in 1:45:25. hours.
A total of 23,336 runners, 52 wheelchair athletes, and 18 handcyclers from over 92 countries were at the starting line on Monday. John Hancock, the principal sponsor of the Boston Marathon has been partnering with the event for the past 28 years, and the organizers, the Boston Athletic Association, fielded an amazing 8,500-plus volunteers.
Thousands of runners representing the Boston Marathon Charity Program and the John Hancock Non-Profit Program used the opportunity to run for a good cause during this second World Marathon Majors (WMM) event of the year. In 2012, their combined fundraising total over 27 years passed a milestone $150 million—and this year the runners are expected to raise more than another $18 million for local causes in the Greater Boston Area.
The Top Ten Male Finishers
| | | | |
| --- | --- | --- | --- |
|  1. |  Lelisa Desisa |  ETH |   2:10:22 Hours |
|  2. |  Micah Kogo |  KEN |  2:10:27 |
|  3. |  Gebre Gebremariam |  ETH |  2:10:28 |
|  4. |  Jason Hartmann |  USA |  2:12:12 |
|  5. |  Wesley Korir |  KEN |  2:12:30 |
|  6. |  Markos Geneti |  ETH |  2:12:44 |
|  7. |  Dickson Chumba |  KEN |  2:14:08 |
|  8. |  Jeffrey Hunt |  AUS |  2:14:28 |
|  9. |  Daniel Tapia |  USA |  2:14:30 |
| 10. |  Craig Leon |  USA |  2:14:38 |
The Top Ten Female Finishers
| | | | |
| --- | --- | --- | --- |
|  1. |  Rita Jeptoo |  KEN |  2:26:25 Hours |
|  2. |  Meseret Hailu |  ETH |  2:26:58 |
|  3. |  Sharon Cherop |  KEN |  2:27:01 |
|  4. |  Shalane Flanagan |  USA |  2:27:08 |
|  5. |   Tirfi Tsegaye |  ETH |  2:28:09 |
|  6. |  Kara Goucher |  USA |  2:28:11 |
|  7. |  Madai Perez |  MEX |  2:28:59 |
|  8. |  Diane Nukuri-Johnson |  BDI |  2:29:54 |
|  9. |  Ana Dulce Felix |  POR |  2:30:05 |
| 10. |  Sabrina Mockenhaupt |  GER |  2:30:09 |
Article Archive