Lel, Mikitenko Impressive Winners in London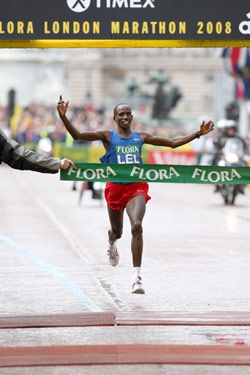 The Kenyan Martin Lel has won one of the best marathons of all time. In London he triumphed in 2:05:15, the fifth fastest time ever recorded. Irina Mikitenko (Germany) created a sensation in winning the women's race in 2:24:14.
In a field of around 35,000 runners and with varying weather conditions—cool and dry at the start, but with rain and wind at times late—Lel repeated his win of the previous year. The 29-year-old also set a course record, breaking the six-year old mark of 2:05:38 of Khalid Khannouchi (USA), which was a world record at the time. Lel has now won in London, New York and again in London in consecutive races, and must surely be one of the favorites for the Olympic title.
Lel triumphed ahead of his compatriot Sammy Wanjiru (2:05:24), who is equally likely to be selected for Beijing, as should be Abderrahim Goumri (Morocco/2:05:30). For the first time in a marathon three runners went under 2:06, while another three ran under 2:07.
For a long time the leading group in London was even on course for a global world best. They ran the first half in 62:14, and covered 30K in 1:28:29. But then the weather took a decided turn for the worse, and the record went out of reach. Only in the last few miles did Lel drop first Goumri and then Wanjiru, the latter only a couple of hundred meters from the finish. "As defending champion the pressure was on me, because there's always something special expected. I delivered that kind of performance today," said Lel, who received a total of $130,000 for the win and course record. "Today we had the chance to break the world record," added the winner. Behind the fourth placed Emmanuel Mutai (Kenya/2:06:15) Ryan Hall made a big improvement with 2:06:17. The American is currently the top non-African runner. There is a lot of excitement about what he could do in Beijing.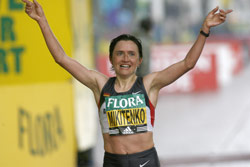 Buckingham Palace was where Irina Mikitenko received her coronation. Over a decade after the era of Uta Pippig and Katrin Dörre-Heinig, German track and field athletics has a world-class female marathon runner once again. Her surprising victory in the spring's most prestigious race sent Mikitenko soaring into the world's marathon elite and also broke the official German record, though Pippig's time of 2:21:45 from Boston in 1994 is faster. (In recent years there have been new rules in force regarding the recognition of records. Since the Boston course is point-to-point and therefore the start and finish are far apart, times run there can no longer be accepted as records.) With her time, Mikitenko took 21 seconds off Dörre-Heinig's former national record from 1999.
The extraordinary performance of the 35-year-old Mikitenko, who comes from Kazakhstan and has been running for Germany for ten years, is apparent if you go back through the list of winners of the big marathons. With her Boston win in 1996, Pippig had been the last German woman to win one of the races which now count towards the World Marathon Majors (Berlin, Boston, London, Chicago and New York).
In addition to prize money of $55,000 dollars, Mikitenko received another $10,000 for running under 2:25. The biggest win of her career is worth more, however, in terms of what she can expect as appearance fees in future. The venues for her next two marathons seem pretty much decided: after the Olympic Games in Beijing, she will likely defend her title in London next year.
When she went to the start line in the British capital on Sunday she was viewed as having only an outside chance. After a successful career on the track, which included fifth place in the 5,000m in the 2000 Olympics, she ran her first marathon just over six months ago. In Berlin she immediately achieved a top-class time with 2:24:51, the fastest debut for a German woman. After four weeks in a training camp in Kyrgyzstan, close to her former home, she ran a personal best of 68:51 for the half marathon in Paderborn in mid-March. Nonetheless the British bookmakers had failed to take her into account. Odds of between 10-1 and 18-1 were offered for a win by Mikitenko, who was seventh fastest on the start list for London.
In her second marathon Mikitenko achieved the biggest success of her career. She bravely made repeated efforts to dictate the pace en route from Greenwich to Buckingham Palace and put herself at the head of the field. She did that with the Ethiopians Gete Wami and Berhane Adere right behind, two of the best women marathoners of recent years. "I felt in great shape and wanted to run even faster," said Mikitenko, who thinks that given ideal conditions she could run around 2:21. "I was surprised that none of the others were concerned about the pace. On the contrary, Berhane Adere even tried to persuade me to run slower." After an opening half of 1:12:52, there were still nine women in the leading group. "At 30 kilometers I knew I had a chance of winning."
Four kilometers from the finish she went clear of her last two rivals. Svetlana Zakharova (Russia/2:24:39) and Wami (2:25:37), who had collided at 30K and fallen, had no reply to the final attack from Mikitenko. They finished second and third. "This was the ideal test for me for the Olympic Games. That's why I ran in London and not a marathon in Germany," said Mikitenko, who became the second German woman on the list of champions in the British capital, following the three-time winner Dörre-Heinig (1992 to 1994). "I've realized that I can even dictate the pace in a marathon." Her style is reminiscent of the world record holder Paula Radcliffe, who was missing from London because of an injured toe. When Mikitenko was asked if she would be confident of beating Radcliffe in the Olympic Marathon, she replied, "There's quite a long way to go before then, we'll have to wait and see. Whoever is best prepared will win. And Paula was originally going to be running here today." Mikitenko certainly seems ready for the ultimate test in Beijing.
Men:
| | | |
| --- | --- | --- |
| 1. Martin Lel | KEN | 2:05:15 |
| 2. Sammy Wanjiru | KEN | 2:05:24 |
| 3. Abderrahim Goumri | MAR | 2:05:30 |
| 4. Emmanuel Mutai | KEN | 2:06:15 |
| 5. Ryan Hall | USA | 2:06:17 |
| 6. Abraham Chelanga | ETH | 2:06:38 |
| 7. Yonas Kifle | ERI | 2:08:51 |
| 8. Felix Limo | KEN | 2:10:34 |
Women:
| | | |
| --- | --- | --- |
| 1. Irina Mikitenko | GER | 2:24:14 |
| 2. Svetlana Zakharova | RUS | 2:24:39 |
| 3. Gete Wami | ETH | 2:25:37 |
| 4. Salina Kosgei | KEN | 2:26:30 |
| 5. Ludmila Petrova | RUS | 2:26:45 |
| 6. Souad Ait Salem | ALG | 2:27:41 |
| 5. Berhane Adere | ETH | 2:27:42 |
| 6. Constantina Dita | ROM | 2:27:45 |
Course Record at Rotterdam Marathon
There was also a world-class time from the men's winner at the Rotterdam Marathon on Sunday. On a day when three men had already gone under 2:06 in London, the course record was broken in the Dutch port. William Kipsang ran 2:05:50, the first time 2:06 had been broken in Rotterdam, which has had consistently fast times throughout its history. The fastest woman was the Russian Lyubov Morgunova in 2:25:12.
A group of seven runners reached the halfway mark in 62:54, with a view to what was then the course record of Felix Limo, who ran 2:06:16 four years ago. The decisive act that led to Kipsang's victory came shortly before 35K, when the 30-year-old went clear of his compatriots. After finishing third last year in Rotterdam in a heat wave, Kipsang triumphed on this occasion ahead of four other Kenyans: Daniel Rono was second in 2:06:58, the former world 10,000m champion Charles Kamathi took third in 2:07:33, followed by Richard Limo (2:08:43) and Paul Kirui (2:09:46). Kipsang's personal best before the Rotterdam Marathon was 2:06:39, with which he won Amsterdam in 2003. In The Hague a year ago he improved his best for the half marathon to 60:25.
In the women's race the Ethiopian Zekeros Adanech led for a long time only to finish second (2:27:32). In the closing stage Morgunova went past her and won in a personal best. Third place went to the Spaniard Alessandra Aguilar in 2:29:03.
© Copyright 2008-2022 by Take The Magic Step®. All Rights Reserved.
Article Archive