WCh-Results: Bernard Lagat Wins First 1500m Gold for U.S. in 99 Years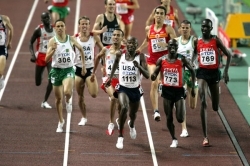 Bernard Lagat is the new 1500m world champion. Representing the U.S. for the first time in a major competition, the 32 year old won the first American gold medal in the event at the Olympic or World Championships level since Mel Sheppard won the 1908 Olympics. With a great kick at the end of the race, Lagat finished in 3:34.77 minutes ahead of defending champion Rashid Ramzi (Bahrain/3:35.00) and Shedrack Kibet Korir (Kenya/3:35.04). American Alan Webb, who is the world leader this year with a time of 3:30.54, had no chance on the homestraight and finished eighth in 3:35.69.
It was the first big gold medal for Lagat, who won silver for Kenya at the Olympics in 2004. "I have waited a long time for this medal," said Lagat. "I listened to my coach and just followed the others for most of the race. My coach said I should trust in my finishing speed—and it worked."
WCh-News: Bernard Lagat—Proud to Win for America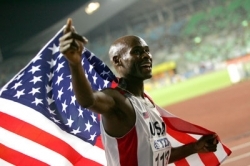 The new 1500m world champion, Bernard Lagat, spoke with Take The Magic Step® after his victory in Japan.
Did you expect to win here?
Bernard Lagat: I hoped that I would win. Of course, I didn't know it before as the competitors were really strong. Not only runners from my country, the U.S.A., but also from Kenya, Spain and so on. I was thinking of a placing between place one and three, because everything else would have been a disappointment for me.
Was it your most emotional victory so far?
Bernard: Yes, somehow it was. Now I am a real champion, and I am very proud of my country, my family and my achievement here. It is unbelievable. I dedicate the medal to the U.S.A. and to all Americans. I am still speechless. It's just great!
Since 2005, you've had U.S. citizenship and gave up your Kenyan citizenship. Did you ever regret your decision to switched citizenships?
Bernard: No, it was the best thing I could have done. I am proud to be an American, and it is the greatest thing to be here at the World Championships and to hold the U.S. flag in the stadium and to sing my national anthem. The victory is for the U.S.A., and I never mourned for the Kenyan citizenship.
How did you prepare for the World Championships?
Bernard: First I prepared in Flagstaff at high altitude, and then in Tucson. After the U.S. Championships I went to Tubingen [Germany] to train for the World Championships in particular. It has been great there, and I will return to Tubingen after the World Championships to finalize my season there.
What is a typical training day for you when you are preparing for a race?
Bernard: First of all, I have to sleep a lot and long. I am tired in the morning. Then I play with my 18-month-old son, and start training at about 3:00 p.m.
Did you analyze your semi-final race before running the final, or did you know from the beginning which tactics you would use for the final?
Bernard: My coach and I watched the tapes of the semi-finals and analyzed where I made mistakes during the race. I made some mistakes in my semi-final, and I needed to eliminate them. In the semi-final, I reacted too early and went with the others too often when the pace was increased. I had to change that for the final. I have to run my own race, watch the others and stay in a passive position. I did not want to lead the field at any given time of the race. I should have stayed in position two or three and go up front and attack only at the end of the race, at the last 100 to 50 meters.
You had a great final kick. Were you sure that you could win the race?
Bernard: I had to stay calm and relaxed, because it is also a mental issue. When one is not relaxed, it is not possible to perform your best. In the last 50 meters, I saw myself leading on the video screen and was excited. But then I thought of the athletes who celebrate too early in a race. So I concentrated again.
Your son was wearing a t-Shirt with the letters "Lagat." Does your family give you strength and support?
Bernard: Yes, my son and my family are everything for me. Both are here with me in Osaka to support me. My son was wearing the shirt to cheer for me in his own way. He is the best.
Next year: Olympics in Beijing?
Bernard: For sure. I want to get a gold medal in Beijing in the 1500 meters. I will do my best to be able to get it. Although I am already 32 years old, I think it is just a random number, with no importance. I am looking forward and I am confident that I can also win at the age of 33.
© Copyright 2007-2022 by Take The Magic Step®. All Rights Reserved.
Article Archive