Kosgei Back to his Best while Masai Beats Kastor in Berlin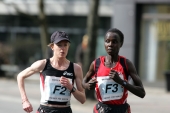 If anyone doubted that Paul Kosgei could regain the top flight as a distance runner, those doubts were disproved when the 2002 world champion for the distance won the Berlin Half Marathon on Sunday. Kosgei broke the Kenyan record with 59:07 minutes, 22 seconds ahead of his compatriot Evans Cheruiyot. Only Haile Gebrselassie with 58:55 at Tempe in the USA on January 15 has run faster this year and that is a performance awaiting ratification as a world record. Kosgei also bettered the Berlin course record by 44 seconds.
The women's race delivered just as much food for thought as Kenya's Edith Masai, three times a world cross-country champion and world bronze medalist on the track, beat Deena Kastor of the USA by 18 seconds. Both broke the course record of 68:22, held by Joyce Chepchumba of Kenya six years ago: Masai set a personal best with 67:16, the fastest time in the world this year, while Kastor's 67:34 improved her own US record by 19 seconds.
Temperatures were hovering around 59 degrees Fahrenheit as the record entry of altogether 20,419 athletes gathered on the start line on the famous avenue of Unter den Linden in the heart of the city. There was no sign of the showers that had descended on Berlin earlier in the week but wind was the one problem mentioned by leading male and female runners as the city lived up to its reputation for fast times.
Albert Kirui was the designated pacemaker for the men and led a group which was reduced from 11 runners at 5 kilometers—with a split of 14:17—to five as they passed 9K in 25:29. Kirui made as if to drop out soon after but hung on to finish a creditable 6th in 61:15. Evans Cheruiyot, third fastest in the world this year for the distance when finishing runner-up in Ostia, Italy, led through 10K in 28:19. Paul Kosgei shadowed him with Wilfred Taragon third and Joseph Ngolepus, the real,- Berlin Marathon champion in 2001, fourth. They were moving up the gears, the 10K split pointed to breaking Fabian Roncero's course record of 59:52 from 2001.
Kosgei was mostly content to follow, launching two brief efforts but Cheruiyot led the duo through 15K in 42:12, well on course for the record in Berlin. Shortly after 18K, Kosgei staged what proved to be a definitive attack. He went clear to win in 59:07, his fastest ever for the distance with Evans Cheruiyot timed at 59:29: "I knew Evans was strong but I was confident when I attacked the third time that I would win. I feel I'm back to my best form after leg injuries last year. Berlin has always been good for me, I set the world record for 25 kilometers here in 2004." It also proved good for the runner-up as Cheruiyot improved his personal best by 45 seconds and third placer Wilfred Taragon made a successful debut at the distance with 60:46.
The men's champion hinted that he might make his long awaited marathon debut here in September. Two women already familiar with the distance were the eventual champion, Edith Masai of Kenya, and the Olympic bronze medalist Deena Kastor from the USA.
They went to the start line with identical personal bests: 67:53, but Kastor some six minutes faster over the marathon. Masai turned the tables as the lead changed hands, though there was never much between them. With around 45 minutes on the clock, Masai made her move: "I decided to push ahead and kept pushing and found I was going away from Deena."
Her reward was the course record and a personal best in 67:16 minutes. Kastor, though beaten, had the satisfaction of breaking her own national record from September 19 in Philadelphia last year, clocking 67:34. Despite a couple of blisters and a numb spot on her foot, she was very satisfied with a performance that augurs well for the Flora London Marathon on April 23: "London has such a star field, I'm going there to concentrate on the racing and if all goes well, the [fast] time will come." Additionally on her way to second place Deena Kastor broke three more US records: She passed 12K in 38:24 minutes, 10 miles in 51:31 und 20K in 64:07.
Third place went to the Kenyan Mary Ptikany in 69:43 while the top German woman was Melanie Kraus, taking fifth in 73:58. Like Kraus, last year's winner Luminita Zaituc was racing here in preparation for the Metro Düsseldorf marathon on May 7, but the European marathon silver medalist failed to finish. Both Kraus and Zaituc hope to be in the German squad that will defend the team title at the European Championships in Gothenburg in August.
© Copyright 2006-2022 by Take The Magic Step®. All Rights Reserved.
Article Archive