Kirwa and Weidlinger Enjoy Record-Breaking Spree in Frankfurt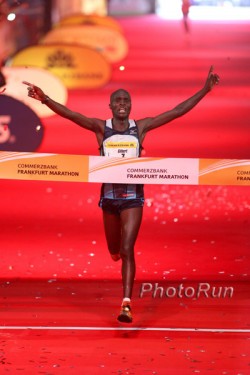 The Kenyan Gilbert Kirwa triumphed at the Commerzbank Frankfurt Marathon with a course record of 2:06:14 hours. Runner-up and last year's winner Robert K. Cheruiyot also ran a world-class time of 2:06:23, which was well inside his old course record of 2:07:21. Both of these performances helped confirm the race's status as a Gold Label Race—the premier category awarded by the International Athletics Federation (IAAF). The event had a record entry of 12,614 marathoners from 71 countries with approximately 350,000 spectators cheering the runners on.
Kirwa's winning time puts him tenth on the world list for 2009. Ironically, finishing third was William Kiplagat, the coach of Robert K. Cheruiyot. The 37-year-old Kenyan finished in 2:07:05. Another three runners went under 2:10 hours: Elias Kemboi (Kenya/2:08:15), Alemayehu Tafere (Ethiopia/2:08:46), and Sammy Kurgat (Kenya/2:09:34).
At the half, the lead pack of 14 runners clocked 63:35 minutes—slower than expected. However, Cheruiyot took the initiative shortly thereafter and the pace began to pick up. Kemboi was the first to attempt to go with last year's winner, but he only succeeded for a short time. But then Gilbert Kirwa was able to close the gap on the breakaway. Just after the 30-kilometer mark, the two raced side-by-side. And at 38K, Kirwa made the decisive break. "I've run two marathons and won them both—I'm so happy," said an elated Kirwa afterwards. He won his debut in Vienna in April with a 2:08:21. The 23-year-old Kenyan improved the course record by 67 seconds.
An equally impressive performance came from Günther Weidlinger. The Austrian marathoner ran in 2:10:47 to a 10th place and broke his country's record, which had been previously held by Gerhard Hartmann: 2:12:22. Hartmann set it 23 years ago.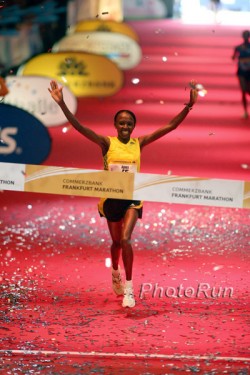 "I ran faster than planned and am delighted that everything went right," said Weidlinger, who ran 2:12:39 on his debut in Vienna in April. The 31-year-old runner is now seventh on the European rankings for the year. "I want to say a big thank you to the organizers and spectators, they treated me like one of their own here in Frankfurt," said Weidlinger.
In the women's race, victory went to Agnes Kiprop who completed the first Kenyan double win since 2000. Esther Barmasai was the last Kenyan to win the women's title in Frankfurt nine years ago. Kiprop crossed the line in 2:26:57 ahead of her compatriot Hellen Kimutai (2:27:50). Karolina Jarzynska of Poland finished third in 2:29:10.
Kiprop broke away shortly before 30K. "It was only at 41 kilometers that I was sure I was going to win, because I was having hamstring problems," said the women's champion, explaining why she hadn't been able to run faster.
Farah Wins in Portsmouth
While Günther Weidlinger was smashing the 23-year-old Austrian marathon record with 2:10:47 in Frankfurt, another European runner was also achieving a noteworthy success: Mo Farah won the Bupa Great South Run in Portsmouth on the English south coast. The Briton beat strong African opposition to win the 10 Mile event, clocking 46:25 minutes in windy conditions.
"The guys didn't make it easy for me," said Farah afterwards. Stephen Mokoka (South Africa) and the 2007 World Marathon champion, Luke Kibet (Kenya), broke away early in the race. But Mo Farah preferred a different strategy: holding back, because of the strong wind to save energy for the last third of the race. It was then that he caught up with the leaders and beat Mokoka by just one second in a sprint finish. Kibet, who had dropped off the pace earlier, finished third in 47:16.
In the women's race, Portugal's Ines Monteiro led from start to finish, winning by almost a minute and a half. She clocked 52:32 to finish ahead of her compatriot Ana Dulce Felix (53:58) and Benita Willis (Australia/54:41).
Komen Triumphs in Venice
Just as in Frankfurt, the Casino Di Venezia Venice Marathon also produced a Kenyan champion. John Komen won the men's title in an impressive 2:08:13. He defeated fellow Kenya's Paul Samoei (2:10:09) and Benson Cherono (2:10:19). The Ukrainian, Alex Kuzin, was fourth in 2:10:54. Anne Kosgei of Kenya won the women's race in 2:27:46 from Jelena Yal (Ethiopia/2:28:41) and Alena Samokhvalova (Russia/2:28:47).
© Copyright 2009-2022 by Take The Magic Step®. All Rights Reserved.
Article Archive