KIMbia´s Nyariki Wins Beach to Beacon 10K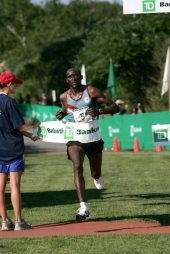 Tom Nyariki overtook his KIMbia teammate Gilbert Okari to win this morning's Beach to Beacon 10K in Cape Elizabeth, Maine. Nyariki, who was third at Beach to Beacon last year, won in 27:48 minutes, well ahead of Lawrence Kiprotich (28:04) and Okari (28:09).
The women's race was won by Russia's Alventina Ivanova in a course record of 31:26. She led from the start, and by the two-mile mark dropped all of the men trying to stick with her. The old course record of 31:32 was held by Olympic marathon silver medalist Catherine Ndereba. KIMbia's Edna Kiplagat placed second in 32:23.
As the Beach to Beacon winner the last three years, Okari wanted to reestablish his dominance here after finishing third last weekend at the Bix 7-miler and fourth at the Peachtree 10K on July 4. He surged ahead of the small lead pack in the third mile and hit the 5-kilometer mark in 13:51. But during the mostly downhill fourth mile, Okari's left hamstring began to bother him. Nyariki caught Okari during the fifth mile, and Okari told Nyariki, "I am not going to push anymore." Once he took the lead, "I increased my pace so that I could get far enough ahead," Nyariki said.
Nyariki's race at Beach to Beacon last year marked his return to international racing after a carjacking in 2003 cost him sight in his right eye. When the lead pack was more than a dozen strong this morning, Nyariki said that he had to stay to the back right of it so that he didn't risk bumping or getting tangled with other runners. Only after he finished surging after passing Okari did he allow himself to look back, and then only briefly. "With one my eye, I have to concentrate on the road ahead of me," he said.
In its ninth year, the Beach to Beacon 10K expanded its field to 5,500. While this might not sound like a mega event when compared to the New York City or Berlin marathons, it's quite impressive when you consider that the town it's held in, Cape Elizabeth, has only 9,000 residents (and just one stop light). Forty-two states and 16 countries were represented in this year's field.
Cape Elizabeth was the childhood home of Maine's most famous runner, Joan Benoit Samuelson, who won the inaugural women's Olympic Marathon in 1984. By creating the event, Samuelson has not only brought world-class running to this quiet oceanside town, but in less than a decade has started a Maine tradition. Every year, the field limit is reached earlier, and every year, the course becomes more and more filled with cheering spectators. As he has the last few years, Maine's governor, John Baldacci, made today's Beach to Beacon his only race of the year. Samuelson, who can still run sub-6:00 minute miles for 10 kilometers, said that next year she plans to run in the 10th running of this already-classic event.
For complete results, visit the Beach to Beacon Web site.
© Copyright 2006-2022 by Take The Magic Step®. All Rights Reserved.
Article Archive