KIMbia's Ndirangu Wins Second Race in U.S.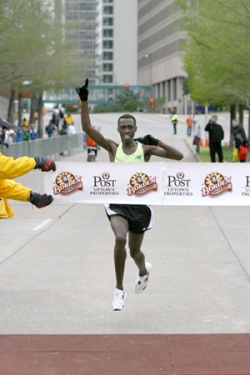 KIMbia's Simon Ndirangu won his second U.S. road race in as many weeks on Saturday. A week ago, the Kenyan won the Carlsbad 5000, in California, in his debut on the road in America; this time, he won the Borden Uptown 8000 in Dallas, Texas. Ndirangu ran conservatively early on, passing 5K in 14:16 on a morning marked by freezing temperatures and snow flurries. Once warmed up and confident, he surged, and covered the last three kilometers in 8:14 to win in 22:32. Mexican Juan Luis Barrios, who was second at Carlsbad, was second in Dallas, too, in 22:46. KIMbia runner Richard Kiplagat took third in 22:56.
The fastest woman was Caroline Cheptanui (Kenya) in 26:46. She had a close win over Tatyana Chulakh (Russia/26:47). Rebecca Tallum (Kenya) was third in 29:11.
Ndirangu is a new KIMbia athlete who spent much of the last few years training and racing in Japan, where he recorded personal bests on the track of 13:24 for 5,000m and 27:31 for 10,000m. He'll attempt to lower that 10,000m time later this month at the Cardinal Invitational at Stanford University in California.
Sensational Win for Pollmächer, Abeylegesse Retains Title at Europa Cup 10,000m
The saga of German success over the long distances at European level just keeps on going. Seven months after the sensational victories of Jan Fitschen (10,000m) and Ulrike Maisch (marathon) at the European Championships in Gothenburg, André Pollmächer delivered a big surprise. The runner from Chemnitz won the Europa Cup 10,000 m at Ferrara in Italy. Pollmächer ran 28:17.17 for the biggest success of his career. Among the women, the favorite Elvan Abeylegesse of Turkey came through to win; Germany's Sabrina Mockenhaupt dropped out when she was right up among the leaders.
In the men's race a group of seven went through halfway in 14:05.44. One after another they lost contact, and the last two kilometers developed into a thrilling duel between the young Pollmächer and the experienced Austrian steeplechaser Günther Weidlinger. The 24-year-old German, coached by Bernd Dießner, only went clear with a kick over the last 200 meters. Among those the coach has guided to world-class have been the middle distance stars Olaf Beyer and Jens-Peter Herold.
In warm and windy conditions, Pollmächer ran a personal best, but missed the World Championship qualifying standard of 28:06. The previous best of the man from Chemnitz, winner of the silver medal at the European Under-23 Championships two years ago, was 28:22.56. In the past year he had already impressed with seventh place in the 10,000m final at the European Championships.
While Weidlinger was second in Ferrara in 28:19.11, the best of the traditionally strong Spaniards, Carlos Castilljo, could only finish a distant third (28:32.70). "My aim was a place in the top five and to run the World Championship qualifying time," said Pollmächer. "The idea of winning was a complete surprise for me. Any prospect of the World Championship qualifying time was gone after six kilometers; I'm afraid it was just too warm. I'll have another go in Hengelo at the end of May."
The women's title holder won in dominating style. The Ethiopian-born Turk, former world record holder at 5,000m, ran a speedy 31:25.15. Some way behind finished the European cross country champion Tetyana Holovchenko (Ukraine) in 31:59.98. Third place went to the Belgian Nathalie de Vos (32:07.62). The Brit Jo Pavey suffered a disappointment in her 10,000m debut, finishing well below expectations in fourth in 32:21.19.
Kenyans Dominate in Paderborn
Kenyan runners once again dominated the Paderborner Osterlauf, which drew a record number of 8,016 runners in its 61st edition. Kenyans snatched victory in the four races and, with one exception, took all three top places. Peninah Arusei produced the best result of the day, clocking 31:46 to take the 10K race; this is the fifth fastest time of the year so far. The 28 year old was more than a minute ahead of Simret Restle. The German, who originally comes from Ethiopia, ran 33:04 for second place, while Mika Jerotich (Kenya) was third with 33:11.
In the men's race Moses Kigen just missed breakikng 28:00; he won in 28:02. Organizers had hoped for a course record, but that remains at 27:47 minutes from Carsten Eich (Germany). A week ago Kigen had passed the 10K point in the Berlin Half Marathon in 27:30, and went on for fifth place in 60:39. Stanley Salil (Kenya) took second with 28:05, and Johnstone Chepkwony (Kenya) was third in 28:19.
In the half marathon two runners broke 62:00. Abel Kirui (Kenya) just missed the course record by two seconds, clocking 61:32 minutes. Jonathan Maiyo was second with 61:38, while there was a big gap to third place finisher Francis Kiprop, who ran 63:57. It was all Kenya in the women's race as well. Beatrice Omwanza took that one in 71:15. Emmah Kiruki (71:28) and Selina Chelimo (72:08) were second and third.
© Copyright 2007-2022 by Take The Magic Step®. All Rights Reserved.
Article Archive