KIMbia's Lineth Chepkurui Continues Strong Winning Streak in Atlanta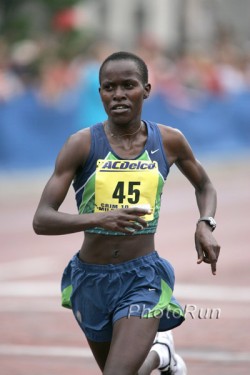 She only weighs 90 pounds, but don't let her diminutive size fool you: KIMbia's Lineth Chepkurui is a force to be reckoned with. Last Saturday, the 21-year-old Kenyan edged out Meseret Mengsitu of Ethiopia by just one second to win the prestigious Atlanta Journal Constitution Peachtree Road Race. Chepkurui's winning time, 31:31, was a huge personal best for her. Her previous 10K PR had been 32:08. 
With unseasonably cool temperatures and low humidity, the women's race was fast from the start. A lead pack of five runners pushed the pace until the final stretch, when Chepkurui surged ahead at the right moment to break the tape ahead of Mengsitu. Third place went to Alice Timbilili of Kenya who finished a second behind in 31:33.
"I wasn't here last year, because I was injured. I am very delighted to win," said an elated Chepkurui afterwards.
Overall, this has been an incredible year for Chepkurui. She's now won four major American road races: Lilac Bloomsday, Cherry Blossom and Crescent City Classic, and Peachtree. Additionally, she was fourth at the World Cross Country Championships this year and recently came in second at the Kenyan trials for the World Championships in Berlin.
"Lineth's dedication to her training and nutrition regimen has paid off," said Dieter Hogen, Lineth's coach from KIMbia Athletics. "So far Lineth has had a strong season. She showed good form the weeks before the Peachtree race. And despite a little injury last month that did not allow her to run for a week before the Kenyan 10,000m trials, she managed to finish 2nd and can qualify for the World Championships in Berlin in August. Now she will travel to Birmingham and hopefully run a time that meets the IAAF standard and then she will go to Berlin."
In the men's race, the Kenyan, Sammy Kitwara ran mostly unopposed and clocked the second-fastest time in the race's 40-year history winning in 27:22. Ridouane Harroufi of Morocco (28:02) and Gashu Ibrahim Jeilan of Ethiopia (28:02) finished in second and third respectively.
The Atlanta Track Club founded the Peachtree Road Race in 1970. Now with 55,000 participants, it is one of the largest 10Ks in the world.
© Copyright 2009-2022 by Take The Magic Step®. All Rights Reserved.
Article Archive