KIMbia's Abraham Chebii Breaks US All Comers Record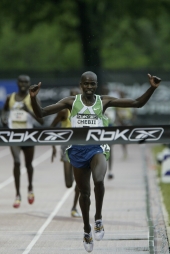 KIMbia's runners showed some fine performances on the road and on the track recently. Prominent athletes like Abraham Chebii and Gilbert Okari were in the centre of the focus.
Chebii has broken a 22-year-old record at the Reebok Grand Prix Meeting in New York on Saturday (3rd June). The Kenyan won a high-class 5,000-meter race in 13:04.55 minutes. With this time he had achieved an US All Comers Record. Former record holder was Said Aouita. The prominent Moroccan had won the Olympic gold medal in Los Angeles in 1984 with 13:05.59.
"I was not sure I was going to make that time. Some of the guys were talking about it yesterday, but I knew it would take a fast race," Abraham Chebii told the IAAF's Web site (www.iaaf.org). After a fast 1000m split of 2.34.11 minutes the pace slowed slightly. "If you start first this sometimes is the end of the record attempt," Chebii said. But the pace was picked up again and the Kenyan recovered his famous finishing speed. He produced a last lap of 54 seconds and left behind his rivals. "I have worked on my finishing speed."
In the last 200 meters Abraham Chebii left behind his fellow countrymen Mica Kogo (13:06.18) and Benjamin Limo (13:07.14). Limo is the reigning world champion at 5,000 meters. The first five runners clocked sub 13:10 times.
Elsewhere KIMbia's marathon runners had a good weekend. Philip Tarus (Kenya) placed second at the Salt Lake City Marathon with 2:17:59 hours on Saturday (3rd June). A day later, Stephen Kiogora (Kenya) took third place in 2:11:45 at the Rock 'n' Roll Marathon in San Diego.
In the weeks before Gilbert Okari showed superiority. Recently the Kenyan won the famous Bay to Breakers 12-kilometer race in San Francisco (21st May). About 62,000 runners participated in what was one of the biggest races in the world. That was Gilbert Okari's fifth triumph in a row on the US road race circuit this season. Clocking 34:20 minutes for the distance the defending champion not only won the race but additionally caught the fastest woman. In this challenge the men had a handicap of 4:40 minutes. About 500 meters from the finish line Gilbert Okari passed Tatyana Hladyr (Ukraine).
Apart from his first start of the year at the World Best 10K, where Gilbert Okari finished second, the Kenyan has now won all his races this season: Cherry Blossom, Crescent City, Vancouver Sun, Lilac Bloomsday and Bay to Breakers.
© Copyright 2006-2022 by Take The Magic Step®. All Rights Reserved.
Article Archive