KIMbia Runners Excel on Two Continents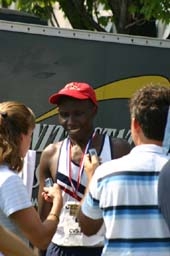 KIMbia runners had strong showings at three major races on two continents this weekend: Matt Tegenkamp placed third in the World Cup 5,000 meters in Athens, Greece; Edna Kiplagat was second at the Philadelphia Distance Run (a half marathon) in Philadelphia; and Richard Kiplagat won the CVS/pharmacy Downtown 5 Kilometer in Providence, Rhode Island.
Tegenkamp capped the year's best track season by an American distance runner with just the sort of race he wanted—a tactical final against top-flight competition. After a slow first 3,000m, passed in 8:30, Tegenkamp was the only other member of the field to go with Qatar's Saif Saaeed Shaheen and Kenya's Mike Kipruto Kigen when they surged strongly. Tegenkamp took the lead with one kilometer to go, but couldn't stay with Shaheen when the steeplechase world record holder ran a 55-second lap with 600 meters to go. Nonetheless, Tegenkamp showed that he should be a factor in championship races of the next few years, as he placed third in 13:36.83 minutes, behind Shaheen (13:35.30) and Kigen (13:36.19).
Since the spring, Tegenkamp has had a dream season, setting personal bests at 1500m (3:35.96), one mile (3:56.38), 2 miles (8:16.50) 3,000m (7:34.98) and 5,000m (13:04.90). He has been documenting his season with journal entries on the KIMbia site; visit the site to read his thoughts on yesterday's race.
Meanwhile, in the U.S.
In Providence, Kiplagat kicked away from U.S. Olympian Anthony Famiglietti at the 3-mile mark to finish in 13:49 minutes; Famiglietti was one second back. Kiplagat joined KIMbia earlier this year after finishing a stellar career at Iona College, where he was a 10-time All-American. In his last collegiate race, Kiplagat had placed third at the NCAA 5,000m championship in June. Today's race was his third as a professional, and his first win.
The Providence race served as the national road 5K championship, meaning that Famiglietti won that title. In the women's race, Sara Hall was second overall and first American. She just lost to Olga Kravtsova, of Belarus; both were credited with times of 15:40.
In Philadelphia, Edna Kiplagat almost won her second half marathon of the month. She passed 10 miles with Lineth Chepkurui in 53:29, but was not able to get ahead of Chepkurui by the finish. Kiplagat ran 1:10:12 hours for second place, three seconds behind Chepkurui. Kiplagat ran her first half marathon just two weeks ago, when she won the Rock 'n' Roll Half Marathon in Virginia Beach, Virginia. Her time today was almost a one-minute improvement over her time in Virginia Beach.
In the men's race, KIMbia's Sammy Kipketer placed third in his half-marathon debut in 1:01:25 hours. Kenya's Wilson Kiprotich won in 1:01:05, two seconds of U.S. Olympian Abdi Abdirahman. Abdirahman will run the New York City Marathon in November.
KIMbia's Luke Kipkosgei continued a stellar September on the roads by placing sixth in Philadelphia in a personal best of 1:02:01. On Labor Day, Kipkosgei had defeated a strong field, including his KIMbia teammate Richard Kiplagat, at the U.S. 10K Classic in Atlanta.
For complete results, visit the CVS 5K and Philadelphia Distance Run sites.
Posted September 17, 2006
© Copyright 2006-2022 by Take The Magic Step®. All Rights Reserved.
Article Archive