KIMbia Runners Dominate Bellin 10K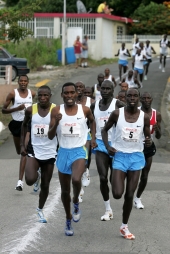 Runners from the KIMbia team took the first two spots in the men's and women's races at the Bellin 10-kilometer run in Green Bay, Wisconsin. Kenya's John Korir and Britain's Kathy Butler won their divisions at the 30th running of this ever-growing race, but in drastically different fashion.
In the men's race, Tanzania's John Yuda looked to have a commanding lead in the last mile, but Korir used his well-known finishing kick to overtake his KIMbia teammate in the closing meters to finish in 29:01 minutes, two seconds ahead of Yuda. Even though the course this year was slightly different than last year's, Korir's time was almost identical to his winning time of last year of 28:55.
Butler, in contrast, won by more than two minutes. Her time of 32:28 was the fastest women's mark at Bellin since 1999. "I'm very happy with my time," Butler told Take The Magic Step's Uta Pippig after the race. "It gives me a lot of motivation for the rest of the season." American Elva Dryer, who had won the last two Bellin races, had an off day, but the KIMbia runner still placed second in 34:46.
Uta, who appeared at Bellin-related events throughout race weekend, used the race as a training run, but still placed third in the master division with 39:30. She was joined at many of the race events by Bill Rodgers, who won the second Bellin back in 1978. As did Uta, Rodgers ran at a training pace and encouraged the runners around him.
The 30th Bellin Run hosted more than 10,000 participants, making this year's race the largest in event history. By way of comparison, last year's Bellin was the 6th largest 10K in the U.S. with 8,400 runners.
Article Archive