Kenyan Runners and the Post-Election Violence

When fans watch the leading men run by next Monday at the Boston Marathon, they won't be surprised if most of them are Kenyan. In fact, they'll probably take it for granted. With a little reflection, however, they might instead find it near miraculous, given the post-election violence that engulfed Kenya just a few short months ago. While the worst of the violence has ended and Kenyan athletes have been able to return to their normal routine, in running, as in any endurance sport, what occurred months ago will have ramifications tomorrow, the following week and on in to subsequent months.
Traditionally, even athletes who spend much of their year in training camps in Kenya or racing overseas return to their home around Christmas. So when riots and demonstrations started soon after elections on December 27, most Kenyan runners were home. During January, most did not train as they feared for their lives during the violent attacks that led to the death of 2:12 marathoner Wesley Ngetich and the hospitalization of reigning world marathon champion Luke Kibet. KIMbia's James Koskei, for example, was at his home in Eldoret, where some of the worst violence occurred. "It was not safe to leave the house for training," he says. (The answer to why world-class runners couldn't simply count on being able to outrun would-be attackers is that many of the violent demonstrators carried arrows to shoot. Ngetich, for example, was fatally struck by a poison arrow.)
Even in safer areas like Iten, where KIMbia's training camp is located, it was unsafe to train in early January, says 2004 Boston Marathon champion Timothy Cherigat. Elsewhere in Kenya, KIMbia's Richard Kiplagat felt safe enough to train by late January, but only by staying close to home. "It was not safe to go into the countryside for long endurance runs," he says. "As a result, my training was much affected."
The group training that's so integral to Kenyan running was severely hampered by unsafe travel conditions. Says Kiplagat, "The rioters would block the road and demand to know what tribe you are from. Or they might demand money. It was very unsafe to move about the country, especially in the Rift Valley." As a result, for example, Koskei didn't get to the KIMbia camp in Iten until February, weeks later than expected. To put Koskei's situation into perspective, consider that, in normal times, Iten is only a half hour's drive from Eldoret. Along the same lines, KIMbia's Stephen Kiogora was unable to travel from his home in Marot to Iten. As a result, he missed so much high-quality training that he has decided not to enter this year's Boston Marathon, where he placed third last year.
Another significant logistical impact stemmed from the violence: Athletes couldn't count on being able to get their normal training diet. Says Kiplagat, "For example, the factories that make bread were closed. And many shops were closed, because they could not receive food because of the roadblocks. What food there was in supermarkets was priced very high." Adds Cherigat, "Most of the stores in Iten were closed during the worst time, for most of January. We ate what we could find."
Runners were affected mentally, too. Most winters, KIMbia coach Dieter Hogen and manager Tom Ratcliffe travel to the Iten training camp, but that wasn't possible this year. Says Cherigat, "Every year before, they come and help with our training. They support us morally and they solve any problems we have. That was not the case this time. It was much harder." In addition, says Kiplagat, "when you would go for training, you could not concentrate. You had to train with fear, always being careful to look out for something bad that might happen." Kiplagat adds that many people, although usually supportive of athletes, would now chastise him. "They were telling me it was wrong, it was superficial to be thinking about running while all these things were going on."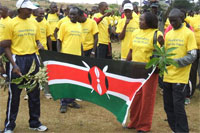 But what some consider superficial, others find profound. Once the worst violence subsided, many of Kenya's top runners came together for a series of peace runs in Eldoret and Iten. At one event in Iten, the run was preceded by a peace march. It was led by Luke Kibet, of the Kalenjin tribe, and 1987 world marathon champion Douglas Wakihuri, of the Kikuyu tribe. Members of those two tribes were the main rivals and targets of each other during the violence. Yet there were Kibet and Wakihuri, each holding one end of the Kenyan flag, leading hundreds of athletes through Iten, and showing the unifying power of sport. The message was clear—there is one Kenya, as Kiplagat says, "When one of our runners wins, he does not say, 'I won because I am Kikuyu,' or, 'I won because I am Kalenjin.' No. He says, 'I won because I am Kenyan.'"
© Copyright 2008-2022 by Take The Magic Step®. All Rights Reserved.
Article Archive