Kenenisa Bekele Wins in Berlin with the Second Fastest Marathon of All Time: 2:03:03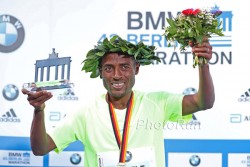 Kenenisa Bekele put on an incredible performance, winning the BMW Berlin Marathon in a world-leading time this year of 2 hours, three minutes, and three seconds—making him the second-fastest marathoner of all time. And yet the Ethiopian superstar's win was hardly easy, as he dueled rival Wilson Kipsang of Kenya to the last kilometer.
Kenenisa came within six seconds of Dennis Kimetto's world record on Sunday—and improved the great Haile Gebrselassie's Ethiopian mark of 2:03:59, once itself a world record, that was also clocked in Berlin back in 2008.
Before today, the fastest marathon time of 2016 had belonged to Olympian champion Eliud Kipchoge of Kenya, who ran 2:03:05 in April in London. Wilson Kipsang, who once set the world record of 2:03:23 three years ago in Berlin, was second on Sunday in 2:03:13, running with Kenenisa up until the last kilometer where he was not able to match his pace. Third place went to Evans Chebet (Kenya) who clocked an impressive 2:05:31. The fastest German was Steffen Uliczka (SG TSV Kronshagen-Kieler TB) who came in 16th in 2:15:02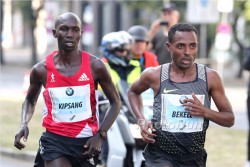 Only once before in history has a marathon produced times faster for the first two finishers: This was back two years ago in Berlin when Dennis Kimetto ran 2:02:57 for a world record and Emmanuel Mutai was second in 2:03:13.
There were five runners in contention as the 30-kilometer mark approached. Then Wilson made a move that broke apart the group that included Kenenisa Bekele, Alfers Lagat, and Evans Chebet (both from Kenya) and Sisay Lemma (Ethiopia).
Until the 35th kilometer was reached, Wilson tried three times to shake Kenenisa, the Ethiopian world-record holder over 5,000 and 10,000 meters. Wilson was able to get a slight lead, but Kenenisa, who had started the race with a previous best time of 2:05:04, came back to him again and again. Then, on the final kilometer, it was Kenenisa, who made the decisive move and went on to a fantastic road-race victory.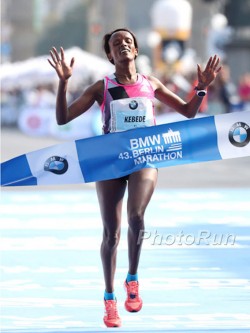 "I am very happy to have broken Haile Gebrselassie's Ethiopian record here in Berlin," said the 34-year-old Kenenisa. "At the same time, I'm a little disappointed that I was not able to break the world record, but I hope that I can start here again and get another chance. At the end of the race, I had some problems with my thigh muscles, but otherwise everything was okay."
Wilson Kipsang also had the elusive world record in mind afterwards "I was hoping we could run a world record but it wasn't enough," said the 34-year-old. "But there is always a second chance. Overall, I ran well. It was a great race with Kenenisa, even though I finished second."
The women's race was won by Ethiopia's Aberu Kebede with an impressive 2:20:45—the second-fastest time in the world this year and the third time that Aberu has won the Berlin Marathon (2010 and 2012 were her previous victories). She joins Uta Pippig, who was the race's official starter on Sunday, and the Polish runner Renata Kokowska, as the only three-time female Berlin champions.
Birhane Dibaba (2:23:58) and Ruti Aga (2:24:41), made it a sweep for Ethiopia, taking second and third places respectively in ideal weather conditions. Katharina Heinig (Eintracht Frankfurt) ran a brilliant race in 2:28:34—good for fifth and her first time under the 2:30 barrier.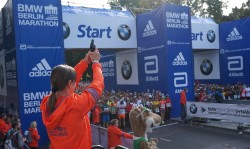 More than 41,000 runners from 122 countries took part in this, the 43rd edition of the BMW Berlin Marathon—an IAAF Gold Label Road Race that together with Tokyo, Boston, London, Chicago, and New York makes up the Abbot World Marathon Majors Series.
In addition to being honored as Official Starter of the race, Uta also ran a portion of the marathon for the dedicated RTL-Spendenmarathon relay team, whose motto is, "We help children!" Before she participated in the relay, she had a fun time dancing with the organizer's SCC-Events mascot, Fridolin "Frido" Flink in the start area. And on Saturday she had cheered on the young competitors in the Bambini and mini Marathon races.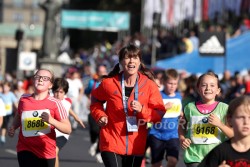 "Hats off to all the runners—we had great weather, even though it was just a little bit too warm, and saw some amazing times and fantastic runs of so many," she said. "And I had a blast running the last kilometers of the relay and being able to greet many of the men and women who did so well on a wonderful Berlin Marathon Day. Thank you to all who made this race possible."
The Results of the 43rd Berlin Marathon
Men:
| | | | |
| --- | --- | --- | --- |
| 1. | Kenenisa Bekele | ETH | 2:03:03 Hours |
| 2. | Wilson Kipsang | KEN | 2:03:13 |
| 3. | Evans Chebet | KEN | 2:05:31 |
| 4. | Sisay Lemma | KEN | 2:06:56 |
| 5. | Eliud Kiptanui | KEN | 2:07:47 |
| 6. | Geoffrey Ronoh | KEN | 2:09:29 |
| 7. | Alfers Lagat | KEN | 2:09:46 |
| 8. | Yohannes Gebregergish | ERI | 2:09:48 |
| 9. | Jacob Kendagor | KEN | 2:10:01 |
| 10. | Suleiman Simotwo | KEN | 2:10:22 |
| 16. | Steffen Uliczka | GER | 2:15:02 |
Women:
| | | | |
| --- | --- | --- | --- |
| 1. | Aberu Kebede | ETH | 2:20:45 Hours |
| 2. | Birhane Dibaba | ETH | 2:23:58 |
| 3. | Ruti Aga | ETH | 2:24:41 |
| 4. | Reia Iwade | JPN | 2:28:16 |
| 5. | Katharina Heinig | GER | 2:28:34 |
| 6. | Janet Ronoh | KEN | 2:29:35 |
| 7. | Elana Dolinin | ISR | 2:35:59 |
| 8. | Cassie Fien | AUS | 2:37:28 |
| 9. | Claire McCarthy | IRL | 2:38:00 |
| 10. | Gladys Ganiel | IRL | 2:39:10 |
Posted September 25, 2016
© Copyright 2016-2022 by Take The Magic Step®. All Rights Reserved.
Article Archive