Kenenisa Bekele Wins Fifth World Cross Double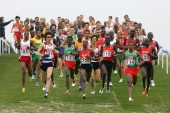 Kenenisa Bekele continued his outstanding series at the last weekend's IAAF World Cross Country Championships in Fukuoka (Japan). The Ethiopian completed a fifth double in a row at these championships. This is a unique achievement in the history of athletics and will probably never be surpassed. Starting next year, there will be only one long distance race held at these championships. The short distance is cancelled.
"I achieved everything possible in cross country, therefore I am leaning towards not competing at the World Cross Country next year," said Bekele. On Saturday he triumphed at the 4 kilometers, but it was narrow. Isaac Songok showed a strong race and was second. "I did my best and wanted to win gold. But I enjoyed the race with Bekele and silver is still a good result for me," the Kenyan said. The Moroccan Adil Kaouch was third.
On Sunday Bekele won the 12K race in his traditional style. At the end of the race he powered away to leave his team mate Sileshi Sihine behind. He finished second while Kenyan Martin Mathathi was third. Despite Bekele and Sihine showing good results, Kenya won the team title.
Tirunesh Dibaba (Ethiopia), who won the 8K ahead of Lornah Kiplagat (Netherlands) and Meselech Melkamu (Ethiopia) on Saturday, missed the double on Sunday. She dropped out at the 4K short distance. Her team mate Gelete Burka won the World Cross title ahead of Kenyan Priscah Jepleting. Third was Meselech Melkamu, who won a second bronze medal.
© Copyright 2006-2022 by Take The Magic Step®. All Rights Reserved.
Article Archive