Joy on Boylston Street as Team Hoyt Brings its Last Marathoner Home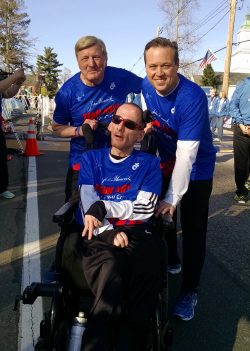 Near the eight-mile mark of the 121st Boston Marathon, Bryan Lyons spotted an old friend cheering in the crowd—and steered the wheelchair carrying Rick Hoyt towards her.
"I told Rick laughingly, 'You've got a million fans along this course—I'm going to stop for the three people who know me!'' said Bryan. "And Rick's face lit up in a huge smile."
It was a moment that said everything about the closeness of the "new" Team Hoyt, running in their third Boston together since Bryan, a 47-year-old dentist, took over racing duties from Rick's extraordinary father, Dick Hoyt. Dick finally retired from long distance running at 74 after teaming with Rick—born with cerebral palsy—in 32 Boston Marathons. Along the way, the wheelchair father-and-son duo became legends of the running world, honored with a statue near the starting line in Hopkinton.
And Bryan was being over-modest: this year the cheers of tens of thousands of knowledgeable Boston spectators signaled that they have taken "the new guy" to their hearts. "A lot of people still think Dick is behind the chair, but now more people are starting to recognize me and it is nice having them cheering for me as well," Bryan smiled in an interview with Take The Magic Step.
Warm Temperature on Race Day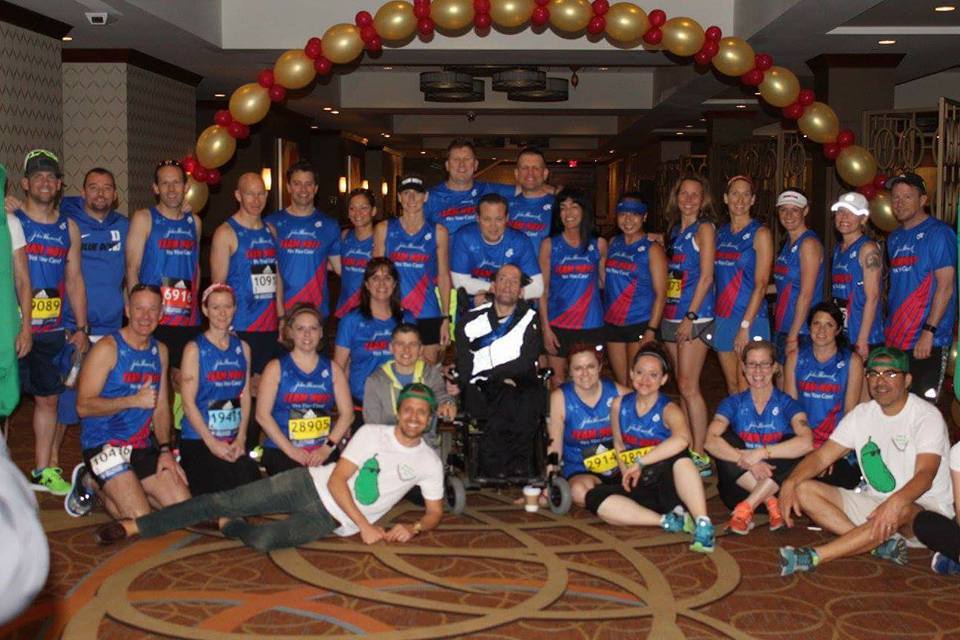 The 55-year-old Rick and Bryan faced tough conditions this year: a near-high seventies temperature that left Bryan in some distress early on. By mile 11 a thirsty Rick had gone through almost all his Gatorade supplies. "I kept telling myself, 'hey, you're not at work, no one is nagging you and you're running with your best friend,'" said Bryan. "'So have a good time regardless of what the clock says.'"
Buoyed by that spirit they reached the Team Hoyt aid station at Heartbreak Hill, where they were able to top up Rick's rapidly-dwindling hydration supplies. And the brief stop gave them all they needed to pick up the pace.
Finally, they made the turn into the roaring cauldron of noise that was Boylston Street and ran into the welcoming arms of Dick and Uta at the finish line, close to five hours after they'd left Hopkinton.
Saved by Pickle Power
About five miles behind them a different Team Hoyt drama was about to play out. Every year the Team—whose members are supported with motivation and coaching advice by Uta on their way to Boston—has enthusiastic volunteers who man an aid station at the top of Heartbreak Hill, at the key 20.8-mile mark. The "team behind the Team", you might call them.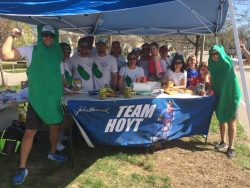 Last year they were instrumental in fixing a loose wheel that threatened Bryan and Rick's finish. And this year, given the unfriendly heat, the eye-catching Team Hoyt banner proved a welcome sight for the 19 women and 13 men, both qualified and charity runners, from all over America and Canada who made up this year's Boston-Marathon-Team-Hoyt team. The buzzing aid station was also an amazing demonstration of the Team's solidarity, built up over many years: an astonishing thirteen Hoyt Foundation alumni had come back to Boston—not to run, this time, but to volunteer to help this year's members.
They are a friendly bunch and they have an enduring joke about pickles. A few years back, Team member Corey Hanrahan swore that pickle juice was the ideal Heartbreak Hill restorative drink. They've handed it out ever since. This year Corey dressed the aid station alumni in tee shirts showing Dick and Rick as pickles, with sunglasses on. Volunteers Steve Aikens, from Santa Barbara, California, and his aunt Laurie took the gag a step further, stepping out of the hotel elevator on Marathon morning in …pickle costumes.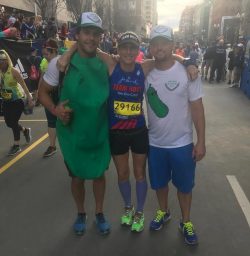 Which brings us to the stirring journey of Bridget Shelden, a Texas schoolteacher and single mom, running her first marathon at 43 to raise money for the Hoyt Foundation charity. An experienced 1:48 half-marathoner, she had signed up pledges of almost $7000 during months of training, and her dream of finishing Boston was only 16 days away when pain in her left Achilles tendon suddenly ended a 13-miler. A physiotherapist diagnosed tiny tears in the tendon that could require at least a month of inactivity to heal. But "the Team Hoyt motto is 'Yes You Can'," Bridget told Take The Magic Step. "After the honor of being selected for the Team, there was no way I was going to say, 'No I Can't.'"
Starting the marathon in the last-but-one wave, she was in dire pain from mile one and soon found herself almost alone on the course. Crowds thinned out; she reached a water station at mile 8 only to find it being dismantled. "It was humbling," she said. Somehow she made it up Heartbreak—and into the caring surroundings of the Team Hoyt aid station. "The crowds had gone, but they'd waited for me," she said. "My team didn't leave me."
And that's where the pickles kicked in. Steve Aikins, dressed in his pickle suit, and Orson Weston, wearing a pickle hat and pickle tee shirt, placed themselves on each side of Bridget and told her, "put your arms around our shoulders." She said, "I used them like crutches and they got me the last five or so miles to the finish line." They finally crossed in six hours and twenty minutes and Bridget christened her unlikely-looking rescuers, "my pickle angels."
The Team Surpasses Charity Goal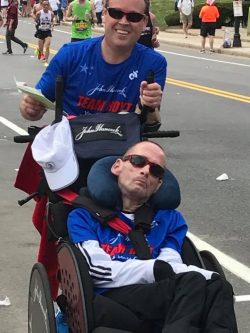 Before the marathon, the Hoyt Foundation's goal for 2017 was to raise $125,000. They surpassed that impressively, raising over $148,000 for the special needs individuals the charity supports. The Team included three wheelchair duos this year—Rick and Bryan were joined on the start line by Ted Painter pushing Nick Draper, and Marie Boudreau-Ninkov and Onni Peck, the first female duo ever to qualify for Boston. Also there were twins—Bridget and her sister Phoebe Harbour—and brother and sister Wes Harding and Chantelle Peters.
For Rick and Bryan there was a brief rest before starting training for the Ironman Triathlon World Championships in Kona, Hawaii in October. They received a special invitation from the organizers of the Ironman and they are planning to run at least three half-marathons before then.
Bryan knows he has a hard act to follow: Dick and Rick are the only wheelchair duo in history to complete the grueling 2.4-mile swim, 112-mile bike ride and 26.2-mile marathon race that make up the famous Ironman course. They did it in 1989 and 1999, with a best time of 13:43:37. Dick told Take The Magic Step, "I am very excited for Bryan and Rick. I think we picked the right person to partner with Rick, both in marathons and triathlons, and I know they will do well."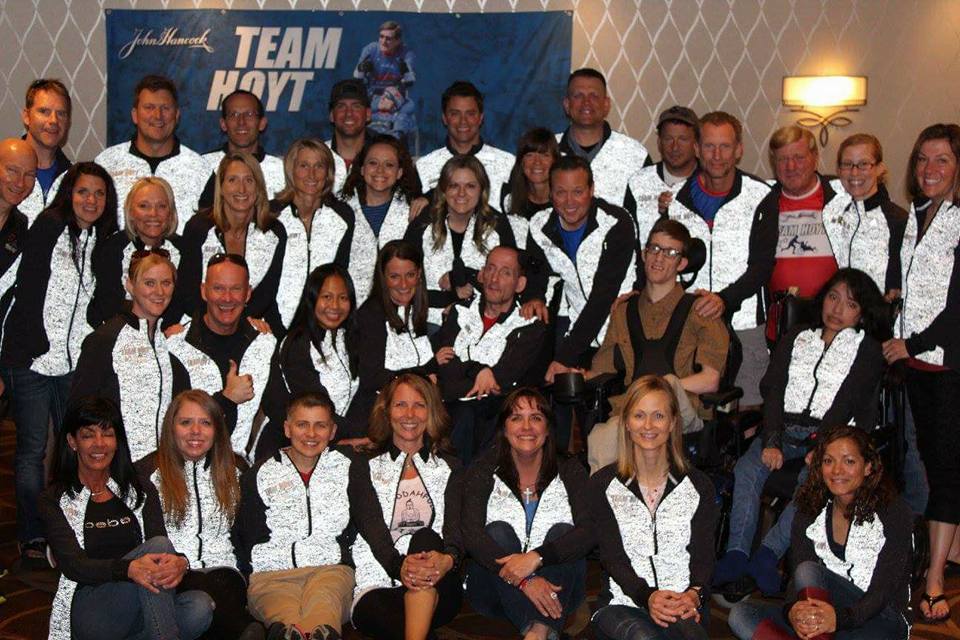 Reading Suggestions:
If you would like to start running, check the following 5K schedule: Run Your First 5K
© Copyright 2017-2022 by Take The Magic Step®. All Rights Reserved.
Article Archive