Japan Overtakes Kenya to Win Chiba Ekiden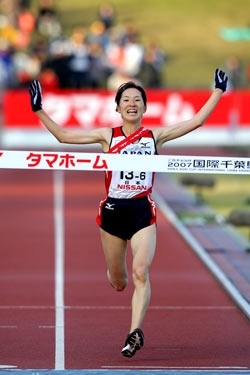 Thanks to a strong performance at the end, Japan's team came from behind to take the Chiba Ekiden race. The hosts finished this most prestigious marathon relay race in 2:05:56 hours. It was the first time that there were no separate men's and women's races at the event; instead, mixed teams covered the 26.2-mile distance. The men took the first, third and fifth legs (5 kilometers, 10K, 10K), while the women covered the second, fourth and sixth legs (5K, 5K, 7.195K).
Things didn't look promising for Japan at mid race—they were in fourth after the third runner. At that point, Kenya was leading by nearly a minute, while Russia and the U.S. were holding second and third places. In the final stage, however, Yukiko Akaba quickly caught then-leading Catherine Ndereba. Less than three weeks after the New York City Marathon, the Kenyan was still too tired to match the speed of Akaba. Ndereba was able to hold on to second place, giving Kenya a time of 2:07:06. Russia (2:08:00) and the U.S. (2:09:05) took the next places. The American team consisted of Ed Moran, Desiree Davila, Scott Bauhs, Melissa White, Ryan Sheehan and Stephanie Rothstein. Besides Akaba, Japan's winning team consisted of Yuichiro Ueno, Kayoko Fukushi, Kenji Noguchi, Megumi Kinukawa and Kensuke Takezawa.
Kenyan in Front of Three Italians in Firenze
In his debut, Kenyan Paul Ngeny took the Firenze Marathon on Sunday. The 29 year old clocked 2:12:50 and beat three Italians on his way to victory. The event was one of Italy's Olympic Marathon qualification races. The top Italian was 33-year-old Alberico di Cecco, who took second in 2:13:52. Di Cecco, who features a personal best of 2:08:02, could have a good chance of being nominated for the Beijing team despite the relatively slow time. The reigning Olympic champion, Stefano Baldini, should be named as well for the Games next year.
Danielle Caimmi was third with 2:14:47, while Denis Curzi took fourth in 2:15:11. The first four were in a leading group passing halfway in 64:51 minutes. One after another they lost contact. Between 30K and 35K, Ngeny finally got away from di Cecco and hung on for the win, despite slowing considerably in the final stages.
Favorite Vincenza Sicari won the women's race. But the 2- year-old Italian missed a sub-2:30 result, with which she had hoped to impress the selectors for Beijing. After a first half of 1:14:28, she ran into problems in the last seven kilometers and finished in 2:33:14. Ethiopia's Hirut Lagesse Abere took second with 2:42:39.
30,000 Run in Addis Ababa
Once again the Great Ethiopian Run in Addis Ababa had an impressive field—30,000 runners entered the 10K race through the capital of Ethiopia. There were home wins once again: 20-year-old Tsegaye Kebede, who clocked 2:08:15 at the recent Amsterdam Marathon, won in 29:07. Wude Ayalew was the fastest woman with 33:51. A day earlier, 3,000 children had participated in a junior race.
Meseret Defar Named Athlete of the Year
A distance runner was named Athlete of the Year at the gala of the International Association of Athletics Federations in Monte Carlo: 23-year-old Meseret Defar. The Ethiopian won the 5,000-meter final of the World Championships and also broke four world records this year. First she improved the 3,000m indoor mark, then she broke the 2-mile world best, then she clocked a new record at 5,000m in Oslo and finally she broke her own 2-mile mark. U.S. sprinter Tyson Gay was named male athlete of the year. There were Inspirational Awards for two runners: Haile Gebrselassie (Ethiopia), who broke the world marathon record in September, and Paula Radcliffe (Great Britain), who won the New York City Marathon less than a year after giving birth.
© Copyright 2007-2022 by Take The Magic Step®. All Rights Reserved.
Article Archive