Interview with European Marathon Champ Maisch: "I want to run New York"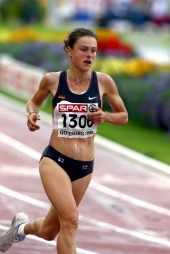 Ulrike Maisch won gold in sensational fashion in the marathon at the European Championships in Gothenburg, Sweden. In addition to winning, the German ran a new personal best of 2:30:01 hours. It was her second marathon this year, after she had run in Hamburg in April. In November 2004 she had a foot surgery. Take the Magic Step® recently had the opportunity to talk with Maisch about her marathon victory and upcoming plans.
You are the first German woman to win an international marathon title. How does it feel?
Ulrike Maisch: That is fantastic. I still can't believe it. I never had thoughts about winning the marathon here or even winning a medal. A place among the top eight was my goal. So I guess I will be in the history books now.
When did you realize that you would win the gold medal?
Ulrike: First, I had not thought about gold. As I saw the third runner in front of me, I wanted to pass her so badly, since a fourth place would have been the worst place. When I passed her, I knew that she wouldn't be able to overtake me again. I know that if I pass somebody she is not able to pass me again. Then I suddenly saw the second-place runner, and I couldn't believe it. When I then saw the leading Russian, I chased her and finally took the lead. I realized that I would win the race, and thought about my family in the stadium and my friends in front of the TV. Then I suddenly saw the stadium approaching and almost started to cry.
The conditions of the race weren't that good. Was it nevertheless a perfect race?
Ulrike: Definitely. There couldn't have been better conditions for me. It just rained slightly, and the wind wasn't a problem since I had run in the group for a long time. There I was protected from the wind. When I started to run alone, the wind wasn't that bad anymore. The course was great for me. I like it when it is a bit hilly, and here in Gothenburg the course was hilly. The initial pace was very slow, and that was as well perfect for me.
Weren't you a little bit alarmed when the Russians increased the pace?
Ulrike: No, because I knew that I would have to run my own race, and I wouldn't have run with them anyway. I thought they would be faster at the beginning. But it was good for me that they didn't, so I was able to get them in the end. If I would have stayed with them, I wouldn't have been able to keep up in the end.
How did you prepare for the European Championships?
Ulrike: I trained in St. Moritz in Switzerland. That was good, since I already trained in a hilly environment. That paid off here. I was running about 150 kilometers a week, but I have to say that I am a runner who does not do high mileage. I'd rather go hiking or do aqua jogging. I was in very good shape, and I proved it here.
You ran your first marathon in 2000. What did you do before?
Ulrike: I did multiple track events first, and my dad used to coach me. Then the Wall came down, and somehow I stuck with running. It was the event I liked the most. When I was younger, I used to run between 3,000 and 10,000 meters on the track. My first marathon was in Berlin in 2000. I clocked 2:40 hours, and my coach said I should continue running marathons. He said taking into account the limited preparations I did, the result was very good. So that is why I am running the marathon now. So far I was able to improve my personal best at every single marathon I ran.
You are now the European champion. What is next?
Ulrike: First of all, I have to realize that it is all real. I know that those chances, to win an international title, won't come often. At World Championships or Olympic Games, the Asians as well as the Africans are too strong. I will prepare now for my next marathon. I want to run the New York City Marathon. I always wanted to go there, so as I am invited now, I should take the opportunity. My goal is to clock sub-2:31, and the hilly course in New York should suit me. Sure I know that I won't be able to run for one of the first positions, but maybe I can finish within the top ten.
You don't look like the typical runner. Is that an advantage?
Ulrike: For me, it is an advantage. I have never been as skinny as most runners. I personally think that this is why I have the power to come back in the end of a race. It happens quite often that I am passing runners in the final part because everybody else is getting tired.
© Copyright 2006-2022 by Take The Magic Step®. All Rights Reserved.
Article Archive