Inspiration, Happiness, and Charity Shine at the Bellin Run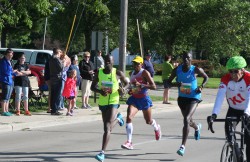 Every year since 1977, runners have taken to the streets of Green Bay, Wisconsin for the annual Bellin Run. The race, which was first called the Heartwarming Run, is now one of the largest 10Ks in the United States and has continued to be all about promoting fitness and well-being.
Since its inception, Bellin has attracted top runners from all over the world. Legends such as Joan Benoit Samuelson, the first woman to win an Olympic marathon, and repeat Boston Marathon champion, Bill Rodgers, have run and won there.
Back in 1995, Uta won as well and since then she has always held the Bellin Run close to her heart.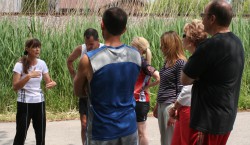 "For the elite it was a little windy today, but for everyone else it was fantastic weather," she said. "Thousands of people, including a lot of father-child teams were on the course. Many other children ran and there were fast times for the youngsters. I also enjoyed greeting many angels and their captains at the starting line—all of them were participating for myTEAM TRIUMPH. My sponsor, Krueger International, placed second in the team competition and I am really excited about it. Thank you to the organizers and all the volunteers for another fantastic Bellin Run weekend!"
Saturday marked Uta's 18th appearance in the race. On Friday, she had cheered on enthusiastic young athletes in the Dick Lytie Children's Run & Fun Event, a half-mile race for kids 10 and younger. On Thursday, Uta hosted her inspirational clinic, "Running To Freedom™" for Krueger International's (KI) corporate team. KI is the race's gold sponsor.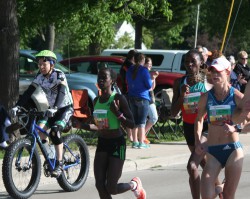 In the elite division of this year's Bellin Run, last year's runner-up Allan Kiprono of Kenya won the men's 10K race in 28 minutes and 41 seconds. Allan runs for KIMbia Athletics and is coached by Take The Magic Step's Dieter Hogen. "Often the weather is really hard here, but this year it was good," Allan told Take The Magic Step afterwards. "There was also a fun atmosphere along the course and fantastic support from the crowd. Everybody cheered me on. I was very happy about winning, especially after last year's second place." Lani Rutto, also a KIMbia athlete took second (29:44), while this year's Boston Marathon champion, Meb Keflezighi, was third in 29:58.
Kenya's Risper Gesabwa was the women's champion, winning her third consecutive title on Saturday and coming across the finish line in 32:53. Second place went to KIMbia athlete Agnes Cheserek (Kenya) who ran 33:15. In third position was Wisconsin native Kellyn Johnson (33:33).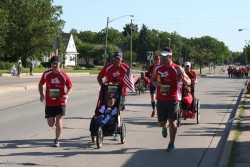 More than 18,000 runners lined up at the start in front of Green Bay's Bellin Hospital. Among them was Aliyah Zeitler, a fourth-grade student from Luxemburg-Casco Elementary School, who has cerebral palsy. Her wheelchair was pushed by myTEAM TRIUMPH, a nonprofit ride-along program created for those with disabilities. One of the runners who helped push Aliyah was the school's principal, Jolene Hussong. "I believe in all students having the same opportunities regardless of their mental or physical abilities," Jolene told the Door Country Advocate. "I believe that Aliyah's participation this year will open the door for other students in the future at our school."
If you would like to read more about the Bellin Run and the amazing Green Bay health community, here is a heartfelt tribute written by Uta: "Green Bay, Wisconsin: A Community Finds Unique Ways to Achieve Health and Wellbeing That Go Far Beyond Its Famous Bellin Run Weekend."
Article Archive