Inga Abitova Wins Top-Class 10,000m European Championships Final, Mockenhaupt Outwits Mikitenko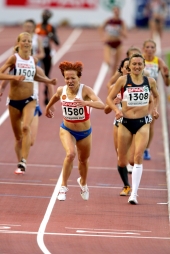 The first long-distance final at the European Championships in Gothenburg, Sweden produced a superb race. In the women's 10,000 meters, Russian Inga Abitova won the gold medal by improving her personal best by nearly a minute to 30:31.42 minutes. Norway's Susanne Wigene produced an unexpected Scandinavian success with a great final sprint, finishing second in 30:32.36. Third was Russian Lidiya Grigoryewa in 30:32.72.
Twelve runners out of 28 finished with new personal bests in nearly perfect weather conditions. Soon after the start, the field split into two distinct groups. Former Kenyan Lornah Kiplagat, now representing the Netherlands, set an aggressive early pace of just over 3:00 minutes per kilometer. With seven runners behind her, she passed 3,000m in 9:09.68 and 5,000m in 15:16.38.
After the leading group, there was a huge gap to the next group, which was led by Germany's Irina Mikitenko; reigning ING New York Marathon champion Jelena Prokopcuka, of Latvia, ran between the groups. Mikitenko ran courageously for having returned so recently from maternity leave; nonetheless, the athletes who led their respective packs throughout the race were bitterly disappointed in the end. After the former 5,000m world record holder Elvan Abeylegesse, of Turkey, gave up between 7 kilometers and 8km, Kiplagat was overtaken by her pursuers in the last 500 meters. First, Abitova increased the pace and quickly gained a decisive lead. Grigoryewa then passed Kiplagat, only to be passed herself by Wigene. The 28-year-old Norwegian bettered her personal best by nearly 80 seconds, and now is not that far away from the Norwegian national record of legendary Ingrid Kristiansen, 30:13.74, which stood as a world record for a long time.
"After about 8,000m, I was sure to be able to win a medal, but nothing was guaranteed in this race until the very last meters," said winner Abitova. "It was a hard race," said Wigene. "I was tired after 6km, but then I found new energy—a dream became true." After leading nearly the entire race, Kiplagat finished fifth in 30:37.26, much as used to occur to Paula Radcliffe at past track finals.
Meanwhile, in the second pack, Mikitenko was outwitted by her teammate, Sabrina Mockenhaupt. Instead of working with Mikitenko to reduce the distance between them and the leading group, Mockenhaupt seemed intent only on beating her countrywoman. Not until the last 150 meters did she step out of Mikitenko's slipstream and sprint ahead to place eighth in 31:40.28. Mikitenko was rightly furious after she finished ninth in 31:44.82.
© Copyright 2006-2022 by Take The Magic Step®. All Rights Reserved.
Article Archive