In London, First Big Chinese Marathon Triumph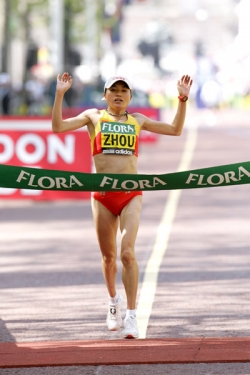 A female Chinese runner stole the show from the star runners in the most prestigious race of the year to date: 28-year-old Zhou Chunxiu won this morning's London Marathon with the fastest time of the year, 2:20:38. Before today, there had never been a victory by a Chinese woman or man at any of the World Marathon Majors races (London, Boston, Berlin, Chicago and New York), or in the marathon at the Olympics or World Championships.
The British press had written about a possible "Chinese takeaway" in advance of the London Marathon, and the speculation proved true today. Zhou, who ran her personal best of 2:19:51 in last year's Seoul Marathon, today earned not only $55,000 prize money but also a $50,000 time bonus.
Reigning world cross country champion Lornah Kiplagat (Netherlands) led a pack of five through the half marathon mark in 69:58. Gete Wami (Ethiopia), who later placed second (2:21:45) was in this group, as well as Zhou, Constantina Tomescu-Dita (Romania), who later placed third in 2:23:55, and Berhane Adere. The Ethiopian was to suffer badly in the final stages, finishing only tenth in 2:39:11.
It was then down to Zhou, Wami and Kiplagat. But when the Chinese increased the pace again at 38K, the other two were beaten. Zhou covered the 5K between 35K and 40K in 16:39. Thanks to this turn of speed the Chinese, who was the Asian marathon champion last year, conquered the biggest victory of her career. "It was my first race in a Western city marathon," Zhou said. "I wasn't nervous. This victory is a huge motivation for me."
The fastest runner in warm weather (temperatures of up to 73° F in the sun) was Martin Lel, who clocked 2:07:41. The Kenyan already had won two years ago in London and was runner-up last year. Lel earned a total of $80,000. While Haile Gebrselassie (Ethiopia) dropped out of the race, world record holder Paul Tergat (Kenya) came in sixth in 2:08:05, one spot ahead of American Ryan Hall, who debuted at the distance in 2:08:24. In all, 35,500 runners participated in the biggest spring marathon.
The London Marathon invests more than $4 million in appearance fees for elite athletes, more than any other race in the world. The men's race was probably the best ever assembled for a non-championship marathon. Due to the extraordinary class of competitors and high temperatures, a chase for Tergat's world record of 2:04:55 was not been expected.
Pacemakers led the leaders through the half marathon mark in 63:39. Already, Olympic champion Stefano Baldini (Italy) had lost contact with the leaders. He later dropped out, as did Olympic silver medallist Meb Keflezighi and former world record holder Khalid Khannouchi. Meanwhile, the much-anticipated duel between superstars Gebrselassie and Tergat was over at 30K, when Gebrselassie stopped. "I had really bad stitches, so I wasn't able to breath properly. Something was wrong, I can't say what it was," said Gebrselassie. "The heat wasn't the problem, though," said the Ethiopian, who ran in similar conditions when he set his personal best of 2:05:56 at last year's Berlin Marathon.
Even after 40K there were still six runners in contention for victory: Lel, Morocco's debutant Abderrahim Goumri, defending champion Felix Limo (Kenya), the two-time world champion Jaouad Gharib (Morocco), South Africa's Hendrick Ramaala and Tergat. While Tergat and Ramaala lost contact in the final mile, the others were in for a thrilling spurt. Lel finally won, clocking the third fastest time of the year. He was just three seconds ahead of Goumri (2:07:44). Limo was a further three seconds back.
"It was one of the greatest fields I have ever run in," said the 28-year-old Lel. "That is why this victory is even more important to me than the one two years ago." Last year, Lel lost to Limo in a similar finish. "I have learned from that," Lel said. "And this should not happen to me again."
For complete results, visit the London Marathon's Website.
© Copyright 2007-2022 by Take The Magic Step®. All Rights Reserved.
Article Archive