Half Marathon World Record Falls as Athletes Prepare for Spring Marathons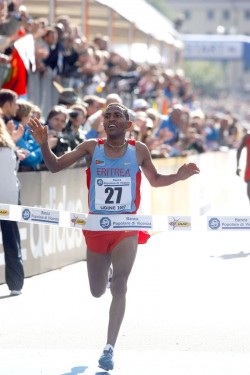 Zersenay Tadese has won the world half-marathon title four year in a row. And as of Sunday, the 28-year-old runner from Eritrea is now the word record holder for this distance. At the extremely competitive Lisbon Half Marathon, Tadese improved the world best by ten seconds (58:23). Three years ago, Kenya's Olympic marathon champion Sammy Wanjiru ran 58:33 in The Hague, Netherlands. Peninah Arusei (Kenya) won the women's race in 68:38 minutes. Approximately 30,000 runners took part in the race, which was held in good weather conditions.
Assisted by pacemakers, Tadese went through 10K in 27:53—a fast time for a 10-kilometer race in and of itself. Already prior to this point, the 28-year-old moved in front of the rabbits who were unable to stay with his incredibly fast pace. Tadese's time at 15K, 41:33, was only four seconds short of the current world record for that distance. With just one kilometer to the finish, the first record fell: Haile Gebrselassie's world 20K mark of 55:48 that he set in Phoenix, Arizona in 2006. Tadese bettered that record by 27 seconds (55:21).
Tadese maintained this fast pace until the finish, breaking Sammy Wanjiru's world record by a considerable margin. The runner from Eritrea, who had taken silver behind Kenenisa Bekele (Ethiopia) in the 10,000 meter at the World Championships in Berlin last year, now wants to go after Gebrselassie's marathon world record (2:03:59) at the Virgin London Marathon on April 25. Tadese will face his top rival, defending champion Sammy Wanjiru, there. But the marathon record may not be as easy for Tadese. In his debut in the British capital last year, he dropped out and hasn't run a marathon since.
In his youth, Tadese initially took up an interest in cycling and won a series of races at home in Eritrea. According to the IAAF's Web site, it wasn't until 2002 that he became seriously involved in running. His first Olympic medal—a bronze in the 10,000 meter—came at the 2004 Olympics in Athens.
Also breaking an hour in Lisbon was Sammy Kitwara of Kenya who finished second in 59:47. Behind him came compatriots Emmanuel Mutai (60:03), Duncan Kibet (60:21) and Gilbert Masai (60:28). Jaouad Gharib of Morocco finished sixth in 60:33.
Peninah Arusei was equally dominant in the women's race. The Kenyan ran at her own pace from the start to win in an impressive 68:38 by a big margin ahead of Askale Tafa (Ethiopia/70:46) and Fernanda Ribeiro (Portugal/72:17).
Kamais and Yamauchi Win in New York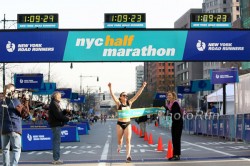 Peter Kamais and Mara Yamauchi won the fifth edition of the New York City Half Marathon. While the Kenyan triumphed in a fast time of 59:53, the pre-race favorite, Haile Gebrselassie (Ethiopia) dropped out around 13K. Mara Yamauchi of the United Kingdom ran a solid race, setting the course record of 69:25. She will run the London Marathon next month. In good conditions, approximately 12,000 runners finished the race that wound through the streets of Manhattan and Central Park.
As expected, Gebrselassie set a strong pace and took the initiative early. The Ethiopian world record holder in the marathon broke away from the pack. Eventual winner Kamais went with him. However, on the undulating sections of Central Park, Gebrselassie increasingly suffered problems and eventually pulled off the course. Gebrselassie, the course record holder (59:24 in 2007), had been suffering from a cold in the days before the race and had problems breathing—and possibly experienced a pollen allergy. After a short respite, Gebrselassie ran on for a little while and then dropped out altogether.
Gebrselassie's absence made things easier for Kamais. Even before this event, however, Kamais was confident with his prospects. "After 10K I knew that I would win, because I was feeling very good," explained the Kenyan afterwards. Kamais' ended up running under an hour (59:53), which was an incredible feat considering the challenging nature of the course. In a thrilling contest for second, Moses Kigen (Kenya) won by just one second in 60:38 over Mohammed Trafeh (USA). Trafeh won last week's U.S. 15K Championship Gate River Run and is starting to make a name for himself in the United States.
In the women's race, it looked as if Deena Kastor would win. The American had broken clear of the leading group. "When Deena went away, I thought: If you finish in the top three, that's okay," Mara Yamauchi later recalled. With 3K left to go, Kastor continued to lead by approximately 200m. "When I suddenly saw her again, I said to myself: Hang on, this race is far from over," said Yamauchi. The British runner living in Japan overtook Kastor soon after and built a comfortable, 18-second lead. Yamauchi's time of 69:25 improved the course record set four years ago by Catherine Ndereba (69:43) by a considerable margin. Kastor's time equaled that of Ndereba in 2006. Finishing just behind Kastor in third place was Madai Perez of Mexico (69:45). Yamauchi and Kastor will meet again at the London Marathon on April 25 where Germany's Irina Mikitenko will also be in the starting line as defending champion.
© Copyright 2010-2022 by Take The Magic Step®. All Rights Reserved.
Article Archive